Starting a new chapter, the Neighborhood Christian Legal Clinic, a faith-based legal services provider, is welcoming a new leader as it looks to enhance its programs and launch new initiatives to help low-income households in Indiana.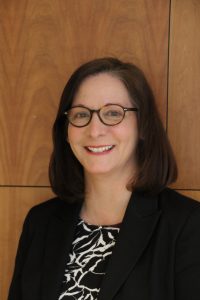 Amy Horton, a former Conexus vice president of talent for central Indiana, started as the new executive director of the clinic April 6. A native of Fort Wayne, Horton is joining the organization as part of her shift to focus on her faith in her professional life.
The clinic has been searching for about five months for a new executive director. A second round of applications was solicited after the first round did not produce the right candidate, according to Matthew Barr, chair of the clinic's board of directors and partner at Barnes & Thornburg LLP. The second round include Horton's resume.
"Amy rose to the top," Barr said. "She has the passion, talent and entrepreneurial mindset necessary to flourish at this job. She's ready to transition to the next phase of her career and be more directly involved in helping people for whom Christ's heart breaks."
Certainly Horton is beginning her tenure as the organization is already very active and looking for new ways to serve. The clinic is moving forward with initiatives to grow its footprint in Fort Wayne and bolster its services to Hoosiers living in rural parts of the state. Also, it is beginning to develop a new strategic plan to highlight areas of opportunities in the next three to five years.
Horton's entrance into legal services comes after a career spent largely in government and nonprofit organizations, focusing primarily on education and workforce issues. She is a 1993 graduate of Indiana University Maurer School of Law but pursued her interest in public policy rather than following the traditional path into practicing at a law firm or in-house legal department.
Abby Kuzma, who helped found and lead the clinic for 15 years, is not concerned about Horton's lack of experience in the law."We were looking for someone who could manage attorneys and others. Attorneys aren't, by nature, good managers," Kuzma said. "She has the J.D., but she also has the managerial piece we need, and the entrepreneurial piece."
'Kingdom building'
Horton's decision to make a career change is rooted in her faith. Listening to her pastor at Northview Church speak of spiritual growth, she realized professional success should be about more than earning awards and getting that next great job offer.
Her resume showcases her abilities and traces her advancement into leadership positions. Yet sitting in church, Horton determined she needed to go in a new direction.
"I realized I had been engaged in career building, going from one job to another," Horton said. "It became really evident I needed to get engaged in kingdom building rather than career building."
Once she completed her J.D. degree, Horton headed to Washington, D.C., where she worked in Congress and began building her knowledge of workforce development as a part of her duties with the House Education and Labor Committee's Subcommittee on Criminal Justice, Drug Policy and Human Resources. She also had the opportunity to work with President George W. Bush's Faith-Based and Community Initiative.
Pulled by family ties, Horton, her husband and their daughter returned to Indiana after spending 14 years in the nation's capital.
The focus of her work continued in education and workforce issues as she resettled in Indiana. Her career advanced with her holding positions at the Sagamore Institute, the Indiana Department of Education and Project Lead the Way before arriving at Conexus Indiana in April 2017. There, she was part of the initiative that worked to build the pipeline of students from schools into jobs in the manufacturing and logistics sectors.
Joining the Neighborhood Christian Legal Clinic fit Horton's desire to shift her focus toward practicing the gospel in helping and supporting people. She sees the clinic as being the hands and feet of God.
Although she has not practiced the law, Horton has experience with legal aid from her time as a student, when she helped clients in the law school's legal clinic. She described it as "some of the most meaningful work I've ever done" and said she gained an appreciation of how legal service providers can help those in need.
Horton's tenure at the clinic has coincided with the COVID-19 crisis. Instead of in-person meetings, she has been forced to rely on phone calls and videoconferencing to meet the clinic's team.
Still, she said, people have been "warm and generous," and she feels she has had some good conversations.
"I'm counting my blessings even though the work is harder to do when everything is virtual," Horton said, noting that the adapting the attorneys and staff have had to do to work remotely and still serve clients may ultimately help uncover better ways to do things. "It's a challenge, but I don't think it's something that will prevent the clinic from doing the good work it has done for 25 years."
The journey ahead
Horton is the fourth executive director and the second woman to lead the clinic. Following Kuzma's tenure, Josh Abel and Chris Purnell, respectively, held the leadership position. Senior staff attorney Chase Haller had been serving as interim director since November 2019.
Barr noted Haller did not apply for the position but still willingly led the clinic and did a "phenomenal job."
"But for his effort, his leadership, we would be in a much worse place as we try to help people as a result of this pandemic," Barr said of Haller.
The clinic has strong programs providing legal assistance in the areas of immigration, housing foreclosures, tax and veteran affairs. Along with enhancing that work, the organization has been laying the foundation for expanding its reach.
In particular, the clinic, with help from The St. Joseph Community Health Foundation, is preparing to grow its presence in Fort Wayne and help more clients, especially from the immigrant community. Moreover, the legal aid provider has been building an internet-based service to provide legal assistance to individuals and families in Indiana's many rural communities.
One key area Horton will need to turn her focus to is fundraising. Traditionally, Barr said, the organization has been more dependent on donations from churches and corporations, as well as from individuals, than on government grants.
The clinic's 2019 filing with the Internal Revenue Service shows contributions and grants bringing in $1.48 million. This is more than half of the organization's total revenue of $2.28 million, of which $1.99 million went to cover expenses.
To help meet the growing costs of providing services, the clinic has initiated some programs with clients paying a small fee for the legal help they receive. Barr acknowledged the organization was a little uncomfortable asking families with few resources to help cover the costs of the attorneys' salaries, but he said the program has taken off with hundreds of people participating.
Kuzma is optimistic about the future. She noted Horton is getting a team who is passionate about serving people and, as a consequence of the coronavirus, may discover new ways of doing things.
"I'm very excited for the clinic," Kuzma said. "I believe this is certainly a challenging period, but it gives Amy the chance to start out with a clean slate."•
Please enable JavaScript to view this content.