By midmorning on a sunny June 24, the tents were pitched around the parking lot located on the east side of Indianapolis, the folding tables were overloaded with food and household items, and dance music was thumping from the DJ's sound system.
Attorneys, social workers, service providers and volunteers started moving to the groove and taking a few selfies before finishing the preparation to support the families who would soon be arriving. The work was being done as part of the Reunification Month Community Event in Indianapolis, which celebrates the parents who have been able to overcome their struggles and regain custody of their children.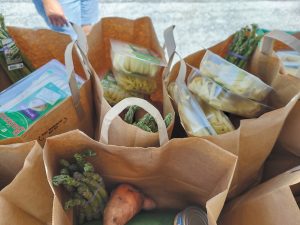 Marion County Juvenile Magistrate Judge Beth Jansen sees families who are facing hardships every day in her courtroom, and while the food baskets being given away for the reunification month celebration were helpful, the real benefit was for families to see people care. In particular, they learn that the team at the Indiana Department of Child Services wants to help them.
"It's cool all the way around," Jansen said.
This was the third year multiple agencies have joined together to organize and host the food giveaway. DCS along with the Mackida Loveal & Trip Outreach Center, Kids' Voice of Indiana, Child Advocates, Marion County Public Defender Agency, Indiana Public Defender Council, Firefly Children & Family Alliance, Choices Coordinated Care Solutions, Marion County Commission on Youth and Floyd County Public Defender Agency helped with the effort.
The COVID-19 pandemic forced the event to recalibrate from being a festival where parents and their children participate in a variety of activities to being a drive-thru that allows families to get some necessities. Before the cars, vans and trucks started arriving, the food station was set up with nonperishable items in brown paper bags, and the fresh produce of sweet potatoes, cucumbers and grapes was organized so families could pick what they wanted.
Tikilia Tinker-Martin, food equity and community engagement coordinator for the Indianapolis Office of Public Health and Safety's Community Nutrition and Food Policy Division, explained that allowing individuals to choose their food is a way to empower them.
"We want to make sure to treat everybody as a human," Tinker-Martin said. "As people are getting their food, we don't want them to lose their humanity."
In all, 16,925 pounds of food, expected to feed 250 families, was available.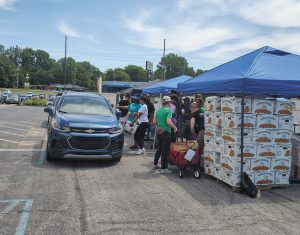 Drive-thru help
After they first stopped at the food table, the families could drive their vehicles to the next station, where they were given a plastic tote filled with household items like a bottle of laundry detergent and toilet paper.
Then they could make a gentle turn and stop by the station that was distributing backpacks and canvas duffle bags. Also being given away, courtesy of Marion Superior Judge Alicia Gooden, were children's books.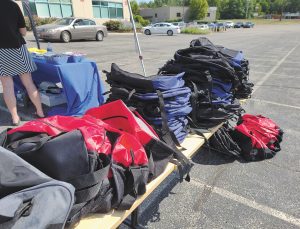 Rachel Phillips, an associate at Faegre Drinker Biddle & Reath, was volunteering with some of her colleagues from the law firm. She started her legal career at DCS, and although she has since switched to the private sector, she said the reunification event enables her to stay involved and give back.
Also, Phillips said, giving families food and other handy items is a "wonderful way" to celebrate the families that have worked hard to get back together.
Not alone
LaShauna Triplett and her husband Fletcher know well the importance of having enough to eat. The pair have established their nonprofit, MLT Outreach, on the east side in a ZIP code that not only is considered a food desert but also has a higher rate of diabetes per capita than all of Indiana.
With the goal of ensuring fresh food is available to their neighbors, the Tripletts have gardens that provide an assortment of fresh produce. LaShauna ticked off bounty from the gardens that include watermelons, cabbage, green beans and bell peppers. In addition, the organization has become the home of 10 chickens who will soon produce one egg each per day.
She referred to the parable about teaching a man to fish and explained how the nonprofit enlists youths to tend to the gardens. They help grow the food and learn compassion through taking care of the plants, from seed to edible produce.
Fletcher took a break from pushing an overloaded cart to explain that when a family is reunified, the joy is like Fourth of July fireworks bursting in the air.
Being part of the reunification month event by helping families "means the world to me," Fletcher, who grew up as one of seven children with a single mother, said. "All the different agencies coming together allows us to celebrate the month like it's supposed to be celebrated."
Andrea Marsh, attorney with Child Advocates, echoed that sentiment, saying families deserve to be recognized for doing the work to get reunited.
Reunification month, Marsh said, tells families, "'We celebrate you, we acknowledge your accomplishment of reunification.' Families don't get that message enough. There's a lot of guilt and shame associated with having their children taken away. This event shows them they are not alone."•
Please enable JavaScript to view this content.