IBJ Media on Tuesday named veteran editor and journalist Greg Andrews as publisher and editor of The Indiana Lawyer, the first step in what CEO Nate Feltman called a major push to boost the profile and readership of the statewide legal publication.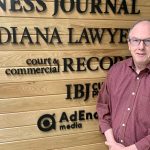 Andrews, 55, a former editor of Indianapolis Business Journal, takes over immediately from Dave Stafford, who had led the publication as editor for three years. Andrews moved into the role of investigative reporter and columnist at IBJ in January and will continue doing work for the publication as a contributing writer.
Feltman, who co-owns IBJ Media, said he's confident that under Andrews' leadership The Lawyer "will become an even more essential read for the legal community and beyond. We have the opportunity to become much more relevant both in central Indiana and statewide."
The Lawyer has about 5,500 subscribers, a number that has been growing since it instituted a paywall last year that limits the number of stories readers can access without a subscription.
Feltman said the top priority for The Lawyer team will be analyzing its coverage to determine how to best serve subscribers. He said The Lawyer will seek input "from an advisory council of attorneys to get thoughts and ideas" about coverage.
Also on the priority list, Feltman said, "is looking at how we up our game on the digital front" and finding ways to use events to highlight trends and progress in the legal community, especially in terms of diversity.
"Greg has a long history of positive progress with multiple publications in the world of journalism," including eight years as IBJ editor, the last of which culminated with a subscription record, Feltman said. "And Greg has a lot of ideas about how we can grow the relevancy and the interest of The Lawyer on a statewide basis. That combination, I believe, has an opportunity to really propel The Indiana Lawyer's growth."
Andrews said he is eager to get started.
"The Lawyer already is a must-read for many Hoosier lawyers. But I am convinced it can be even better, with sharper stories and additional features. I am excited to lead the charge."
As editor and publisher of The Lawyer, Andrews will oversee both the editorial and business sides of the publication. Feltman previously served as publisher while Dave Stafford was editor.
Stafford, who is leaving IBJ Media, joined The Indiana Lawyer nine years ago and became editor three years ago. Feltman said that under Stafford's leadership, The Lawyer "excelled at covering big stories, from the Curtis Hill scandal to a shooting involving two judges outside the downtown White Castle."
Indianapolis-based IBJ Media launched The Lawyer in 1990, 10 years after it rolled out its flagship publication, IBJ. The Lawyer publishes online news daily and produces a print edition every other week.
Please enable JavaScript to view this content.