A new candidate vying for the Republican Party's nomination for Indiana attorney general who for years was a key booster of embattled AG Curtis Hill said he has doubts about the incumbent's reelection chances.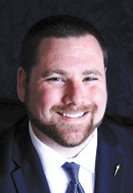 Decatur County Prosecutor Nate Harter on April 21 announced he was seeking the Republican Party nomination for Indiana attorney general. His candidacy announcement came just before fellow GOP candidate and former Indiana Department of Revenue Commissioner Adam Krupp dropped from the race and announced his support for Harter.
"I am running for Attorney General because Hoosiers deserve a tested and proven prosecutor who will be tough on crime, support law enforcement, protect victims, and defend our conservative core values in words and deeds," Harter said in a written statement. "As a committed grassroots conservative, I know that in these perilous times, the Attorney General has a crucial role as the tip of the spear — or the last line of defense against big government and the radical left."
Krupp said he initially entered the race because he believed the office needed to be led by someone with "Republican values and integrity."
"Nate is a talented lawyer and a strong conservative with a track record of integrity. He has a passion for creating a positive organizational culture," Krupp said in a statement. "He is a servant leader in his community."
Harter, who was elected Decatur County Prosecutor in 2014 and reelected in 2018, says he has been interested in serving in the AG's office for several years.
"Working on the (Hill) campaign in the transition team four years ago provided me some insight into the different divisions and the work that they do that is so important to Hoosiers across the state," Harter said.
He's seen the effect of that work in the criminal appeals division in the course of his role as prosecutor, Harter told Indiana Lawyer.. But more recently, Harter said he has become convinced that Hill will not be able win reelection in the November election.
"I believe that it's important for Hoosiers that conservative leadership from that office can be in place so that we can work together with the General Assembly and the executive branch who set policy to make sure that we have a safe and protected Indiana," Harter explained.
Parker Adkins, political director for Hill's campaign, issued a statement Wednesday attributed to Hill. "We are all very fortunate to live in a nation that supports free and fair elections. I welcome all who are committed to join me in the process as I continue my work as attorney general on behalf of Hoosiers during these most difficult and challenging times," the statement said.
Hill is seeking reelection despite a sexual misconduct scandal that has clouded his administration since 2018, when he was accused of inappropriately touching a state lawmaker and three legislative staffers at a party.
Gov. Eric Holcomb and other legislative leaders have called for Hill's resignation, but the incumbent denies any wrongdoing. Hill is still awaiting the outcome of a four-day disciplinary trial over the groping allegations.
Former state Supreme Court Justice Myra Selby presided over the hearing and has recommended that the Indiana Supreme Court suspend Hill's license for at least 60 days without automatic reinstatement.
Harter, the only other prosecutor vying for AG, noted that he nominated Hill for the office at the state convention back in 2016. Harter said he and Hill, formerly the Elkhart County prosecutor, have long been friends, and that Harter served as Hill's public safety coalition chair.
When asked if he still supports Hill, Harter said he wants the best for both him and his family, and he wishes Hill well in life.
"I think he has a lot of potential, both as a lawyer, clearly, and as potentially a public servant, certainly as a father. I don't wish him ill," Harter said.
However, Harter said he he believes the state needs a conservative who can win the race in the fall and he hopes to be that person.
Prior to serving as prosecutor, Harter was an attorney at Stephen Legal Group in Greensburg. He is currently chairman of the Decatur County Republican Party and serves on the Indiana Republican Party State Committee.
Harter graduated from Indiana University Maurer School of Law and Butler University.
In what he calls a "shoe leather race", Harter said he will probably harness technology during the "new normal" of the novel coronavirus pandemic to reach out to Hoosiers statewide. The Republican and Democratic candidates for attorney general will be selected by delegates to the party conventions in the coming months.
"I'm hopeful that we can connect with as many delegates as possible to persuade them that we need a prosecutor in that office," Harter said. "Someone who has led people before, who has won elections before, and someone who prioritizes conservative values, being pro-life, pro-Second amendment, combating federal overreach and supporting limited government."
He also hopes to show that he will partner with Indiana's executive and legislative branch. "After the convention, ideally, then moving on to persuade Hoosiers of all stripes that the attorney general's office is capable of being both a professional law firm and also a defender of the liberties that we cherish," Harter said.
In addition to Hill and Harter, Bose McKinney & Evans attorney John Westercamp also is seeking the GOP nomination.
Indiana Republican delegates will select their party's nominee at the convention in June.
Whoever wins the Republican nomination will face a Democratic opponent in the general election. Democratic state Sen. Karen Tallian from northwest Indiana and former Evansville Mayor Jonathan Weinzapfel are running for their party's nomination, which will also be decided at a statewide convention in June. The vote will be conducted by mail because the convention is being held virtually.
Democrats lead the AG fundraising race, based on the most recent campaign filings with the Indiana Secretary of State's Office. As of March 31, Weinzapfel had more than $662,000 on hand compared with more than $101,000 for Tallian. Hill led Republicans with more than $80,000 available, compared to about $56,000 for Westercamp and $51,000 for Krupp. Harter had not filed any campaign documents with the Secretary of State's Office as of his announcement.•
Indianapolis Business Journal reporter Lindsey Erdody and Indiana Lawyer managing editor Olivia Covington contributed to this report.
Please enable JavaScript to view this content.