Editor's note: This story has been updated.
Former Marion County Prosecutor Carl Brizzi, who created a mixed legacy by courting controversy as well as helping to launch the legal careers of several judges and prosecutors, died Wednesday after suffering a stroke. He was 53.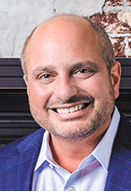 A native of Brooklyn, New York, Brizzi received his bachelor's degree in political science from Indiana University and his law degree from Valparaiso Law School in 1993. He served two terms as Marion County Prosecutor from 2003 to 2010 and then practiced privately, most recently as of counsel at Lewis and Wilkins LLP in Indianapolis.
"I think what the public doesn't know about him is that he really cared about the Marion County community and he loved being a prosecutor," said attorney Mario Massillamany, who served under Brizzi, prosecuting major felonies and homicides. "And he gave a lot of people that are now judges and prosecutors throughout the state opportunities to succeed and do well."
Indiana Attorney General Todd Rokita said he was "devastated" by Brizzi's death.
"He was a lion of a fighter for justice and cared so deeply about this state, American Exceptionalism and the individual liberty it spun off," Rokita said in a statement on his official Facebook page. "He was a beloved husband and father. He made an impact on not just Indianapolis but the state as a whole."
Brizzi was known as a political up-and-comer who had a high conviction rate, especially for narcotics and sex-crimes cases when he was prosecutor. He was a 2004 recipient of the Forty Under 40 award from the Indianapolis Business Journal.
His entry into politics came through the Prosecutor's Office. In 1994, he volunteered for Republican Prosecutor Scott Newman's campaign. After Newman won, Brizzi started working in the office.
He then worked as a senior investigative counsel in Congress and opened a private practice before eventually seeking the Prosecutor's Office in 2002.
However, Brizzi spawned negative headlines late in his stint as prosecutor.
He came under fire for investing in public companies connected with Tim Durham, who was later convicted of fraud and was sentenced to federal prison.
Also, he was co-owner with attorney Paul Page of an office building in Elkhart. Page subsequently pleaded guilty in 2013 to wire fraud charges related to the purchase of the building and the deal to lease the space to the Indiana Department of Child Services.
In 2010, the Indianapolis Metropolitan Police Department opened an investigation into the circumstances surrounding an officer's injury at a 2008 fundraiser for Brizzi.
Once he left the Prosecutor's Office, he was sued twice for legal malpractice and had his law license suspended.
Former Hancock County Coroner Tamara Vangundy and defrocked Indiana Secretary of State Charlie White each filed lawsuits against Brizzi. Vangundy eventually settled and White's case was tossed.
In 2017, the Indiana Supreme Court suspended Brizzi from the practice of law for 30 days because of his actions during his time as prosecutor involving drug defendant Joseph Mobareki, who was represented by Page. He overrode a plea agreement and reduced the defendant's crime to a Class D felony and ordered the return of a portion of the $17,550 seized.
Brizzi was also the subject of one public reprimand.
Massillamany remembered Brizzi as giving young attorneys, many of whom where women and minorities, a chance to excel in the Prosecutor's Office. Brizzi pushed and promoted them, encouraging them to "go for it" when they wanted to pursue new career opportunities.
Within Marion County, Massilliamany said, Brizzi reached out to the African American community and forged a strong relationship that led to a high conviction rate for homicides. When a crime spree took hold that involved children being robbed while waiting for their school buses, Brizzi organized a team of volunteers to protect the youngsters at high-risk bus stops, even putting on an orange vest and volunteering himself.
"He was running the office in away where we didn't just collect our paycheck every two weeks," Massillamany said. "We actually believed that we were doing and making a difference in Marion County, that we were that last defense in fighting crime and protecting our community."
Brizzi acknowledged his mistakes in 2020 when he unsuccessfully ran for the Republican nomination in the highly contested 5th Congressional District primary.
Brizzi said life was "legitimately terrible back then," but he was glad all that happened to him. And he said his experiences made him a better candidate.
"I've been through the trenches," he told IBJ. "I don't think anyone has been more investigated or vetted than I have been, so I see it as a plus."
He also had his own podcast, radio show and blog to share his thoughts about the latest political issues.
The Indianapolis Business Journal contributed to this story.
Please enable JavaScript to view this content.