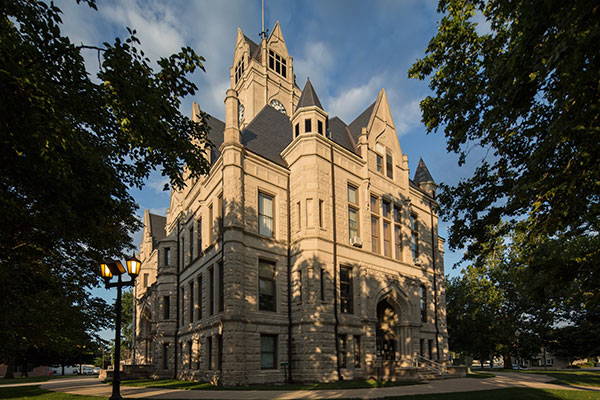 A one-time Jasper County judge is accused of multiple counts of attorney misconduct related to his representation of two elderly clients' estates, potentially involving the misappropriation of hundreds of thousands of dollars to his law firm, an office employee and a family member after the clients died.
Attorney Robert V. Monfort of Monon is accused in an Indiana Supreme Court Disciplinary Commission complaint of engaging in criminal acts and "conduct involving dishonesty, fraud, deceit or misrepresentation" among a litany of other ethical charges the commission filed April 27.
Monfort has not been criminally charged, but authorities and people familiar with the matter confirmed to Indiana Lawyer that a criminal investigation is ongoing. Monfort did not reply to a message from IL seeking comment. Indianapolis attorney Margaret Christensen replied on his behalf, saying in an email that Monfort declines comment at this time.
The discipline case against Monfort arises from two estate matters he handled that resulted in litigation in Jasper Superior Court against him and his law firm.
In one case, charities that stood to benefit from an elderly widow's estate accuse Monfort of undue influence over Rose Jennette Nagel that "resulted in more than $600,000 in damages" to a Catholic school and the Jasper Newton Foundation, which the suit says stood to benefit from her bequests. The suit also makes claims of negligence, improper estate administration, and contests Nagel's probated will that would have instead left her estate to an employee in Monfort's office.
The disciplinary complaint against Monfort does not specifically accuse him of misappropriating a particular dollar amount. But it does say regarding Monfort's representation of Nagel's estate that he "received approximately $163,000 from Nagel's estate funds." It's unclear how much money may be available from the widow's estate, which held more than $700,000 in liquid assets at the time of her death.
Abuse of trust?
Monfort had represented Nagel since 2010, at first executing a will for her and her husband, who had no children and wished their estates upon both of their deaths to go to various Catholic charities, including St. Augustine Catholic School in Rensselaer, according to the disciplinary complaint.
After Nagel's husband died in 2013, she wanted to draft a new will the following year leaving all but $1,000 of her estate to St. Augustine Catholic School through a fund at the Jasper Foundation, according to notes in Monfort's file, the commission said. Later that year, she signed a designated endowment fund agreement to that effect at Monfort's office.
Meanwhile, the commission alleges, Monfort at some point around this time suggested to Nagel that his office manager, Teri Hardin, serve as personal representative to administer Nagel's estate. The commission alleges that Monfort "feels a strong personal connection to Hardin and feels that he owes her his life for her support after his wife died."
After Hardin was appointed personal representative, Nagel was ultimately placed in an assisted living facility, according to the disciplinary complaint. About four months before Nagel died in March 2017 at the age of 90, Hardin was appointed her guardian. The commission says that before Nagel died, Hardin transferred about $548,000 from Nagel's largest investment account to a new account in Hardin's name as guardian.
"Eventually, all of Nagel's estate assets, totaling approximately $775,847.87, were deposited into Respondent's trust account," the commission says. "On or about May 5, 2017, Respondent and Hardin began distributing funds from Nagel's estate to themselves."
About a year after Nagel's death, the commission says, "Hardin opened a checking account as personal representative and transferred approximately $623,218 from Respondent's trust account to a new checking account," and withdrew funds that exceeded the remaining estate balance by more than $10,000.
The commission argues that in handling Nagel's estate, Monfort engaged in criminal and fraudulent conduct and misled the commission regarding money transfers and fund balances, among nine ethics charges in that case.
Monfort also is accused of attorney misconduct in handling the estate of Anthony Kaczorowski, who died intestate in 2014. Among other things, the commission says as recently as 2019, Monfort swore an affidavit that Kaczorowski had no known heirs, which he knew to be false. The commission likewise levels allegations of criminal conduct and fraud in Monfort's handling of that case. Likewise, Hardin served as personal representative for Kaczorowski.
Among other things, the commission alleges Monfort consumed nearly all of the $114,000 in Kaczorowski's liquid estate assets through estate administration expenses, inappropriate fees, as well as "unjustified payments to respondent and his office staff" and more.
"Respondent had no documentation or explanation for approximately $32,000 in payments, which were made primarily to his office staff members, including his daughter," the commission says.
Tangle of trouble
Meanwhile, Jasper County entities that were expecting a bequest from Nagel's estate have no clear idea how much, if any, of the money they will ever see.
Attorney Zac Kester of Charitable Allies represents the Jasper Newton Foundation, the successor entity to the Jasper Foundation, which sued Monfort and his office over its handling of Nagel's estate. Kester said the foundation, which was to have administered Nagel's bequests, has yet to see a dime three years after her passing.
Kester said a recent accounting that a court ordered Hardin to submit in Nagel's estate case suggested some $400,000 may remain. But he said the foundation has had difficulty with discovery over questions about the money, because Monfort asserted attorney-client privilege. That should be relieved, he said, because the court recently removed Hardin as personal representative and appointed a new one who has waived any such privilege.
Meanwhile, local charities in the rural county of about 33,000 people are dealing with the practical aspects of missing sizable bequests they had expected. Kester said some of Nagel's gift was meant to fund local student scholarships; some was intended to meet community needs in her home county.
"Ultimately, the community foundation believes it's incredibly important to protect donor intent," Kester said. He said had the foundation not known about an anticipated windfall from Nagel and other sources, it might not have been monitoring the situation.
Meanwhile, a criminal referral has been made, and Indiana State Police appear to be investigating. Sgt. Glen Fifield, public information officer for the ISP post in Lowell, said in an email seeking comment about the Monfort case, "We are conducting an investigation in Jasper County. It is the policy of the Indiana State Police not to identify suspects in criminal investigations unless or until criminal charges are filed by the local prosecutor."
Monfort was judge of Jasper Superior Court 2 from 1994-2000. The Indiana General Assembly dissolved the court, a decision affirmed by the Indiana Supreme Court in 2000.
Monfort, who was admitted to the bar in 1988, was previously suspended for 30 days with automatic reinstatement for helping a client in 2009 who previously had been a defendant in a drunken-driving case in which Monfort had presided as judge.
Please enable JavaScript to view this content.