Nell Jessup Newton, former dean at Notre Dame Law School, has been named the interim dean of the University of Miami School of Law, putting her in the eye of hurricane that has erupted over the firing of the school's previous dean in May.
Calling her a "female trailblazer in legal education," the University of Miami announced Newton's appointment Tuesday and said she will start in September as interim dean and visiting professor. She was included on a list of potential candidates recommended by a delegation of law school faculty to university President Julio Frenk.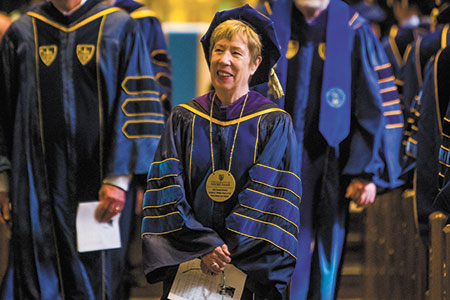 Newton said she was "flattered and kind of touched" when the faculty reached out.
Taking a break from packing and preparing to temporarily relocate to Miami, Newton said she had to consider the offer carefully when she was first contacted. But being interim dean appealed to her, she said, because she loves a challenge, and being a short-term dean will enable her to, again, do the strategic thinking as an administrator that she enjoys.
"I'm a problem solver," Newton said. "The more I thought about it, the more I thought it was interesting. … I realized this really might be good and enjoyable and hopefully I can help them move forward."
The Miami law school has been ensnared in turmoil ever since the former dean, Anthony Varona, was fired by the university's president. Frenk terminated Varona on May 24, effective July 1.
In an email to the entire university faculty, Frenk announced Varona's dismissal. He alluded to the school's fundraising efforts as the reason for the removal even though the former dean is credited with tallying $8 million in donations.
"The historic events of the past 16 months have revealed both challenges and opportunities that highlight the need for a dean with the required vision and effectiveness of execution to bring the school to new levels of excellence," the president wrote in his email. "In particular, the current capital campaign — which will culminate in four short years — present a rapidly narrowing window of opportunity to mobilize significant resources on behalf of Miami Law."
However, faculty and alumni were outraged by Varona's termination.
The law school's tenured faculty passed a resolution protesting the dean's removal and demanding a meeting with Frenk while the university faculty senate unanimously adopted a resolution calling for Varona's reinstatement, according to The Miami Hurricane. Also, Law.com has reported that the Society of American Law Teachers and the Association of American Law Schools' Section on Minority Groups have both raised concerns that Varona was fired because he is gay.
In addition, the leaders and several members of the law school's alumni association sent a letter to Frenk, praising Varona's leadership and asking the president to meet with them.
"… (W)e are surprised and saddened over the termination of Dean Varona," the alumni wrote. "We are particularly concerned by the lack of process and the failure to consult with important stakeholders, including the faculty and alumni leaders."
Newton said Varona has been "very gracious" to her as she prepares to serve as interim dean. She said he was one of the first people from Miami law to contact her and welcome her.
Frenk, as well, said he is pleased Newton will be leading the law school.
"The breadth of (Newton's) experience and expertise will allow her to seamlessly engage with students, faculty, staff, and alumni as we build a legacy of scholarship, service, and social justice to strengthen our law school for the future," he said in a statement.
Newton led Notre Dame Law School for 10 years, from 2009 to 2019. Under her leadership, the South Bend law school is credited with building curricular strengths in business and international law as well as intellectual property law. Also, the school launched new legal help clinics, new specialized courses of study in law and policy, and exchange programs with half a dozen universities across Europe, Asia and Latin America.
As the interim leader, Newton said she will help with the search for the new dean, but she has no interest in becoming the Miami school's permanent dean.
Rather, the offer is presenting her with a welcomed opportunity. Newton said she is not ready to retire but, since stepping down as dean at Notre Dame, she has been questioning if the value she has been giving to the law school as a professor is commensurate with her "very generous" compensation.
Now she has the chance to be an administrator again, getting to know the students and working with the faculty.
However, before she can serve as interim dean, Newton first has to figure out not only what she will need to take with her for the next year to year-and-a-half she anticipates being in Miami, but also how to get it down there.
Notre Dame alumni in south Florida have been contacting her and offering to show her around when she arrives. Also, faculty and students have been sending her information about veterinarians and places where she can take her dog, Roxie, for a walk.
Newton adopted the cavapoo, a King Charles spaniel and toy poodle mix, as the COVID-19 pandemic was chasing everyone into quarantine last year. The former Notre Dame Law School dean is adamant that no matter the headaches of packing and moving, they will not have a long-distance relationship.
"Oh my God, yes," Newton replied when asked if she was taking Roxie with her. "That girl got me through COVID. She's going to Miami with me."
Editor's note: This article has been corrected.
Please enable JavaScript to view this content.