Editor's note: This story has been updated as of 9:45 a.m. on July 16.
Former Indiana State Rep. Dan Forestal died this week. He was 38.
According to the Indianapolis Star, the manner of Forestal's death is unknown, and the Marion County Coroner's Office is awaiting toxicology reports.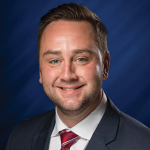 According to The Star, Indianapolis police opened a death investigation Wednesday after officers responded to a welfare check at the Quality Inn Northwest on Wesleyan Road, where Forestal was found deceased.
"I was devastated to hear the news of former Representative Forestal's passing," Indiana House Minority Leader Phil GiaQuinta said in a Thursday statement. "He was a great legislator and dedicated public servant who accomplished great things for his community during his time at the Statehouse."
A Democrat representing the east side of Indianapolis, Forestal was elected to the Indiana House in November 2012 and served until his resignation in June 2020. His district covered downtown Indianapolis and Fountain Square east through Irvington and Interstate 465, according to The Star.
While in the Statehouse, Forestal served as the assistant Democratic whip and was the ranking Democratic member of the House Roads and Transportation Committee.
"From his legislation addressing urban blight in Indiana neighborhoods to serving as the leading voice for House Democrats on transportation issues, Forestal worked hard for Hoosiers across the state," GiaQuinta said. "He will be remembered for his dedication to making Indiana a better place to work and raise a family."
Forestal was also a lieutenant with the Indianapolis Fire Department. He earned an associate's degree in fire science from Ivy Tech Community College after graduating from Roncalli High School and was an active member in Firefighters Local 416, the International Association of Firefighters and the Indianapolis Fire Department's Emerald Society. He also had a degree in public safety administration from Indiana University Purdue University – Indianapolis and a degree in public administration from Indiana University's School of Public and Environmental Affairs.
Also, Forestal was a bailiff in Marion Superior Court 11 and a guard at Marion County Jail II, and he operated a small business rehabilitating abandoned homes in Indianapolis. He was involved with Habitat for Humanity, the Knights of Columbus and Wheeler Mission, earning the Good Neighbor Award from the Community Heights neighborhood in his district.
The former lawmaker was the nephew of Marion County Sheriff Kerry Forestal.
"His friendship will be missed by many and my thoughts are with his loved ones during this time," GiaQuinta said.
Indiana Gov. Eric Holcomb also released a statement offering condolences to Forestal's family.
"Former State Representative Dan Forestal proudly served his constituents as a legislator and as an Indianapolis firefighter," the governor said. "He led with conviction and intention and was passionate on his mission to serve Hoosiers."
Prior to his resignation from the General Assembly, Forestal had been arrested on allegations that he assaulted two sheriff's deputies while being checked into a hospital following a welfare check. He was charged with two counts of Level 6 felony resisting law enforcement while drawing or using a deadly weapon.
"The time is long overdue for me to focus on my mental health and get myself well," Forestal said in announcing his resignation in 2020 shortly after his arrest. "Hoosiers should not have to live in fear of having their struggles with mental health be exposed and have attached to them the stigma that comes with suffering from mental illness."
Online court records in the June 2020 case indicate that as of June 1, 2021, the former lawmaker was in treatment. He was scheduled for a change of plea hearing on Aug. 17.
Forestal had been previously charged with threatening police officers who stopped him on suspicion of drunken driving in the summer of 2019. He pleaded guilty in that case in June 2020 to Level 6 felony impersonation of a public safety official and was sentenced to 545 days, with credit for one day in jail and 543 days suspended to probation. He was also ordered to 30 days of inpatient treatment.
But online court records show a warrant was issued for Forestal's arrest in that case in March, though the warrant was later recalled. He filed a motion for out of state treatment in April, but Marion Superior Judge Charnette Garner denied that motion. He was scheduled for a hearing on a probation violation in August.
Please enable JavaScript to view this content.