After 15 years leading an Indianapolis law firm that grew to become the 53rd largest in the nation with nearly $1 billion in revenue, Tom Froehle will be stepping aside next year as co-chair of what is now Faegre Drinker Biddle & Reath LLP.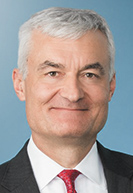 The firm announced Nov. 17 that Froehle and Faegre Drinker co-chair Andrew Kassner would be leaving their leadership positions on April 1, 2023. Gina Kastel, a member of Faegre Drinker's executive leadership team and board, has been selected as the firm's next chair.
"I have done my service and it's time for the next generation," Froehle told Indiana Lawyer. "I couldn't feel more proud of what we've accomplished and how well-positioned the firm is. It's in really great hands with the next generation of leadership."
Kastel, based in Faegre's Minneapolis office, co-chairs the firm's compensation committee and, until 2020, served as the chief operating officer of the former Faegre Baker Daniels. She was selected to fill the top spot following a vetting process led by a board-appointed governance succession committee with the help of a nationally-recognized outside consultant.
Froehle and Kassner both praised Kastel and said they are confident she will lead the firm well.
"Gina's outstanding leadership skills and experience demonstrate that she has been an invaluable servant leader at the firm," Froehle said, "and we couldn't be more pleased that she will be taking over as the next chair."
David Barrett, executive partner in Faegre Drinker's Indianapolis office, is among those who have been asked to continue to serve on the firm's executive leadership team. This group is responsible for implementing firm-wide strategy and policy.
Froehle, who grew up in Bloomington and earned his J.D. cum laude at the University of Michigan Law School, has been a part of the firm's leadership team since 2008, when he became chief executive partner of what was then Baker & Daniels.
In 2012, the firm merged with Minnesota-based Faegre & Benson to become Faegre Baker Daniels. Froehle was named chair and managing partner in 2016 and assumed those roles in 2017.
Then in 2020, Faegre combined with Philadelphia-based Drinker Biddle & Reath, which created a firm of more than 1,300 attorneys, consultants and professionals in 22 locations across the United States, United Kingdom and China. It joined the ranks of the 50 largest law firm, with a projected gross revenue of nearly $1 billion.
The growth was in response to market demand. Froehle noted clients want to have relationships with a small number of law firms. At the same time, the clients want their attorneys to offer a broader range of services and to get to know their businesses really well.
"We call it bringing the whole firm to our clients," Froehle said of the strategy to get bigger. "We continue to see that, with clients going through these convergence processes where they're trying to reduce the number of law firms. At least in our view, it's been a great success in terms of our ability to continue to compete and serve clients better."
Froehle and Kassner, former CEO of Drinker, were named co-chairs of Faegre Drinker. As part of the plan drafted at the launch of Faegre Drinker, the two served three years as co-leaders and are now transitioning to other roles.
In Indianapolis, Froehle will remain with the firm as a partner. He said he missed practicing law while in leadership but still enjoyed his time at the helm.
"I do get bored a little easily, and leading a law firm is not boring. There's always been something. This profession is super interesting and it's changing," Froehle said, noting the intellectual and other demands that come with leadership. "So I've actually very much loved it."
Certainly his tenure has seen dramatic challenges, from the Great Recession to the COVID-19 pandemic. In fact, the merger with Drinker was completed just 45 days before the March 2020 shutdown, when the firm went remote.
From these experiences, Froehle said his advice to the new leaders is to listen and to always think about how others will be impacted by their decisions.
"Those, I think, have been really the two guiding principles for me," Froehle said. "If you listen and you have empathy, I think that helps you develop the trust of your colleagues."•
Please enable JavaScript to view this content.