Frost Brown Todd is muscling into the Washington, D.C., market, opening a new office in the nation's capital and consolidating the firm's federal public and regulatory practices into the new location.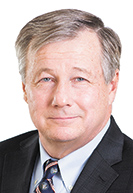 Member Thomas Wheeler II, who leads the regulatory and administrative law practice from Indianapolis, said the expansion is being driven by demand. Current clients who are having to hire attorneys in D.C. to handle their matters before the federal government will now be able to stay within the Frost Brown Todd family.
"This isn't an office looking for work," Wheeler said. "This is client-driven and clients telling us we need to be out there."
The new D.C. location will be served by newly recruited attorneys as well as nearly a dozen experienced attorneys who represent their clients' needs in their home markets and on the federal level. With the ongoing COVID-19 pandemic, the office will operate virtually and move into a permanent address once the quarantines are lifted.
Jonathan Miller, who is the member in charge of the Lexington, Kentucky, office, will be relocating to Washington to set up and manage the new office. Miller has experience working with lawmakers as one of the nation's top hemp lawyers and leading the firm's multi-state, multi-discipline hemp practice.
"With attorneys who have served and consulted on the national, state and local levels, FBT brings well-connected experience in Washington, D.C., at a critical juncture in national policymaking under a new administration," Miller said.
Attorneys available to the D.C. location include Wheeler, who was acting assistant attorney general for civil rights at the U.S. Department of Justice in the early days of the Trump administration and currently serves as vice chair of the Republican National Lawyers Association.
Also on the team are Trey Grayson, who served two terms as Kentucky secretary of state and for three years was director of the Institute of Politics at Harvard University's John F. Kennedy School of Government. Additionally, the team includes Carte Goodwin, who is a principal of the firm's public affairs subsidiary, CivicPoint, and served as general counsel for former West Virginia Gov. Joe Manchin, now a Democratic U.S. senator.
Wheeler anticipates the workload from clients will grow as the new administration continues settling in. Clients will expect help in navigating the new policies and agendas coming from the Biden White House.
Also, as client needs and demands increase, the firm will stock the D.C. office with more attorneys. Wheeler said Frost Brown Todd will be recruiting talent from the pool of people rotating out of government positions.
Wheeler also believes the firm's Midwest pricing will give it an advantage in the D.C. market. Clients who need representation on Capitol Hill or before a federal agency will be able to continue working with their Frost Brown Todd team that already knows their business while not having to pay Washington rates.
Frost Brown Todd chairman Robert Sartin is equally optimistic about the firm's ability to compete.
"Leveraging our extensive D.C. relationships with our unique ability to maximize client value makes opening a D.C. office the right call from both a strategic and client-service standpoint," Sartin said. "Our attorneys provide businesses and individuals located in our key markets the ability to navigate their federal needs with counsel who understand the entire scope of their business."•
Please enable JavaScript to view this content.