Online dispute resolution has grown in popularity since the start of the COVID-19 pandemic.
However, depending on who you ask, ODR could be defined in different ways.
While many legal functions can now be completed by virtual means, Indiana's judiciary didn't have a "formal" ODR concept until last year.
An ODR pilot project is currently underway, with some of the highest-traffic small claims courts in the state using software that provides free, neutral online spaces for parties to meet and try to come to agreements rather than going the traditional court route.
What is ODR?
As described by the National Center for State Courts, ODR is a public-facing digital space in which parties can convene to resolve their dispute or case.
While the definition can encompass a variety of methods and tools, NCSC has summarized three essential components of ODR:
• The program operates exclusively online. Unlike other court programs that provide an online interface to accomplish discrete tasks (e.g., e-filing, video hearings) ODR users do not otherwise interact with the court for traditional in-court procedures or events.
• The program is explicitly designed to assist litigants in resolving their dispute or case — not a technology platform to support judicial or court staff decision-making. Dispute resolution inherently includes the potential to challenge the validity of claims or to raise affirmative defenses. Court-related ODR is not just a platform for defendants to negotiate a payment schedule to satisfy debts.
• The program is hosted or supported by the judicial branch. It is not a form of private ADR but instead integrates and extends dispute resolution services offered by the judicial branch into a digital space to serve citizens efficiently, effectively, transparently and fairly.
Indiana's pilot project
In a report last year by the Supreme Court's Innovation Initiative Technology Working Group, an ODR pilot was outlined as one of the projects to be launched in late 2021.
The Technology Working Group suggested implementing ODR for small claims cases, in conjunction with a separate recommendation from the Family Law Taskforce to implement ODR in domestic relations cases.
Small claims were targeted by the working group because the "matters have a relatively high percentage of cases where participants are not represented by counsel for whom structured communications with the other party could facilitate settlement."
The concept isn't all that new: Other states have implemented, or at least tested, similar programs.
The NCSC recently evaluated the impact of an ODR pilot on Utah's small claims and found that the time-to-disposition decreased by more than one month for default judgments and judgments on the merits, and by nearly three months for settlements, according to the Technology Working Group's report.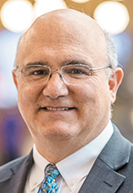 Currently, Allen, Lake and Marion counties are participating in the pilot.
Bob Rath, chief innovation officer for the Indiana Supreme Court Office of Judicial Administration and chair of the Technology Working Group, said two vendors have been contracted thus far: Modira for Lake and Allen counties and Matterhorn for Marion County. At this time, he said the Family Law Taskforce's ODR suggestion is still being discussed.
How it works
Indiana's ODR for small claims starts with notices being sent to eligible parties.
If both sides voluntarily agree to try ODR, the parties go to in.gov/courts/odr, select their county and create an account. If a party fails to sign up at least three days before their hearing, the case proceeds along the traditional court path.
After signing up, instead of waiting for a hearing date set by the court, the program allows parties to "chat online — in a neutral space not visible to the court or the judge — to discuss the claim and try to reach an agreement."
Should the parties reach an agreement, ODR provides a form for both to complete and sign. One party then can file the agreement with the court.
If approved by the court, the judge signs the agreement, the case is updated online and copies are sent to both parties.
At that point, the agreement becomes a binding court order.
The ODR system is available 24/7 to eligible cases. Parties can opt out of ODR at any time during the process.
In the fiscal year that ended June 30, Rath said ODR had 1,481 parties who exchanged 546 offers back and forth. He said while it's getting some hits, the court wants to see the numbers grow.
Rath said they don't refer cases when both sides are represented, but they're exploring ways to make the service more attractive to high-volume participants like law offices.
Angie Raymond, associate professor of business law and ethics at Indiana University and adjunct associate professor at IU Maurer School of Law, has studied ODR for around 20 years and wrote a white paper for the Technology Working Group's report, recommending the service.
Raymond said COVID pushed the legal profession into using technology in the justice environment, and Rath and his team started working on an ODR pilot before the pandemic even began. She said Rath has done a phenomenal job with the ODR project and added that she hopes time and resources continue to be devoted to the issue.
Raymond said taking the "sandbox" approach and using multiple vendors and tweaking the programs as they're rolled out is a good approach.
Should the pilot prove successful, the Technology Working Group noted in its report that ODR could expand.
"The lessons learned from this effort will help guide OJA in expanding ODR to other case types (e.g., traffic) and hearing types," the report states.
Allen County efforts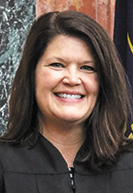 Allen Superior Chief Judge Jennifer DeGroote knows just how busy the small claims courts are: She worked in that court for almost 20 years as a magistrate judge before becoming a judge.
In 2021, there were 11,406 small claims cases, 2,282 eviction cases and 3,654 protection orders in Allen Superior Court.
One of the most interesting parts of the ODR launch so far, DeGroote said, has been the openness to attorneys using the program. Because of that, they've had to tweak the program to accommodate not just pro se parties.
"We have seen a lot of willingness by attorneys, even at post-judgment," DeGroote said. "… These were existing cases where there was already a judgment when the ODR pilot rolled out, and they wanted to be able to utilize a service like this to reach a payment agreement. We've had the experience that it's not just pro ses in our court; our attorneys are utilizing it as well for pre- and post-judgment."
DeGroote said she could see ODR sticking past the pilot.
"It provides an avenue for them to explore an informal resolution," she said. "(If you go to) court, there's a good chance at least one of you is going to leave that proceeding or get the result of that proceeding and not be happy.
"… If they have the ability to reach an informal resolution that they're both comfortable with, that they both felt they had an opportunity to participate in, I think what you get is more satisfaction with the experience," she continued. "Plus, it's at something that they can do at their convenience."•
Please enable JavaScript to view this content.