Editor's note: This story has been updated.
Robert Grand, who has led Barnes & Thornburg through seven years of consecutive growth including a nearly 40% increase in revenue, has announced he will be stepping down as the firm's managing partner in November 2022.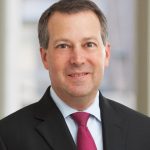 Andrew Detherage, partner in the firm's litigation group, will be taking over as the next managing partner of Barnes & Thornburg. He is an Indiana native and is listed as working from the firm's offices in Indianapolis and Los Angeles.
"Having known and worked side by side with Andy during most of my career, I am confident that the future leadership of Barnes & Thornburg is in excellent hands," Grand said in a press release. "He cares immensely about this firm and all of its people, and he will be a passionate and thoughtful steward for the organization as we embark on the next chapter of our progress and development."
Detherage, a 1990 graduate of Indiana University Robert H. McKinney School of Law, has worked at Barnes & Thornburg his entire career, starting as a law clerk in 1989 and working as a summer associate. He has been admitted to the bar in both Indiana and California and has served as national counsel for numerous clients in insurance coverage matters, commercial litigation, toxic tort litigation and mass tort litigation.
"I'm very passionate about the firm," Detherage said. "I'm very excited about not only what we've been able to accomplish but also what more I think we can do."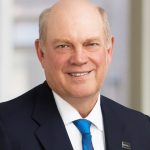 Grand has led Barnes & Thornburg as managing partner since 2014.
Under this leadership, the firm's gross revenue increased from $346 million in 2014 to $506.2 million in 2020. Also, the firm's AmLaw 200 ranking improved from 90 to 78 while highs in profits per equity partner and revenue per lawyer were realized.
In addition, Barnes & Thornburg grew its footprint with the opening of eight new offices during Grand's tenure. Likewise, the attorney headcount increased from 580 to 700.
Barnes & Thornburg is now one of the largest law firms in the country. It serves clients worldwide from offices around the United States including Atlanta, California, Chicago, Indiana, Michigan, New York and Washington, D.C.
Detherage attributed the firm's success in increasing revenue and headcount to Grand's leadership and the continued focus on having a strategy for growth.
Geographically, Barnes & Thornburg has shied away from mergers and instead chosen to grow by seeding new offices with attorneys already on staff and lateral hires. Detherage gave the example of the firm's New York office, which opened in 2020 with eight attorneys and has since nearly tripled to 22.
"Our growth has all been strategic," Detherage said. "We've been thoughtful about the markets we've gone to, about the lawyers we've brought in, about the practices we've added and the depth that we've added, the experience and expertise. All of that has an exponential impact and that's why we've always chosen to grow as strategically as we have."
Detherage said he plans to follow Grand's playbook and keep expanding the firm's footprint as well as adding to its roster of attorneys. However, he does not foresee the firm expanding beyond the U.S. borders.
"Our plans are to be a domestic law firm," he said. "We don't, at this point, see value for our clients in having international locations."
To attract and retain attorneys to the firm, Detherage said he intends to continue to nurture the firm's lawyer-focused culture. He credited that culture with enabling Barnes & Thornburg to significantly surpass its goal set in 2019 of growing the associate ranks by 25%
The firm wanted more associate attorneys because it had the work, Detherage said. "And we wanted to continue to create opportunities for lawyers at our firm to come here and spend a career here. We thought that in the long term, if we continue to expand our associate groups, we would have more and more opportunity for them, and it's borne out. We're still continuing to expand."
Detherage said his leadership will be shaped by all that he has learned working with Grand throughout much of his tenure at Barnes & Thornburg. He will also be able to draw upon the summer jobs that he held from the time he was in seventh grade until he enrolled in law school. Those jobs ranged from gas station attendant to factory worker to house painter.
"What all of those jobs taught me is, one, the value of hard work and, two, the ability to get along with everybody and to work well with others," Detherage said, adding, "And to respect and appreciate people from varied backgrounds, that's really what it taught me."
Please enable JavaScript to view this content.