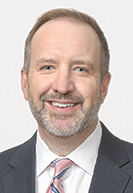 By Josh Hague
Not always first, but when stirred to action, the legal profession has helped enact great social change. From fighting injustice and discrimination to helping pass socially responsible laws, history has shown the critical role the legal profession plays in moving America closer to a more perfect union.
In recent years, we have turned our collective attention to the lack of diversity within our profession. For decades, if you were an attorney, you were most likely male and most likely white. That trend is slowly starting to change. According to the most recent data from the National Association for Law Placement, women comprised 48% of associates at law firms in 2021, the highest in NALP's 29 years of reporting. The same data show that associates of color now represent almost 28% of the workforce, an 8-percentage-point increase in the last decade. Critically, there was a 5% year-over-year increase in the number of summer associates who are people of color, and that same group represented 41% of the 2021 summer associate workforce. While these numbers demonstrate incremental progress toward expanding the pipeline of diverse attorneys beginning their legal careers, they do not address the ever-narrowing pipeline for diverse attorneys as their careers progress.
By the end of 2020, attorneys of color represented almost 27% of the associates of surveyed law firms, yet that same demographic represented only 11% of the partners in those same law firms. There are undoubtedly numerous reasons for the disparity in these numbers. Given that matriculation to partner often takes years, these numbers might improve if for no other reason than the passage of time. However, simply waiting risks missing an opportunity reflected in these numbers.
Data show us that law firms are recruiting more diverse attorneys each year. However, data also demonstrate that law firms are falling short in their efforts to retain those diverse attorneys. Each year, a disproportionate number of diverse attorneys leave law firms. If our goal is to create a more diverse and inclusive workplace, the focus cannot just be on hiring diverse attorneys. Law firms must also make concerted efforts in retaining their diverse attorneys. This is an area demanding our attention.
Making our places of work more inclusive directly impacts our ability to attract and retain diverse attorneys. To do so, law firms must take meaningful steps to empower their members. We know that attorneys who feel connected to their organizations and who feel respected and heard are less likely to leave their current places of employment. Inclusive workplaces retain more of their attorneys.
There are countless seminars, instructional videos and consultants available to provide expertise and guidance to law firms seeking to create a more inclusive workplace. In addition to this external help, there are actions each of us can take to promote inclusion. One you might consider is investing the same passion and care in retaining your diverse colleagues as you do in securing and retaining your clients.
Think of the preparation you undertake prior to meeting with a prospective client. You scour their website, review public financial information and investigate any ongoing litigation. You familiarize yourself with the biographies of those with whom you are to meet. You evaluate which members of your team might be best suited to work with this prospective client. We take these steps, and many other actions, in the hopes of securing the engagement and developing a lasting working relationship. Why would we do any less for the people with whom we already work?
The legal landscape is becoming more diverse and requires law firms to change along with it. Today's law school graduates are more likely to change jobs than those graduating a decade ago. Young and diverse attorneys are changing what defines a successful career, and joining a law firm and staying to become partner is no longer the only measuring stick. How will we know what motivates and drives our colleagues if we do not take the time to get to know them? How can we be effective advocates if we don't know our colleagues' goals? How long will an attorney stay if they have not felt empowered enough to share their aspirations for their career? We routinely ask our clients about their goals for a particular engagement and their thoughts on potential strategies to achieve the desired results. We continuously adapt and modify our legal approach based upon new information and the wishes of the client. Shouldn't we be doing the same for our diverse attorneys when talking about their legal careers?
Creating a more diverse and inclusive workplace is the right thing to do. It also happens to be the smart business thing to do. Study after study demonstrates the positive impact of having a diverse and inclusive workforce. Different experiences and ideas being shared lead to better results for clients and an empowered workforce. Attorneys practicing in these environments are happier, less likely to leave and more likely to attract talent. We should remind ourselves that while it is critically important to continue looking to hire diverse attorneys, it is equally important to be intentional about supporting and empowering those with whom we already work.
In the prescient words of Dr. Martin Luther King Jr., "Change does not roll in on the wheels of inevitability, but comes through continuous struggle." The gains we have made toward creating a more diverse legal profession are the direct result of the struggles of many, and those must be joined by others, for we have much more to accomplish. This is a big challenge but one worthy of our best efforts. I encourage each of you to think about the role you might play in this endeavor and to consider investing in the goals and aspirations of your diverse colleagues just like you do for your clients. The results just might surprise you.•
• Josh Hague is a partner at Krieg DeVault LLP. Opinions expressed are those of the author.
Please enable JavaScript to view this content.