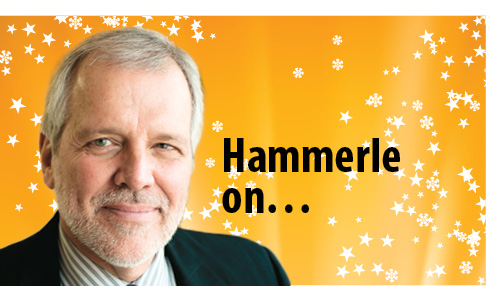 The death of Supreme Court Justice Ruth Bader Ginsburg has been devasting to many, including me. She became only the second woman to serve on the court, and her reputation was legendary.
In her memory, I've reprised my reviews of "RBG" and "On the Basis of Sex," both released in 2018 and both of which should be required viewing for all law students.
In light of what Republican Senate Majority Leader Mitch McConnell did with President Obama's nomination of Merrick Garland to replace the late Justice Scalia, we lawyers should be demanding the same approach today. Equity and fairness, two principles we are sworn to uphold, will be tossed into a garbage dump if we follow Trump and his supporters.
Like it or not, McConnell created a standard in 2016 that Republicans now want the American public to ignore. Every senator — and that includes our two from Indiana — needs to be held accountable. I'm hopeful that most lawyers join me when we protest with the reminder, "We won't forget."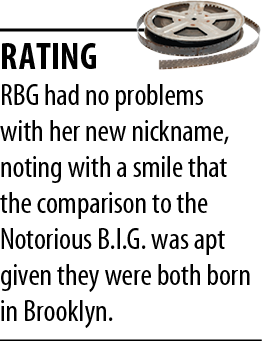 "RBG"
"RBG" is a meaningful documentary for a number of reasons. Centering on the extraordinary life of Supreme Court Justice Ruth Bader Ginsburg, it tells a larger story concerning the treatment of American women as second-class citizens.
Justice Ginsburg was nominated for the Supreme Court in 1993 by President Bill Clinton, and she won over the senators during the confirmation process even though she unashamedly endorsed the right of women to seek an abortion. More to the point, she noted a fundamental principle ignored by many politicians, namely that it is a woman's sole role, not the government's, to make decisions concerning her own body.
As Ginsburg's life is examined by directors Betsy West and Julie Cohen, you watch her successfully fight for admission to a Harvard Law School overwhelmingly dominated by male students. Though she goes on to join the Law Review during her second year, she subsequently transfers to Columbia Law School in New York when her lawyer husband joined a firm in that city. She didn't let a minor thing like sleep and raising two children get in the way when it came to pursuing her own career. Ginsburg set her destiny when she became involved in cases where women were suffering discrimination at the hands of business and government. This included several successful arguments before the U.S. Supreme Court, one of which resulted in the court forcing the Virginia Military Institute to finally break a barrier and admit women to the historic school.
But what makes "RBG" so much fun to watch is the wonderful revelation of her as an individual. Even in her early 80s, she continued to pursue a personal policy of frequently not going to bed until 5 a.m. to get her work done. She has always had to be coaxed to come home to eat an evening meal, and her children laughingly noted that she remains one of the worst cooks who ever lived.
It was also amusing to discover that her lack of a sense of humor was fully handled by her late husband, Martin. During their 50-plus-year marriage, he recognized that his wife's career became more important than his, and he proceeded to play a supporting role that will gain your admiration.
Various well-known people, including Gloria Steinem, give interviews focusing on Ginsburg's devoted efforts to make meaningful changes in the American landscape. Given her lifelong quest to point out the difference between women being placed on a pedestal as opposed to in a cage, it remains revealing to note that she is only one of three women presently on the Supreme Court.
One of Ginsburg's great strengths flows from her ability to form friendships with justices on the opposite side of many legal opinions. Though she frequently disagreed with the late Justice Antonin Scalia in any decided case, they were often seen in public settings where they enjoyed each other's company. That is a lesson that could help our fractured Congress rise from the political ashes. Though she will not acknowledge it, Ginsburg is obviously proud of the many dissents she has authored. She fought for the rights of the little men and women in our country, and when this wonderful film concludes, it is hard to resist the urge to stand up and applaud her.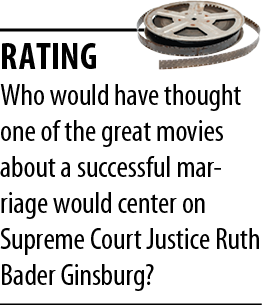 "On the Basis of Sex"
While "RBG" centers on Ginsburg's early fight to have women treated equally with men under our United States Constitution, in "On the Basis of Sex," you see her personally suffer such discrimination. Only one of nine female students at Harvard Law School in the 1950s, she thereafter found it impossible to land a job in New York despite later graduating at the top of her Columbia Law School class. Yet her personal battle only gave her greater motivation to attack gender discrimination wherever it existed.
While the principle focus of this film deals with a federal appeal that Ginsburg and her husband Marty handled as co-counsel in the 1970s, the love and dedication that these two had for each other will stir you emotionally from beginning to end. This movie is first and foremost one of the great authentic romances you will see on the big screen.
Felicity Jones and Armie Hammer give brilliant, warm-hearted portrayals as a couple equally dedicated to the law and their family. Jones is a knockout in and out of court, and lawyers in particular will marvel at her interaction with students when she accepted a law school teaching position at Rutgers when she couldn't find meaningful employment elsewhere. Jones is as funny as she is captivating, and you should do yourself a favor and hunt down her role as Stephen Hawking's tireless companion in "The Theory of Everything" (2014).
Hammer continues to show his great acting skills as demonstrated in "Call Me by Your Name" (2017) and "Sorry to Bother You" (2018). Here, despite the fact that he is a successful tax lawyer, he proudly takes a second chair to support the career of his spouse, which frequently included cooking at home and taking care of their two children. The love between this couple will frequently leave you wiping tears off your cheeks, particularly when you realize that Marty died in 2010 after they had been married for 59 years.
There are also a number of great supporting roles. Cailee Spaeny gives a wonderful performance as Jane, the Ginsburgs' teenage daughter. She reflected the anger and turmoil engulfing our country in the 1960s-1970s, and her parents had a full-time job keeping her focused on how to fight injustice. This is a talented young actress as reflected by her contribution in "Bad Times at the El Royale" (2018).
In addition, Kathy Bates and Sam Waterston give meaningful portrayals of lawyers on the opposite end of the gender divide. Bates plays Dorothy Kenyon, a lawyer who had to deal with having her heart ripped out after losing an important case, while Waterston plays Erwin Griswold, the arrogant, self-centered sexist who was the dean of Harvard Law School.
As I watched the Ginsburgs sit next to each other as they conducted oral argument in the federal appeals court, I couldn't help but be reminded of my experiences with my wife, Monica Foster. We practiced for years together before she became executive director of the Federal Public Defender's Office for the Southern District of Indiana, and we were co-counsel in some memorable cases.
Like the Ginsburgs, we sat together during an oral argument before the 7th Circuit in Chicago on a complicated appellate case while also representing an indigent client in a state jury trial. The young man was accused of robbing and shooting a gas station attendant, leaving him blinded, and our trial followed Monica's success in getting him a new trial after his conviction and sentence of 110 years was overturned. Though the trial resulted in a hung jury, we eventually worked out a plea where our client was placed on immediate probation after serving more than five years in prison.
As I watched the Ginsburgs walk out arm-in-arm after their oral argument, I thought of the emotional reaction Mo and I had after our client, Gregory Resnover, became the last man to be executed in the Indiana electric chair. We passionately believed he was wrongly convicted, and a small bottle of Jack Daniels could not wash away our emotional collapse in Michigan City.
Finally, as Marty watched Ruth's powerful appellate closing argument, I could not help but reflect on the moment when Monica argued in front of the United States Supreme Court that included Justice Ginsburg. Mo's response to a particular question from Justice Scalia reminded me of the pointed response of Ginsburg in this film when a judge sarcastically noted that the word "woman" does not appear in the constitution: "Neither does the word freedom, (pause) Your Honor."
So here's to two great women who as lawyers have brought honor and dignity to our profession.•
• Robert Hammerle practices criminal law in Indianapolis. When he is not in the courtroom or the office, Bob can likely be found at one of his favorite movie theaters preparing to review the latest films. To read more of his reviews, visit www.bigmouthbobs.com. Opinions expressed are those of the author.
Please enable JavaScript to view this content.