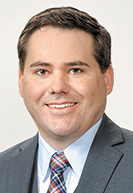 By Blake R. Hartz
Amid all the news around the new year (pandemic, elections, riots, economy, holidays, etc.), you might have missed that the Consolidated Appropriations Act made a variety of changes to federal intellectual property laws, the Trademark Modernization Act (TMA) and the Copyright Alternative in Small-Claims Enforcement Act (CASE Act).
Trademark Modernization Act: The TMA creates two new procedures to request cancellation of marks ex parte, "expungement" and "reexamination." Expungement seeks to cancel registrations that have never been used in commerce and is available between three and 10 years from issuance. Reexamination seeks to cancel registrations that were not in use in commerce by the dates relevant to registration, and can be filed within five years of registration. For both procedures, the petitioner has to set forth a verified statement of its investigation and supporting evidence for its allegations, and the mark owner has an opportunity to prove its use.
These new TMA procedures are not heard by the Trademark Trial and Appeal Board, and are instead intended to be quicker and cheaper, being decided by examiners under the authority of the director. However, appeals go first to the TTAB and then the Federal Circuit. (Expungement is also added as a new ground for the standard TTAB cancellation proceedings.) Expungement and reexamination have estoppel rules that prevent a registration from being challenged more than once, regardless of the identity of the petitioner.
The TMA also allows the PTO to set response deadlines of less than six months, which could be a significant change to docketing practices for trademark prosecutors. However, the PTO has stated that, so far, they only intend to use shorter times for "small" issues such as getting U.S. counsel and "suspicious" cases. The formal rules are yet to be written, and extensions up to the usual six-month deadline will be available for purchase. Another change is establishing formal procedures for third-party submissions during examination, codifying the long-standing but informal "letter of protest" practice, and those rules have already gone into effect.
In district court litigation, the TMA also states that an infringement finding provides a "rebuttal presumption of irreparable harm" for purposes of injunctive relief. (A likelihood of success on the merits also triggers the presumption in the context of a preliminary injunction motion.) This is effectively a legislative overruling of eBay v. MercExchange, the 2006 Supreme Court case that rejected presumptions and categorical rules for issuing injunctions, at least as applied to trademark cases.
Copyright Alternative in Small-Claims Enforcement Act: Legislative proposals for a copyright small claims proceeding have been introduced since 2013. Under the new CASE Act, the Copyright Office is to create and staff a Copyright Claims Board (CCB) of three attorneys to hear copyright infringement matters with damages capped at $30,000 and streamlined discovery, evidence and hearings. The CCB is authorized to adjudicate infringement issues (and declarations of noninfringement), abuse of Digital Millennium Copyright Act takedown and counter notices, and related defenses and counterclaims. However, participation in the CCB is voluntary. If the respondent opts out within 60 days, the claim is dismissed without prejudice and the claimant will likely then need to refile as a plaintiff in district court. If the respondent consents to the CCB process, they waive jury trial rights and have limited review options.
Unlike district court litigation, to initiate a claim, the claimant only has to have a completed copyright application on file (which is not subject to refusal) rather than an issued copyright registration certificate. However, the certificate is required before the CCB will decide the case.
In addition to the substantive, procedural and monetary limits, there is also a significant jurisdictional limit: Claims may only be brought against persons and entities who reside within the United States unless the foreign party initiated the proceeding and then becomes subject to permissible counterclaims.
The USPTO and the Copyright Office are both due to set up their new procedures and issue corresponding rules by the end of the year.
Substantive reforms unlikely
For patent law, the end-of-year stimulus/appropriations bill did not make changes. In the last Congress, a number of bills were under discussion that would have addressed reforms to patent subject matter eligibility, but those quietly lost momentum in early 2020. While no similar legislation has been introduced in the 117th Congress yet, the Supreme Court may force Congress's hand to make some legislative changes in its decision in Arthrex. The Supreme Court heard oral argument in United States v. Arthrex, Inc., et al., 19-1434, on March 1, which questions whether the USPTO's administrative patent judges are "principal officers" of the United States hired in violation of the Appointments Clause. The tenor of the questions at argument suggests that the justices will find a constitutional problem. However, it is not clear if the judiciary will be able to provide a sufficient remedy or if Congress will need to step in.•
• Blake R. Hartz is a partner at Woodard, Emhardt, Henry, Reeves & Wagner. Opinions expressed are those of the author.
Please enable JavaScript to view this content.