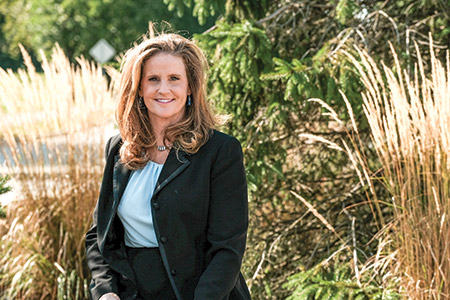 Church Church Hittle & Antrim partner Leslie Henderzahs was inducted as president of the Indiana State Bar Association on Thursday during the final day of the ISBA Annual Meeting in Indianapolis.
Henderzahs — a civil litigation attorney and certified family law specialist — was a candidate and semifinalist in the Indiana Judicial Nominating Commission's 2017 interviews to select the 110th Indiana Supreme Court justice. She told Indiana Lawyer last month that as ISBA president, she plans to lay the groundwork for the organization's strategic plan and develop additional partnerships in the legal community.
"The primary focus during my tenure will be working with our leadership, staff, and volunteers to position the ISBA to successfully design and execute a strategic plan," Henderzahs said in a Thursday statement. "This includes strengthening our business practices, enhancing partnerships within the legal community, better connecting those of us located around the state, and maintaining a watchful eye on trends and challenges in the legal industry."
Henderzahs is the ISBA's fifth female president, and the first female partner and owner at CCHA. In addition to her goals for her presidency, she said she looks forward to leading a celebration of the 100th anniversary of the passage of the 19th Amendment, which assured women the right to vote.
Henderzahs succeeds Kightlinger & Gray LLP partner J. Todd Spurgeon, whose primary goal during his time as ISBA president was to expand bar services by strengthening the state bar's relationships with Indiana law schools and by offering health insurance to ISBA members.
"Leslie is an outstanding litigator, counselor, and businesswoman," Spurgeon said in a statement. "She is dedicated to the ISBA and is the perfect fit to continue leading our association at this exciting time in our history."
Spurgeon will remain on the ISBA Board of Governors as immediate past president. Michael E. Tolbert of Tolbert & Tolbert LLC in Gary, Ind., assumes his role as ISBA president-elect, and Clayton C. Miller of Stoll Keenon Ogden in Indianapolis was elected vice president during the member assembly.
A complete list of those inducted as officers and members of the ISBA Board of Governors is available here.
Please enable JavaScript to view this content.