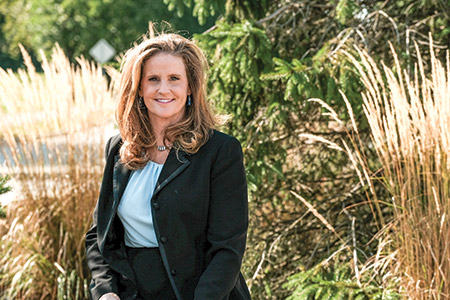 Leslie Henderzahs says Indiana State Bar Association members often realize the value of the association when they least expect it.
The incoming ISBA president cited as an example a recent proposal that Indiana lawyers provide their cellphone numbers with their Roll of Attorneys registrations. Few proposals have prompted such an outcry from attorneys, and Henderzahs said the state bar acted promptly.
"We jumped on it and worked hard to resolve it," the Church Church Hittle & Antrim partner said. The proposal was ultimately withdrawn. "It caused the work that we're doing to be noticed.
"To the credit of our courts and those we work with, they were certainly open to working with us," she said. "Advocacy on the part of our members is key."
Henderzahs will be sworn in as ISBA president at the association's annual meeting next month. Current President J. Todd Spurgeon, of Kightlinger & Gray in New Albany, has worked with Henderzahs for years. After a year of transition for the state bar under the first full year of director Joe Skeel's leadership, Spurgeon said the incoming president will continue to be a strong advocate and advance new outreach and membership initiatives.
"She is not afraid to act," Spurgeon said. "She understands all sides and respects all sides of things, but she's very dedicated to the state bar and its mission."
Henderzahs took time recently to share her thoughts about her upcoming year as president of the Indiana State Bar Association.
What are some of the things you'll be stressing in your term as ISBA president?
Internally, we will be focused on laying the groundwork for the years ahead based upon actual data. We plan to begin work on our strategic plan, which should culminate in November 2020, just after my term ends. In the meantime, we will continue to hone the way staff and volunteers work together so that we are positioned for maximum success once a plan is adopted. As Abe Lincoln said, "If I had eight hours to chop down a tree, I'd spend six sharpening my ax."
Beyond the strategic plan, we will be working diligently to further develop partnerships with those in the legal community — including the courts, law schools and county bar associations. For example, we are involved in the Coalition for Court Access, helping to make justice available to all, and we are working to help the courts deal with the crush of those self-representing. We also plan to do more programming around the state, targeting communities that don't have a robust metro bar in their areas.
ISBA is involved with the law schools and the ABA, which is addressing concerns over the bar passage rates. We continue to monitor legislative issues affecting our members and advocate for our members.
We are expecting more efforts by nonlawyers to try to sell mass-produced legal services that have traditionally required a license. These services can affect the rights and lives of Indiana residents. There is no question we are reluctant to leave such work to computers or robots.
What is your assessment of the health and vitality of the state bar association?
The Indiana State Bar Association is financially healthy. We are almost certain to surpass our membership dues projections for this fiscal year, and our reserves are strong. Of course, we still have much to work on. Although our dues projections are ahead of schedule, we still expect an overall decline in membership compared to last year. In other words, we didn't decline as much as we predicted.
Once we develop concrete goals through our strategic plan, the ISBA will be able to better address members' specific needs. What we already know are the following:
• We expect to finish with a balanced budget.
• We have passionate volunteers and staff.
• We are providing critical services to members and the public.
• We have facilitated improved communication between members and practice groups.
• We have affordable dues and quality CLE, some at no cost.
• We are a force and are invited participants on a national level.
How do you persuade nonmembers to join the ISBA, especially younger lawyers, who are less inclined to be active in traditional membership organizations?
We don't try to persuade them. Rather, we show them. Our ultimate goal is to interact with them in a meaningful, authentic way. If we are able to create relationships with them and transform their lives in some way (e.g., help them find a job, match them with a mentor, provide professional development, etc.), they will experience the real value of ISBA. They will have first-hand knowledge of how ISBA can help them during their journey as a lawyer.
Despite popular sentiment that young people are not joiners, there's plenty of research to support that they are happy to join professional associations if there is a clearly defined mission and if they feel like their involvement is making a difference.
Important to remember: With our new partnerships with each law school, and because we offer free membership to new admittees, we now have four years to touch the lives of each young lawyer in some way. It becomes more about retention than recruitment.
You were a semifinalist for appointment to the Indiana Supreme Court. What did you take away from that experience, and what is your advice for other attorneys who might consider applying for such future openings?
I was deeply honored to have been considered by the Judicial Nominating Commission. I gained fortitude and an increased appreciation for the character and humanity of the justices and the integrity of the commission and selection process. Each justice and commission member, including Chief Justice Loretta Rush and retiring Justice Robert Rucker, willingly met with applicants to answer questions and help prepare for the interview process. It commanded excellence, and the commission's questions stretched my thought processes beyond my own practice to a statewide view of the justice system in Indiana. I experienced the opportunity of a lifetime with some of the most astute legal minds in the country. I strongly encourage others to consider applying. The process is rigorous, and exhilarating!
What drew you to practice primarily family law?
I quickly learned lawyers are helpful to families, and particularly children, if they work cooperatively to encourage solutions and compliment the parties' strengths rather than perpetuating arguments. This approach is sometimes novel to that discipline of practice.
How do you find time for bar service, especially at the level of president?
It's not a matter of finding time, it is seizing an opportunity to be a part of something bigger.
The ISBA has afforded me so many opportunities, experiences, business and lifelong friendships that it is a top priority. I want to contribute to and help perpetuate the same rich experiences for others. Service has always been a priority in my family and in my firm. My mother is a nurse and serves on the board of health; after retiring as a Ford dealer, my father served the city of New Albany as the city controller. My husband and each of my siblings and children are in the service industry as a teacher and coach, an assistant superintendent, anesthesiologist, service manager, director of FC Pride Soccer Club, business manager at Barnes & Thornburg, dental student at Indiana University School of Dentistry and pre-dental student at University of Indianapolis. Before law school, in addition to lifeguarding, I prepared and provided food to underprivileged children. The bar has groomed me professionally and personally, and I am grateful.
Do you have any update on the ISBA's effort to offer health insurance as a member option?
We are currently working through the process. As you may know, there was a 10th Circuit ruling a few months back that forced us to change direction and restructure. But we are headed down that new path now. At this point, we are working behind the scenes to get our ducks in a row regarding insurance regulations. Our goal is to have something finalized by the end of this calendar year.
We have seen some recent state court decisions upholding mandatory state bar membership. Is that something you think the ISBA would ever consider?
It's not something we are considering at this time, but "ever" is a long time. Even though some of those court decisions are upholding mandatory bar membership, the lawsuits continue to come. Having talked to those bar leaders that have to fend off those suits, it takes a significant amount of time and energy — and takes their attention away from important bar work. I'm not sure that would be good for Hoosier attorneys.
What's one thing about you that you'd like ISBA members to know?
The kind acts of people other than me, many of whom are lawyers and members of the ISBA, have given me opportunities for service to others. This service, over and above the daily practice, is the most rewarding aspect of a career in law.•
Please enable JavaScript to view this content.