Indiana Gov. Eric Holcomb and Secretary of Commerce Brad Chambers will lead an economic development trip to Slovakia and Israel beginning March 27.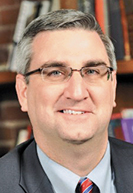 The intent of the trip is to increase Indiana's international engagement and cultivate new business relationships and people-to-people ties in central Europe and the Middle East, the state said Friday. There also is a humanitarian component tied to Russia's invasion of Ukraine.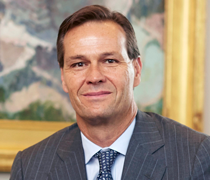 "This visit provides an opportunity to do what's right and offer Hoosier support through humanitarian efforts to the Ukrainians who have found refuge in Slovakia and the greater region," Holcomb said in a news release. "As Hoosiers we continue to do our part from Indiana, but we have an opportunity to prove our support and commitment to Ukrainians whose lives are being directly impacted by the Russian invasion."
Holcomb and Chambers will be accompanied by Adjutant General R. Dale Lyles of the Indiana National Guard. The group will depart on March 27 for Slovakia, travel to Tel Aviv in time for meetings on March 30-31 and return to Indiana on April 2.
This trip comes ahead of Indiana hosting the inaugural Global Economic Summit on May 26-29 in Indianapolis. It will include delegations from both Slovakia and Israel.
In 2018, Gov. Holcomb and the Slovak minister of economy signed a memorandum of understanding that shares best practices and identifies opportunities to partner in advanced manufacturing, defense, automotive, energy, agriculture technology, information technology and cybersecurity.
Also in 2018, a memorandum of understanding was established between the Indiana Economic Development Corp. and the Israel Innovation Authority. The countries seek mutually beneficial opportunities in the agbiosciences, life sciences, technology and cybersecurity sectors and try to connect related companies for collaborations.
Please enable JavaScript to view this content.