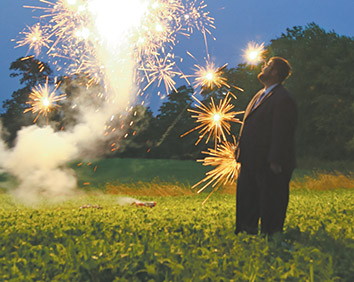 A Johnson County homeowner whose garage ignited after a firework hit her property in the middle of the night will not receive any damages for negligent infliction of emotional distress caused by the accident.
In February 2019, J & M Displays Inc. and the Lamb Lake Lot Owners Association Inc. entered into a fireworks display agreement for July 5 of that year.
At 10 p.m. on July 5, J & M commenced the fireworks display. While Faye Hunter was asleep, a firework shell mortar penetrated the roof of her home and set it on fire.
After hearing some strange noises inside the house, Hunter heard someone pounding on her door. When she opened it, a man "took ahold of [her] arm" and asked, "Is there anyone else in your house?" Hunter answered in the negative, and the man walked her down the sidewalk and into the cul-de-sac.
Hunter, who was uninjured, observed smoke coming out of her garage from outside. The home's garage was damaged as a result of the fire.
In July 2020, Hunter and her husband filed a complaint and jury demand against J & M alleging negligence and negligent infliction of emotional distress to Faye.
J & M filed a motion for partial summary judgment, alleging the Hunters had failed to state a claim on which relief could be granted as a matter of law because their claim for negligent infliction of emotional distress was "based solely on an economic loss and not on some injury suffered by them."
Following a hearing, the Johnson Superior Court granted the motion for partial summary judgment, finding Indiana does not recognize a cause of action for negligent inflection of emotional distress for economic loss. Relatedly, the trial court determined the Bystander Rule didn't apply in the case because it was an economic loss.
Before the Court of Appeals of Indiana, judges affirmed Tuesday in Faye E. Hunter and James E. Hunter v. J & M Displays, Inc., 22A-CT-1454.
The lower appellate court looked at the Modified Impact Rule in its opinion and determined the case didn't fall under its provisions. It also looked at Ketchmark in Lachenman v. Stice, 838 N.E.2d 451 (Ind. Ct. App. 2005), which was referenced in the trial court's order, and found it aligned with the grant of partial summary judgment.
"Based on the designated evidence, we cannot say that the trial court erred in granting summary judgment with respect to the Hunters' claim of negligent infliction of emotional distress," Judge Elaine Brown wrote.
Please enable JavaScript to view this content.