The opening of McCarter & English LLP's new Indiana office might be better described as a homecoming of sorts rather than the entrance of an unfamiliar out-of-town firm into the market.
Co-managing partners of the Indiana office Katherine Althoff and Amy Fisher, and partner Kimberly Castellino Metzger, have strong connections to the Hoosier legal community, having built their careers at Ice Miller in Indianapolis. Also, as part of their practice in products liability and pharmaceutical and medical device litigation, the three have long worked with McCarter attorneys to serve mutual clients.
So, the launch of McCarter's Indianapolis office, the most western location for the East Coast firm, is based on strong Indiana roots.
"There's a lot of wonderful things about McCarter, a lot of wonderful things about Ice Miller," Althoff said. "I think ultimately, for us at this point in our careers, (joining McCarter) gave us a lot of opportunities for expansion of our client base and expansion of bench strength."
In total, eight attorneys and five non-attorney professionals, including one nurse paralegal, walked from Ice Miller to McCarter. Two more nurse paralegals have since joined and another attorney will be onboarding soon.
McCarter managing partner Joseph Boccassini said the decision to open an Indiana office was driven by the relationship his firm had with the Althoff, Fisher, Metzger and the other members of the Hoosier team.
Boccassini is willing to discuss opportunities for McCarter's growth with anyone what wants to talk to him, and the firm has had conversations about expanding into Chicago, California and other places. But Indiana was a "perfect fit" for McCarter as well as for the clients, he said.
"It's really a great positive different step for us to kind of reinvigorate ourselves," Boccassini said of the new Indiana footprint. "We're not just thinking about the Boston to D.C. corridor. … Now we're thinking of the Midwest. It most definitely has reinvigorated a lot of our partners to be able to say, 'We have something new here that we can take advantage of.'"
Currently, the McCarter Indianapolis office is located in the Industrious Carmel City Center, a co-working space on West Monon Green Boulevard in Carmel. The firm wants the new office to grow and become a full-service location.
Althoff said the Indiana team is actively looking for a permanent office space either near its present address or on the northside of Indianapolis, but the timeline for signing a lease is unclear. She noted the delay is caused by a combination of determining how many lawyers and staff will be added and of the tight real estate market.
Fisher said she is not worried about the Indianapolis office's future because McCarter has been very supportive.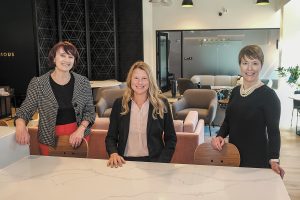 "We're having daily meetings with new people who want to hear about the Indy office and what we do and how we could cross sell with each other," Fisher said. "I just feel excitement. I don't feel pressure because they haven't left us here to see whether we'll success or not succeed. They're helping us succeed. They want to grow it as much as we do."
Continuing a trend
McCarter & English are joining what has been seen as a steady pace of law firms choosing Indiana.
Over the past 10 years, Quarles & Brady LLP, SmithAmundsen LLC, Stoll Keenon Ogden PLLC, Reminger Co. L.P.A., and Dinsmore & Shohl LLP have all established offices in the Hoosier State. Also, some national firms have opened outposts in Indiana, including Gordon Rees Scully Mansukhani LLP, based in San Francisco, and Lewis Brisbois Bisgaard & Smith LLP, headquartered in Los Angeles.
McCarter & English has about 350 attorneys and 12 offices, including the new locations in Indiana and Miami. According to Law.com, the firm recorded $263.47 million in gross revenue in 2021, placing it 131st on The American Lawyer's 2022 Am Law 200 ranking.
Althoff and Fisher downplayed the impact McCarter's arrival would have on the Indiana legal market. They noted Indianapolis, in particular, was primarily served by homegrown law firms, but over the last 20 years firms from other states have arrived and hung their shingles.
"I'm not sure this is anything more than a continuation of that trend," Althoff said. "We've seen (Taft Stettinius & Hollister LLP) Frost Brown Todd (LLC), and Dentons, all of these firms that were not based in Indianapolis that have developed a presence here so I'm not sure if it does anything other than continue that trend."
However, John Remsen, Jr., founder of The Remsen Group, a law firm consulting company, said McCarter's entrance into Indianapolis will be noticed and other East Coast firms might be prompted to see what the Circle City can offer them.
He described Indianapolis as among the second-tier cities attracting the attention of law firms that are looking to grow. Generally, the firms see these markets as being places where they can pick up new clients and do business at a lower cost.
"It might make some of the old homegrown players a little nervous," Remsen said of McCarter moving to Indiana. "But I think it's a sign of a maturing market and it's a sign of what's going on in the industry…."
Shaking things up
Repeatedly, Althoff, Fisher and Metzger emphasized their move to McCarter should not be interpreted as indicating anything negative about Ice Miller.
"This was not a decision that we made lightly. It was not a running away, it was a running towards," Fisher said, explaining she and her colleagues were attracted by the opportunity to join the McCarter attorneys who have become their friends. "Ice Miller has been absolutely fantastic about helping us with this transition. (The firm has been) very understanding because of the synergies that this move presents to us."
Of the group that left Ice Miller, all but one were women. Althoff said the composition of the team reflects the development of pharmaceutical litigation. Law firms typically recruited female attorneys to handle the cases particularly for issues involving breast implants or birth control. The team from Ice Miller, she said, was always heavily female.
Ice Miller, which is based in Indianapolis and has more than 300 attorneys in seven offices, issued a statement saying it was focused on the future.
"This move was a result of the consolidation of a client's legal team in one of its mass tort cases," Ice Miller said in an email to Indianapolis Business Journal. "While we are sad to see them leave, we wish them all the best. The firm is continuing to expand in key practice areas and markets."
At McCarter, the focus is on integrating the Indiana attorneys. Boccassini said the Hoosiers are being introduced to all the partners and the firm is looking at the expertise it now has along with their clients' needs to figure out "what the next area is that we can start to grow into."
Metzger, whose practice includes data security and privacy issues, said McCarter already has her involved in "really interesting, brand-new projects" that are expanding her knowledge and skills.
Although she sees herself as beyond the midpoint of her career, she is "very excited and happy" by the new challenges McCarter is providing.
"You can get too comfortable and too complacent," Metzger said. "Sometimes you want to shake up your career a bit and see what happens."•
Please enable JavaScript to view this content.