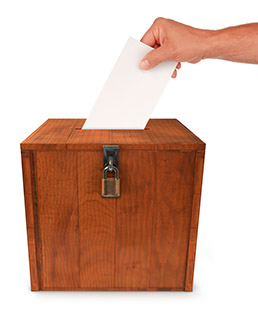 Hoosier voters who have questions or encounter difficulties when casting a ballot on Tuesday can get help immediately by calling or texting the nonpartisan Election Protection Hotline.
The hotline features legal volunteers trained by Chicago Lawyers' Committee for Civil Rights who can answer questions ranging from registration and ballot deadlines to voting in-person and voter requirements. Also, voters can report any problems at polling locations or any instances of voter suppression.
Polls in Indiana will be open from 6 a.m. to 6 p.m.
The following hotlines will be available:
866-OUR-VOTE (866-687-8683) – English
888-VE-Y-VOTA (888-839-8682) – Spanish
844-YALLA-US (844-925-5287) – Arabic
888-API-VOTE (888-274-8683) – Bengali, Cantonese, Hindi, Korean, Mandarin, Tagalog, Urdu and Vietnamese
Help is also available digitally through 866ourvote.org, @866ourVote , and facebook.com/866OurVote.
"It's crucial that Indiana voters have the tools they need to exercise their fundamental rights," Julia Vaughn, executive director of Common Cause Indiana, said. "If anyone has a question about voting or runs into a problem, we strongly encourage them to call our nonpartisan 866-OUR-VOTE hotline, or look around for one of our volunteer poll monitors who will be working in St. Joseph and Marion counties."
Chicago Lawyers' Committee works closely with the national Lawyers' Committee for Civil Rights Under Law, Kirkland & Ellis LLP and Common Cause Indiana to coordinate the legal program for Election Protection in Illinois and Indiana.
Presidential polling place
Indianapolis residents will have the option of voting at the home of a former president on election day. The Benjamin Harrison Presidential Site, 1230 N. Delaware St., Indianapolis, has served as a polling place since May 2015 and continues as a voting center for Marion County.
Voters and future voters across Indiana can share in Hoosier history by wearing the presidential site's special edition "I Voted" stickers. The print-at-home sticker has voting stickers for the whole family.
Please enable JavaScript to view this content.