It is fitting that a spot where hundreds of thousands of people once gathered to hear a Hoosier candidate for the White House speak is now a place where Marion County voters can cast their ballots.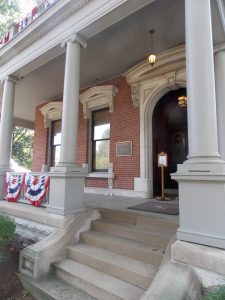 The Benjamin Harrison Presidential Site opened its doors early Tuesday to help facilitate the fundamental activity of representational democracy. Since the May 2015 primary, Harrison's home on North Delaware Street has been a polling site, giving Indianapolis residents the opportunity to pick their candidates in a place of historical significance.
"We recognize special resonance being able to utilize the home of a former U.S. president to open doors to voters," said Charles Hyde, president and CEO of the Harrison site. "Voting is one of the full expressions of citizenship."
In addition to being a polling site, the Harrison home has encouraged and advocated for other presidential homes, libraries and museums around the country to be places where voters can vote. Hyde recalled that his organization's initial inquiry created some confusion, because the Marion County Election Board was used to fielding requests only from sites that no longer wanted to be polling sites. The board could not remember when a location had called actually wanting to be a voting place
The curious reaction of the MCEB caused Hyde to reach out to other peer presidential sites in the nation and see who else provided a place to vote. He found only one, the Ronald Reagan Presidential Library in California.
In a 2018 article for Smithsonian Magazine, Hyde told his colleagues that becoming a polling site had "reinvigorated our institutional commitment to civic engagement and helped us better understand how we can measurable and authentically engage our community … ."
The Indiana University Paul H. O'Neill School of Public and Environmental Affairs did a subsequent study and found more voters were casting their ballots since the Harrison home had become a polling site. However, the data could not establish that the uptick was caused by being able to vote at a presidential location.
Being a polling site is "really simple," Hyde said. All that is required is having a staff member arrive extra early to let poll workers into the carriage house so they can set up their equipment and start welcoming voters. Then, another staff member will have to stick around a little longer in the evening to lock the doors after the polls have closed.
The Benjamin Harrison Presidential Site spends Election Day making the poll workers feel comfortable and appreciated. It also applauds the voters, giving them a special Benjamin Harrison "I voted"sticker.
Having voters visit is nothing new to the Harrison home. During the 1888 election, Harrison engaged in a front-porch campaign and gave more than 80 speeches to more than 300,000 individuals who converged at his home. The large crowds soon required Harrison to move from his porch to University Park.
Harrison lost the popular vote in that election but won through the Electoral College. Four years later, he returned to his Indiana home, having lost to Grover Cleveland, who was his opponent in the 1888 election.
Hyde believes the Hoosier president would be pleased to see voters coming once again to his home.
"I think he would applaud it," Hyde said of Harrison. "I think he would be delighted."
Please enable JavaScript to view this content.