Language described by some lawmakers as being too broad and vague was unanimously removed from an obstruction of justice bill during an Indiana House committee meeting on Wednesday.
Members of the House Courts and Criminal Code Committee on Feb. 16 agreed to adopt an amendment to Senate Bill 70, a bill that would update Indiana's obstruction of justice statute, to remove the word "persuasion."
The ultimate goal of the bill, according to author Sen. Michael Crider, R-Greenfield, is to create a more efficient legal process for cases involving victims of certain crimes who may fail to appear as witnesses or testify truthfully.
As amended, SB 70 would update Indiana's obstruction of justice statute to provide that a person commits obstruction if he or she "knowingly or intentionally induces, by threat, coercion, false statement, or offer of goods, services, or anything of value, a witness or informant in a legal proceeding or an administrative or criminal investigation" to give a false or misleading statement.
A previous amendment adopted in the Senate Corrections and Criminal Law Committee incorporated the phrase "by persuasion" into the bill's language, but that quickly became a point of contention for some lawmakers and members of the legal community who said the term was too general and potentially problematic.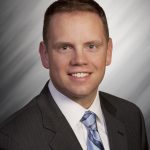 On Thursday, Republican Rep. Chris Jeter, R-Fishers, proposed an amendment he described as "alleviating a lot of concerns" to remove the term entirely.
"The crux of the bill was related to giving false or misleading statements or otherwise inducing folks to not provide the information they are legally obligated to provide," said Jeter, who is a lawyer. "All this did was remove the word 'persuasion,' which seemed to cause some folks some heartburn."
Members of the committee took the amendment by consent, subsequently passing the measure out of committee with a 9-0 vote.
The bill will now move to the House floor for consideration by the full chamber.
Please enable JavaScript to view this content.