After 22 years of working together, law clerk Angela Hauck and Court of Appeals of Indiana Judge Edward Najam Jr. have a mutual understanding on many things. But one stands out among the rest when they clock in for the day: the phrase, "Le mot juste," which in French means "just the right word."
That's what Najam and his law clerks strive to find while finessing over how to write the best decision in a case.
"Good writing is important because the words are the tools of lawyer's craft," Najam said while sitting at a sturdy, round wooden table in his Indiana Statehouse office.
The table, he said, is a historic site. Najam and his law clerks will often gather there to brainstorm on how to approach a case, which is an aspect of his job he's loved dearly.
Najam's time at that round table is nearing its end as he prepares to vacate his position on the appellate bench this summer. The news was expected, as Article 7 § 11 of the Indiana Constitution and Indiana Code § 33-38-13-8 require appellate court judges to retire when they reach 75 years old, which will happen this year for Najam.
Thirty years as a judge wasn't enough, he said.
"I just feel that I am so very lucky to have had this opportunity because it seemed like it flew by," Najam said. "Three decades in a flash, I don't know where the time has gone."
Najam, a Bloomington native who graduated from Indiana University and Harvard Law School, was appointed to the Court of Appeals by Gov. Evan Bayh in 1992. He was retained in 1996, 2006 and 2016 and has written more than 4,200 opinions during his time on the appellate bench.
Najam served for 10 years on the Indiana Supreme Court Committee on Rules of Practice and Procedure and represented the judiciary on the Indiana Department of Homeland Security Counter-Terrorism and Security Council. He also made significant contributions to the revision of Indiana's Rules of Appellate Procedure and modernizing the practice of law in Indiana.
Retired appellate Judge John Baker has known Najam since their undergraduate years. Baker said he's tickled that his longtime friend will join soon him as a senior judge.
"And I believe his office will be just around the corner from where mine is," Baker pointed out. "Our chambers have been always close to each other."
The legal legacy Baker said he sees Najam leaving behind is one of collegiality, scholarship and intellectual integrity.
"Sometimes he might find that the law is what it is, not what he would want it to be," Baker said with a chuckle. "I think we all are well-served when we have judges who are like that."
The Indiana Judicial Nominating Commission will conduct interviews July 11 to begin the search for Najam's successor on the Court of Appeals. A total of nine judges and lawyers have applied to fill the upcoming vacancy.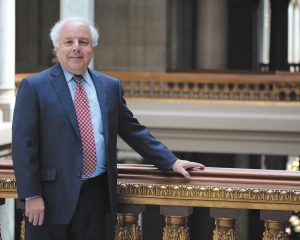 Najam recently sat down with Indiana Lawyer to reminisce about his lengthy judicial and legal career.
Indiana Lawyer: Why did you decide to pursue a spot on the Court of Appeals?
Najam: It never occurred to me that I'd be a judge. I had a two-man law practice in Bloomington in my own building. Judge John Baker suggested it, so I applied. I was one of three finalists, but John Sharpnack got the appointment and he deserved it. I was happy with the Sharpnack appointment, and I went back to practicing law. A little bit over a year later, Sharpnack called my law office and said, "Did you hear that Wesley Ratliff is retiring?" He said, "Come on up. That's an order." So, I came up and talked with Sharpnack for a couple hours and he convinced me to apply. I was nominated and the second time, I got the appointment.
How did you feel when you were appointed, considering you had not considered yourself as a judge before?
I was really excited. I knew it was something I wanted to do, but I was also very happy. I love practicing law; I wasn't trying to escape it. I remember when Gov. Evan Bayh called me; it was on a Wednesday night. I was sitting at home with a pile of homework I had brought home from my office and the phone rang and I answered it. My heart stopped. He said, "Is this Ted Najam?" I said, "Yes, it is." He said, "This is Evan Bayh," and I thought, "Oh, my goodness. The governor of Indiana is calling me on Wednesday night at 9:30 p.m." I figured he wasn't calling to tell me I wasn't getting appointed.
If you could encapsulate your time on the COA in just three words, what would they be and why?
"I am grateful." What a privilege. And I say that for a number of reasons. But one thing is, there are a lot of people who could do this job well. There are many people, many fine lawyers and trial judges who could serve with distinction on the Court of Appeals. And I just feel that I am so very lucky to have had this opportunity.
What was going through your head as you worked on the comprehensive revision of the Indiana Rules of Appellate Procedure?
Like a lot of documents, they had been amended from time to time over the years and no one had given the rules a 30,000-foot view. There was a whole lot of unwritten stuff. Our idea was, we were going to make sure that everything was covered and that the revision of the rules would benefit from the experience of the practitioners on their appellate rules project. We felt the rules needed to be revisited in a comprehensive A-Z way, and that's what we did. Our project was successful and it was well-received, and I think it has really over time improved appellate practice. Everybody is singing off the same hymnal. That was a great project.
You also helped to initiate the Odyssey electronic case and financial management system for Indiana courts. Why was modernizing the practice of law in Indiana so important to you?
The practice of law and its interface with the judiciary was antiquated. When I came on the court, when I would go home at night, I would have a big heavy briefcase full of briefs. So everybody was hauling these briefs around and in the meantime, people in the business world were moving along very quickly with technology. Technology had really not reached the judicial system and it was necessary in order to improve the efficiency of what we did at the trial court level and the appellate level. So the implementation and what ultimately became the Odyssey Case Management System really was a triumph for the Indiana judiciary. It put all the courts across the state on the same electronic page. We're able now to dispense justice, which is what our business is, efficiently. And, more quickly.
What have you loved most about your job on the appellate bench?
The interaction with my clerks. They're a different generation and we have a constant dialogue. That's been the best part. And right next to it is the interaction with my colleagues. Fourteen bright and capable lawyers — lawyers in robes.
What will retirement look like for you?
My wife tells me I'm going to be a yard warrior. She's got me some power equipment and trimmers.•
Please enable JavaScript to view this content.