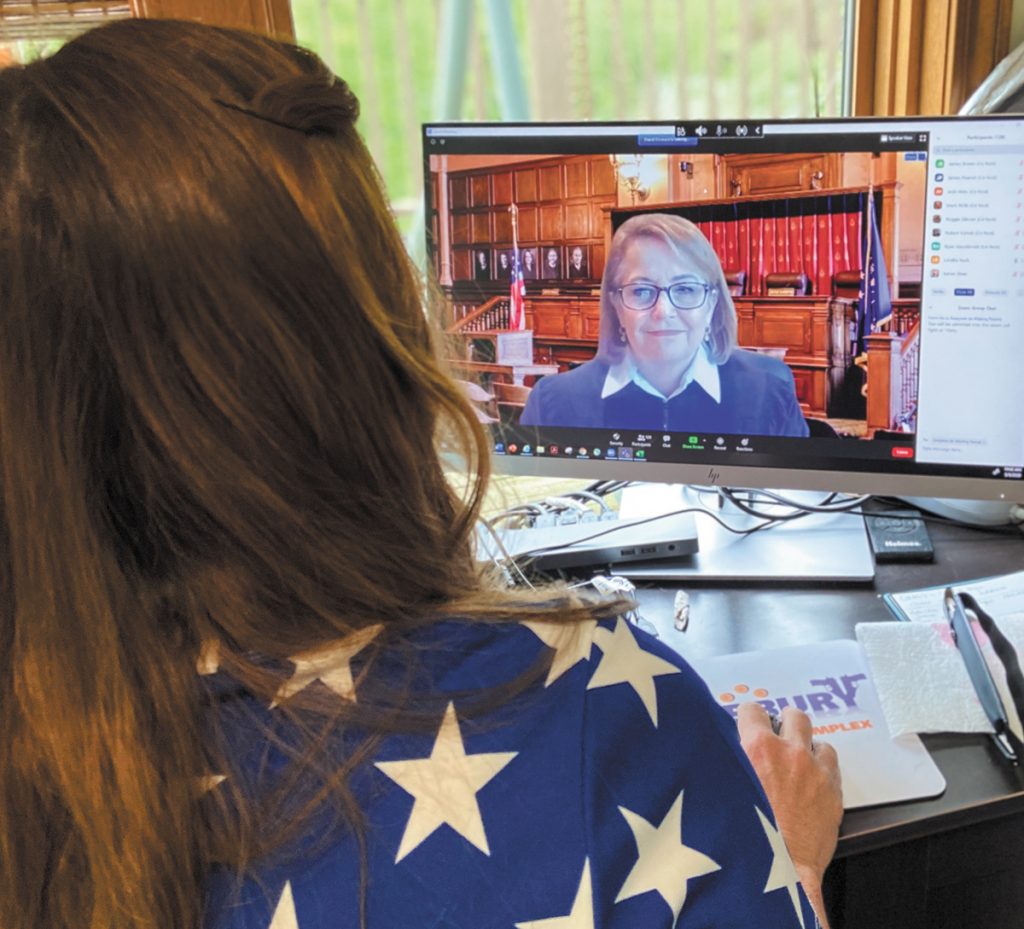 As the first in her family to graduate college and go to law school, Madelyn Faye Smith was very disappointed to learn she would be taking her oath as an Indiana lawyer online rather than in person.
The Indiana University Robert H. McKinney School of Law graduate was not angry when the COVID-19 pandemic scuttled her final weeks of law school and robbed her of the opportunity to wear a cap and gown at graduation. But upending the May 2020 Indiana Admission Ceremony was heartbreaking. Being joined by family and friends as she stood with other admittees, raised her right hand and recited the tenets of the legal profession would have been the culmination of all her hard work.
However, hosting the event as normal by bringing together a couple hundred people at the Indiana Roof Ballroom in downtown Indianapolis was not possible in a time when stay-at-home orders, social distancing, masks and disinfectant wipes are part of everyday life. The Indiana Supreme Court adjusted to the unprecedented conditions by moving the ceremony up to May 5 and inviting the admittees to participate through Zoom.
Smith dutifully logged on from her home and participated in an event that was far different than what she had expected.
"It felt like it was strength," Smith said. "It's lonely, the day-to-day. So to have so many people come together, all the admittees, judges and family, it felt like I strengthened my community and my connection to my family. It was much needed and I felt renewed afterward."
The May 2020 ceremony was historic in several respects. Aside from taking place during a global pandemic, it was Indiana's first virtual bar admission and the first where every admittee — all 105 — participated.
Indiana Chief Justice Loretta Rush, wearing her judicial robe and having a picture of the Indiana Supreme Court's courtroom behind her, appeared first and welcomed the admittees and their supporters.
"Though our circumstances are atypical, the effect is the same," Rush said. "Each of you are being admitted to the noble profession of the practice of law. While we're not together in-person, we are all together in spirit for this joyous celebration."
'Indiana needs you'
Just like past admission ceremonies, each of the admittees introduced themselves to the Indiana judiciary and bar. Rather than stepping up to a microphone, the new attorneys flipped on their laptop camera, clicked unmute and said their names.
The day prior to the ceremony, the admittees and Rush did a practice run where they learned what to do while also testing their computers and internet connections. Rush encouraged the soon-to-be-lawyers to include a short greeting when they appeared on screen and to wear something more colorful than a black or dark blue suit.
Following the chief justice's instructions, the admittees said "hellos" and "good mornings" when they each appeared on screen, with some slipping in a "thank you" or "sending love" to their families.
Carrie Devine-Ransom left her black blazer in the closet and donned her favorite color of yellow. A graduate of IU McKinney, she perched her laptop on her kitchen table to remotely access the ceremony and sent the livestream link to her family.
The ceremony did have an intimacy that is not part of the large in-person admission event. Instead of the justices and judges sitting behind long cloth-covered tables on a stage and passing along words of advice from their seats, each justice and judge who spoke appeared on screen individually. As Devine-Ransom pointed out, this created the feeling that the judicial members were speaking to each admittee personally.
Justice Christopher Goff told the new lawyers about his small-town roots and offered the reminder that they can make a difference wherever they practice.
"What I want you to hear today, if you take anything from my comments, is this: You have something unique to contribute to our profession, and Indiana needs you," he said. "Looking at a Zoom call, it seems especially true when I say that you are the face of justice to everyone who walks in your office or calls you on your Zoom meeting from here on out. You are up to the task."
Riley Parr, an IU McKinney graduate, did not miss the pomp and circumstance that comes with the live ceremony.
He was able to mark the occasion by gathering with his family — all practicing proper social distancing, he said — and plugging in his internet connection to the television so everyone could see the ceremony on the big screen. Seeing the court be flexible and adapting the event so a new crop of law school graduates could start representing clients amazed Parr. But listening to the judges' wisdom and advice and reflecting on the circumstances that continue to keep people far apart, he thought about the importance of family and community.
"You really don't know what tomorrow will hold," Parr said, "but you should look on each day as a blessing and opportunity to make the most of however much time you have left."
'Remain calm and gracious'
Indiana Court of Appeals Judge Edward Najam, whose daughter Jackie Carrell was among the admittees, administered the Indiana oath. For the Southern and Northern Indiana district courts, Judge James Hanlon and Magistrate Judge John Martin administered the oaths, respectively.
When they recited the oaths, the new attorneys again turned on their cameras but left their microphones muted. The livestream of the ceremony filled with tiny pictures of everyone raising their right hands and saying their professional vows. Grey Harris held his infant daughter on his lap.
"Can you all hear the crowd roaring? Because I hear a roar," Rush asked the participants after they took the Indiana Oath.
Martin acknowledged the coronavirus was creating difficult times, but he told the admittees the outbreak will pass while their accomplishments will live on.
"I believe that the same qualities that define excellent and competent counsel also help us navigate life's difficult challenges," Martin said. "The pandemic is just one of life's difficult challenges. … So please, practice being kind and patient as well as being prepared and diligent. Very importantly, be empathetic and mindful and always remain calm and gracious."
IU McKinney graduate Kaitlin King had to exercise some grace-under-pressure skills just as the virtual ceremony was beginning. She was logged in and following along as the other admittees introduced themselves, but as the time got near for her to activate the computer's camera and say her name, the power went out.
King's 7-week-old daughter, Raegan, started crying, her mother started crying and she even shed a few tears herself. But after successfully studying for a J.D. degree and taking the February bar exam when she was 34 weeks pregnant, King wasn't going to let a malfunction stand between her and her law license.
She grabbed her phone, sorted through her email and found the number to dial in to the ceremony. But when she called, the host, being busy running the online event, would not answer. So she texted a friend who connected with the host, who, in turn, let her in.
Rush even took a moment to recognize King, letting all the admittees know their colleague was phoning in because of an electrical outage.
King wanted to be admitted with the traditional in-person festivities but, like Smith, she found the online ceremony carried a special significance. The Supreme Court worked hard to make it "a real big deal for us," and everything everyone said was meaningful, she said.
"It goes to show that in 2020, we can make things happen," King said. "We can come together and still make things work."
After the ceremony, Smith had lunch with her parents while Parr stood in the parking lot of a local restaurant and savored chocolate ice cream with his family. Devine-Ransom enjoyed takeout from a favorite Mexican restaurant with her husband and children as King shared pizza, and possibly a chuckle about her ordeal, with her husband and infant daughter.
"It was a neat ceremony," Parr said. "Twenty years down the road it will be something I look back on and have good memories of."•
Please enable JavaScript to view this content.