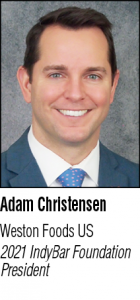 In this fortnight's edition and likely my penultimate column, we're going to appropriate a well-worn columnist's deus ex machina and writer's block cheat code: the Autumnal Mail Bag! These are fake letters received from made-up members of the Indianapolis legal community seeking advice and providing glimpses into the day-to-day intersection of life and law.
Hey IBF Guy – I've read some articles about problems within the global supply chain and the impact on holiday shopping. Any tips on keeping the holidays bright in the face of a worldwide logistics crisis?
Ah, yes, the global supply chain. The invisible tendons within the Invisible Hand. Microchip shortages, huge boats stuck in canals, the Great Resignation, our pets' heads falling off! If you listen closely, you can almost hear the gears groaning under the pressure to build and deliver Pelotons, Nespresso machines, PS5s and all the other accoutrements of our home-body lifestyles.
But fear not, for the IndyBar Foundation has you covered! IndyBar's Giving — the IndyBar Foundation's online holiday auction — will be up and live from Nov. 22 through Nov. 29. So, when your uncle launches into an impassioned speech about the cranberry sauce and local politics after three glasses of Sutter Home, you can avoid getting sucked in by bidding on toys, bourbon baskets and fantastic getaways right from your mobile phone! No road construction. No empty shelves. No Amazon Prime packages thrown into your mums. Just bid, buy and we'll deliver your winnings straight to your door. Learn more at indybar.org/barsgiving.
Adam – I hate Black Friday. The crowds. The traffic. The fisticuffs. Plus, it's friggin' cold outside and with Daylight Savings, it's dark by noon. What can I do to keep myself indoors and avoid being stampeded for a $99 4K TV?
Picture this. It's 10 a.m. on Black Friday and you're bundled under a thick blanket with a hot mug of breakfast Abeulita. Your sweatpants are stretched to their limit after multiple rounds of Thanksgiving leftovers and you're re-watching the West Wing for the eighth or ninth time. Right when President Bartlett is telling the story of his trip to Egypt when he was sympathetically called Abu el Banat ("father of daughters") by his Bedouin guide, you remember: You have daughters, but you haven't bought them anything for the holidays! Then, without spilling a drop of your smooth, cinnamon chocolate, you grab your phone, log onto the IndyBar's Giving auction page, and place winning bids on a Grogu doll, a wine and truffle popcorn basket, and a 1.75 liter of Eagle Rare bourbon (I'm assuming you really spread the kiddos out over a few years). Your mission accomplished, you smile softly to yourself and wonder how weird it is that Rob Lowe hasn't aged in 30 years. You're welcome.
AC – When December rolls around, I like to enjoy a small bottle of wine each and every day up to and including Christmas Eve. I haven't flown in a while thanks to COVID, so my inventory is low. Do you have any ideas?
Do I?! How about a wine advent calendar? You can win one at IndyBar's Giving. Just place your bid and we'll notify you if you've been outbid. Rinse and repeat until you walk away a winner! Remember, all proceeds from IndyBar's Giving go to support the IndyBar Foundation and all the great pro bono projects we support.
Counselor – Did you really just employ a Consider-the-Lobster-style write around to repeatedly plug IndyBar's Giving? Shouldn't you have just given this space to something more substantive?
Probably.•
Please enable JavaScript to view this content.