Indianapolis-based law firm Ice Miller LLP and the banks listed as defendants in the whistleblower lawsuit brought by the former general counsel of the Indiana Treasurer's Office have filed a motion asking the Marion Superior Court to dismiss the case on the grounds that the complaint does not show they knowingly and intentionally made false or fraudulent claims.
In the amended 135-page complaint, James Holden, State of Indiana v. Ice Miller, LLC, Old National Bancorp, et al., 49D05-2007-PL-022005, filed in December 2021, Holden asserted Indiana Treasurer Kelly Mitchell steered contracts "worth millions of dollars" to campaign donors without getting approval from other agencies.
The lawsuit, initially kept under seal, is now open to the public, with Marion Superior Judge John Chavis presiding. Marion Superior Judge Patrick Dietrick recused himself 11 months after being assigned the case when Ice Miller filed a notice that his sister-in-law is employed by the law firm.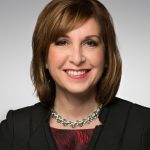 Along with Mitchell, the lawsuit names as defendants six individuals who served in the treasurer's office as well as eight banks. Ice Miller is the lone law firm.
All the defendants in the lawsuit responded to the complaint with motions to dismiss, which were filed Jan. 24.
Ice Miller joined the banks in presenting a motion to dismiss. Identifying themselves as the "business defendants," they assert the qui tam lawsuit should be tossed under Indiana Rules of Trial Procedure 12(B)(1), lack of jurisdiction over the subject matter, and 12(B)(6), failure to state a claim upon which relief can be granted.
Specifically, the business defendants maintain the court has no jurisdiction because Holden has based his allegations solely on publicly available information. He has not shown, as required by the Indiana False Claims and Whistleblower Protection Act, that he has independent knowledge and that he has turned his findings over to the state, they argue.
The defendants contend the IFCA has the prohibition against public information to ensure that only individuals with "genuinely unknown, nonpublic information" can pursue these types of cases. In this instance, they argue Holden's actions clearly show he has drawn his conclusions purely on what he found in public documents.
"Here, Relator admits in his Amended Complaint that he bases all of his allegations on public disclosures," the business defendants state in their motion. "He looked first to a public, government website that published a government report, and, based on that information, he then made a public records request to obtain the agreements and related records at issue. Relator concluded from the information provided in response to these public records requests that the agreements did not comply with his view of the (Financial Reorganization Act of 1947), and then made additional public records requests 'in order to confirm his findings.'"
Even if the public disclosure bar were not applicable, the business defendants contend the case cannot survive because Holden fails to state a claim. They argue he does not allege they knowingly and intentionally made false and fraudulent claims.
Further, the business defendants argue Holden does not allege they made any "specific representation" about their services, but rather recites the dates and amounts of invoices or account statements, analyses or summaries.
"Nowhere does Relator's Amended Complaint allege any facts regarding any Business Defendant's knowledge of a purported false claim or statement, in the form of either actual knowledge, deliberate ignorance, or reckless disregard," the business defendants state in their motion.
In addition, the defendants continue, under the FRA, which Holden uses to support his claims, they are not required to obtain approvals of any contract nor certify that approvals had been granted.
"Although the Amended Complaint alleges that the contracts were executed with the internal State Approvals that Relator claims were required by the FRA, the Amended Complaint does not include a single allegation that any Business Defendant knew that any such approvals were required for their respective agreements or, if required, were not obtained by the (Indiana treasurer)," the defendants continue. "Nor could the Amended Complaint reasonably do so: the FRA imposes obligations only on State actors; it does not call — or even provide — for any action, inquiry, follow-up, or disclosures by any non-State actor."
Please enable JavaScript to view this content.