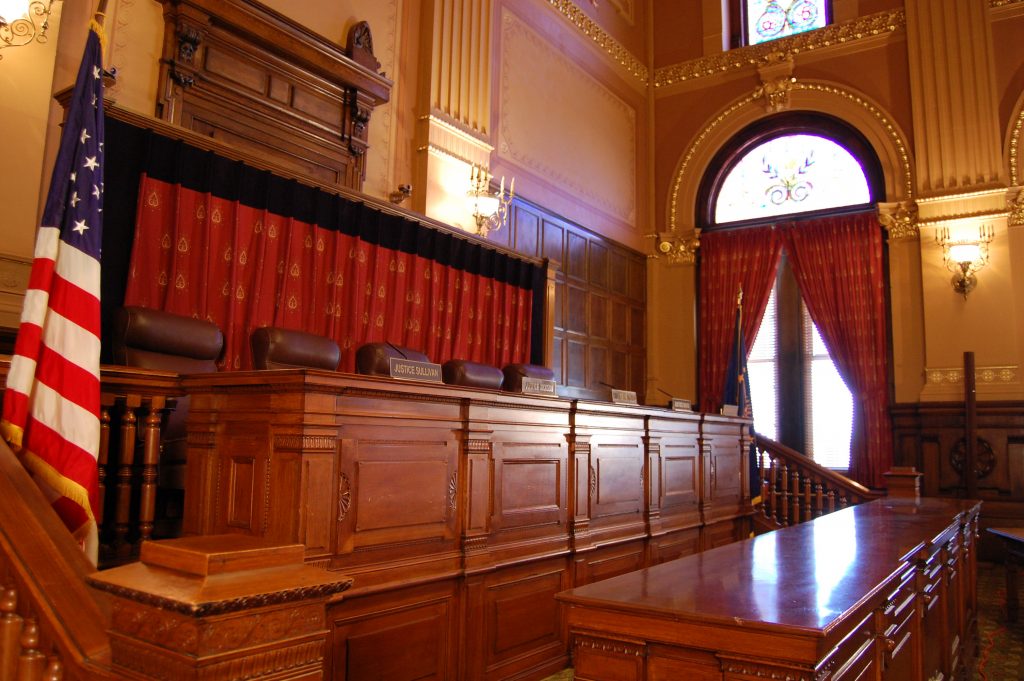 The Indiana Supreme Court granted transfer to one case out of 24 last week, agreeing to consider a case involving a teen who was adjudicated as a delinquent for possessing a machine gun.
The delinquency adjudication in that case, A.W. v. State of Indiana, 23S-JV-40, was partially affirmed last summer by the Court of Appeals of Indiana.
A.W. was a teen who was arrested in 2021 and was found with a modified pistol — specifically, a Glock pistol that had been converted from a semi-automatic weapon into an automatic weapon through the addition of an after-market device known as a "Glock switch."
The state filed a delinquency petition alleging A.W. committed what would be three Class A misdemeanors — carrying a handgun without a license, resisting law enforcement and criminal mischief — if committed by an adult. The state later added a delinquency count of possession of a machine gun when the modified pistol was discovered.
The Marion Superior Court entered a true finding against A.W., placed him on probation and released him into his father's custody.
The Court of Appeals upheld the machine gun adjudication but vacated an adjudication for dangerous possession of a firearm on double jeopardy grounds. Judge Cale Bradford dissented on the double jeopardy issue.
Oral arguments in A.W. will be held at 9 a.m. on Thursday, May 4, in the Indiana Supreme Court courtroom at the Indiana Statehouse in downtown Indianapolis. It will also be livestreamed.
In a Feb. 13 order, the Supreme Court advised each party to file supplemental briefs addressing the applicability of Article 1, Section 14 of the Indiana Constitution in the context of juvenile proceedings no later than March 15. The parties may also file a response to the opposing party's supplemental brief no later than March 29.
Among the 23 cases denied transfer last week, three split the justices.
Chief Justice Loretta Rush and Justice Derek Molter voted to grant transfer to City of Hammond, Indiana, and Hammond Advisory Board of Zoning Appeals v. Phantom Fireworks Showrooms, LLC, 22A-PL-507. In that case, the COA revered and remanded the grant of judicial review of the Hammond Advisory Board of Zoning Appeals' denial of Phantom Fireworks Showrooms LLC's application for an improvement location permit.
Next, Rush and Justice Christopher Goff voted to grant transfer to Kendell W. Martin v. State of Indiana, 22A-CR-1487. There, the COA affirmed Kendell Martin's three-year sentence for three counts of Class A misdemeanor criminal mischief last December, finding no abuse of discretion.
Finally, Rush would have granted transfer to Jesse Dillard Clark v. State of Indiana, 22A-CR-932. The COA in that case affirmed Jesse Dillard Clark's conviction of Level 6 felony possession of a narcotic drug, finding the Marion Superior Court did not abuse its discretion by admitting evidence found after the vehicle Clark was driving was impounded.
The full list of transfer decisions is available online.
Please enable JavaScript to view this content.