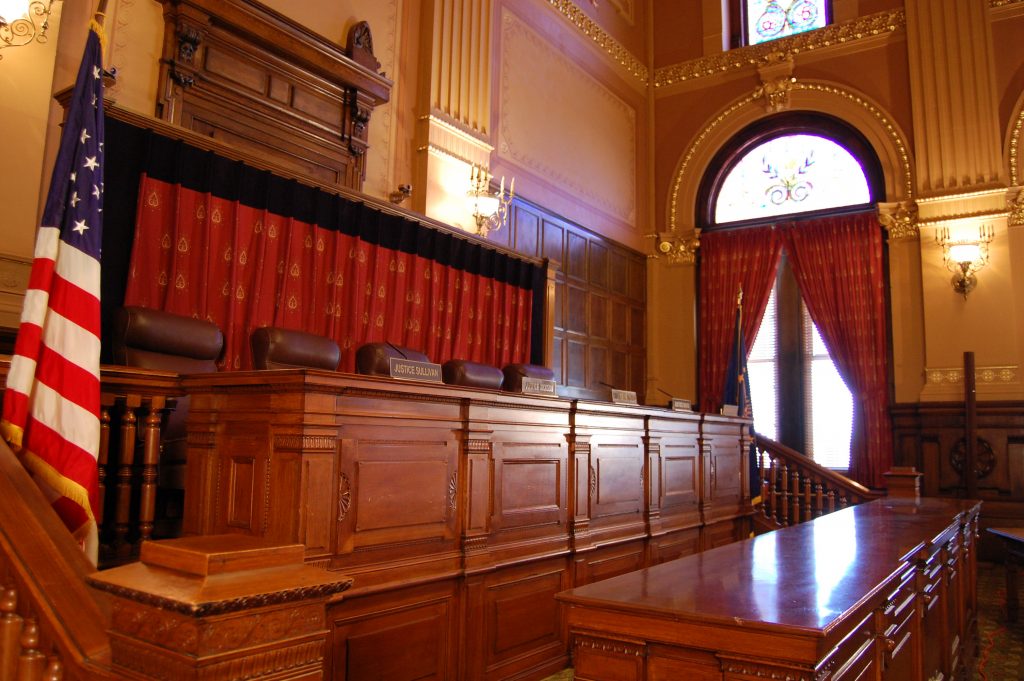 The Indiana Supreme Court will hear oral arguments this month in a case involving a grandmother's motion to intervene in the adoption of her grandchild.
Justices will hear arguments on petition to transfer in the case of In the Matter of the Adoption of A.E., C.L.F. v. C.M. and M.B., 21A-AD-02766, at 9 a.m. on March 16.
In that case, the Harrison County Department of Child Services received a report that A.E. and her siblings were victims of neglect because their mother tested positive for drugs throughout her pregnancy, and because the child's urine tested positive for opiates at birth.
A.E. was removed from the care of her parents in January 2016 under a dispositional decree. C.L.F., who resides in Harrison County and is A.E.'s grandmother, took care of the child and an older half-sibling off and on after removal.
In January 2020, A.E. and her half-sister were placed in foster care with C.M. and M.B. in Jackson County. The half-sister was soon removed from the home and placed back with C.L.F. because of her dangerous behavior.
The grandmother filed a petition in Harrison Circuit Court to adopt her two grandchildren in February 2020. The adoptive parents filed a petition five months later in Hamilton Superior Court to adopt A.E., stipulating that while they were residents of Jackson County and the child was a ward of the Harrison County DCS, they were consenting to the venue and jurisdiction of the Hamilton Superior Court.
Parental rights were terminated in January 2021. Meanwhile, the Hamilton Superior Court conducted a hearing on the adoptive parents' petition and issued a decree finding that adoption was in the best interests of the child.
C.L.F. filed a motion to intervene and a motion to correct error in the Hamilton Superior Court, arguing that "having filed her prior adoption petition" for A.E. in another court of competent jurisdiction, she had a "claim or defense and a question of law in common" with the adoption action in the Hamilton Superior Court and should be permitted to intervene.
The trial court denied the grandmother's motions and she appealed.
At the Court of Appeals of Indiana, the panel determined that it had jurisdiction over the case and ruled that the trial court didn't err in denying the grandmother's motions.
The Court of Appeals found "several" reasons why it wasn't an abuse of discretion for the trial court to deny C.L.F.'s motion to intervene, including that she lacked standing.
The grandmother has filed a transfer petition, which has not yet been granted.
The arguments will be held in the Indiana Supreme Court courtroom on the third floor of the Indiana Statehouse in downtown Indianapolis. They will also be livestreamed.
Please enable JavaScript to view this content.