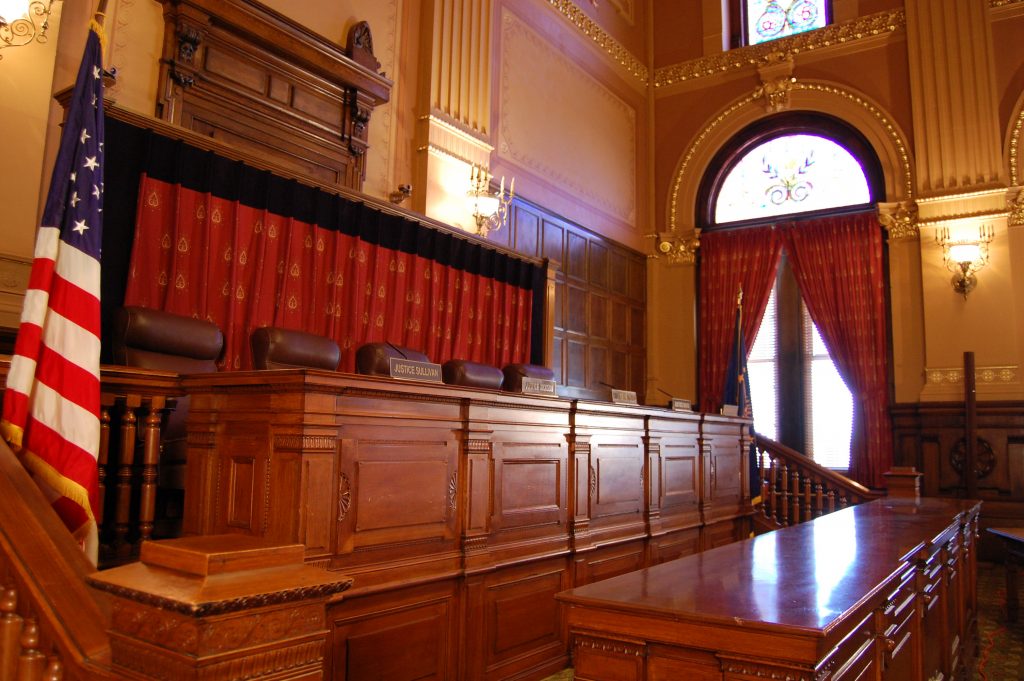 The Indiana Supreme Court has affirmed the murder conviction and life without parole sentence of a Grant County woman, finding the child victim's behavior did not cause adequate provocation to support the defendant's claim she acted in "sudden heat."
Amanda Carmack was found guilty of murdering her stepdaughter, S.C., by a Grant County jury.
During the sentencing phase of the trial, the jury found any mitigating factors were outweighed by the aggravating circumstance that S.C. was less than 12 years old and, thus, recommended a sentence of life without parole. Grant Circuit Judge Mark Spitzer followed the jury's sentencing recommendation.
Carmack appealed the sufficiency of the evidence used to convict her of murder. She argued the state failed to "rebut her contention that she was acting under extreme stress, causing sudden heat, when she killed S.C., and therefore her conviction should be mitigated or reduced to [voluntary] manslaughter."
The state advanced two arguments to support its claim that the evidence was sufficient to negate sudden heat beyond a reasonable doubt.
First, the state asserted the disciplinary problems S.C. caused were insufficient to establish provocation. Second, the state argued the evidence led to the reasonable conclusion that Carmack's actions were not spur of the moment.
Noting courts in sister states have found a child's behavior can never trigger sudden heat, the Indiana Supreme Court held the instant case does not require the making of new law.
"Indeed, the record here is so bereft of evidence of sudden heat that if there be any error, it was giving the jury this option in the first place, notwithstanding the cautious virtue of protecting the appellate record," Justice Mark Massa wrote in Amanda Dawn Carmack v. State of Indiana, 21S-LW-471. "The evidence is wholly lacking provocation to trigger sudden heat, while also revealing a sustained 'cooling-off' period between the alleged frustration and ultimate murderous act."
Carmack had a strained relationship with her stepdaughter, often complaining that of the seven children she was caring for, S.C. was the most trouble.
When S.C. broke her stepsister's charm bracelet, Carmack had a video call with her now-ex-husband, Kevin, and S.C. to discuss possible consequences. Kevin, an over-the-road trucker, told Carmack to "leave it alone" until he arrived home the next morning.
But later that evening, Carmack texted Kevin, saying she could not find S.C. Four days after the disappearance, Carmack told police she had strangled S.C. and placed her body in a trash bag, which was in a white shed at the family's home.
At trial, the defense conceded Carmack had killed S.C. but contended she acted under "sudden heat," overwhelmed by S.C.
The Supreme Court looked to precedent in Patterson v. State, 532 N.E. 2d 604 (Ind. 1988), and Powers v. State, 696 N.E.2d 865 (Ind. 1998), which found that behaviors like bedwetting and crying while in bed were not adequate provocation for sudden heat.
"Here, S.C.'s actions do not even raise an eyebrow for adequate provocation under Indiana law," Massa wrote. "… Because adequate provocation is measured under an objective person standard … we conclude that no ordinary parent under these facts would have responded with strangulation."
Also, citing Wilson v. State, 697 N.E.2d 466, 474 (Ind. 1998), Massa noted, "anger alone cannot provoke sudden heat."
Massa held that S.C.'s behavior was typical and Carmack could have addressed the issue "through rote disciplinary measures — not strangulation. Nothing about these facts suggest she was adequately provoked by S.C."
Likewise, the Supreme Court agreed with the state's assertion that an "adequately sustained 'cooling-off' period" occurred between S.C.'s breaking the bracelet and Carmack strangling her.
"Similar to (Boone v. State, 728 N.E.2d 135 (Ind. 2000)), in which the defendant contemplated her lethal plans, the jury here could have found that Carmack had ample time to consider her actions," Massa wrote. "For this reason, this break supports a reasonable finding by the jury that Carmack's decision to contact Kevin was a deliberate break in the chain of alleged provocation. Reviewed cumulatively, this evidence shows a cooling-off period sufficient to sustain the jury's conclusion there was no sudden heat."
Please enable JavaScript to view this content.