Shahd Jaziri walked into the federal courthouse in Indianapolis last spring for an interview and felt the same thing others likely feel: intimidation.
As she entered, she was greeted by the four large statues outside the building — representing industry, literature, agriculture and justice — and the interior finishes including marble, plaster and mosaics.
Jaziri, now a senior at IUPUI, was there to interview for an internship.
"I was nervous," she said. "I was like, 'Oh wow, look at the walls. This is very serious.'"
Jaziri got the internship — along with Marian University senior William Lavalle-Rivera — and the two are now three months away from completing their yearlong stints with the U.S. District Court for the Southern District of Indiana.
Jaziri and Lavalle-Rivera are part of the Model Diversity Internship Pilot Program, designed to help students from disadvantaged and underrepresented backgrounds learn about careers in the judiciary through on-the-job training.
Jaziri and Lavalle-Rivera talked about their internship experience at a conference table in the federal courthouse next to Chief Judge Tanya Pratt, who spoke up after Jaziri described her nervousness.
"And that's the exact reason why our court applied for this position," Pratt said, "because this was not always a diverse place."
One of the spots is funded by the Administrative Office of the U.S. Courts. Chief Deputy Clerk Alison Chestovich said the court was so impressed by Jaziri and Lavalle-Rivera, who were the two finalists for that position, that it decided to fund a second internship position on its own.
Part of the reason there isn't enough diversity in the federal court system, Pratt said, is because of the perception that if you're going to work for "the feds," there's going to be a high level of scrutiny involved. Then, she said, people don't apply for those open positions.
"It's not because people were not qualified for the positions in our clerk's office and our judicial positions. It's because of that perception that this is the federal court, and just coming into the building can be intimidating," said Pratt, who was the first African American — and the first Black woman — to serve as judge of any Indiana federal court.
Lavalle-Rivera said one of the perks of the internship is getting to meet people he probably wouldn't otherwise get to.
He also said he's been using the knowledge he's gained over the last nine months to help clear up misconceptions about the judicial system within his own family.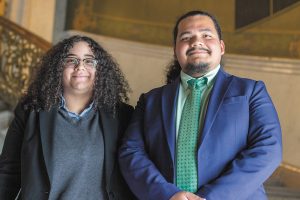 Having an internship program dedicated to diversity is important, Lavalle-Rivera said, because it helps increase exposure to the judiciary.
"It's important to have them here and understand that the judiciary does not have to be bad," he said. "You can work for them and do good, and I think that's the most important part, that you get to see everything in the background."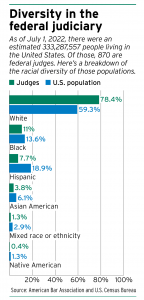 Jaziri said she's had to fend off some negative stereotypes, too.
"I think when I mentioned to some of my friends, 'Yeah, I work at the federal court,' they're like, 'Oh, you're working for the feds? Oh my God!'" she said. "But I remind them that not all perceptions are true."
Jaziri said the people she's met are humble and willing to help. That includes the judges, whom Jaziri said she thought would be "very serious people."
"Everyone is just an actual human being," she said.
The internship
Pratt said the court applied for the Model Diversity Internship Pilot Program again but wasn't selected for a second round. Still, she said the court considers itself lucky to have gotten a grant the first time, considering it's open to any federal court.
That doesn't mean there won't be other possibilities, though.
"Our court is so impressed with the program, the abilities that we've seen from our two interns, that if we had the money in our budget, which is up to Congress, we would hopefully be able to fund another position," Pratt said.
While the internship is meant to help students, Chestovich said the benefit has gone both ways.
"From the employer's perspective, they were doing real work and continue to do real work during the remaining days of their internship," she said. "It's taken a lot off of our staff members' plates to have two very enthusiastic, talented people come in and help out."
Jaziri and Lavalle-Rivera said their responsibilities have included case preparation for judges and helping with community events.
"I've gotten to learn a lot: how to use Westlaw, how to think like a lawyer and advise judges," Jaziri said.
What's next?
For Lavalle-Rivera, the internship has shifted the way he thinks about his future, including the possibility of law school.Jaziri likewise said she wants to go to law school and has been looking at legal assistant jobs.
Also, both said they made use of resume- building workshops and are hoping the connections they've made while with the court will help them land a job.
Chestovich said she'll be sad to see them leave, but offered some advice.
"We have openings every once in a while," she said with a laugh.•
Please enable JavaScript to view this content.