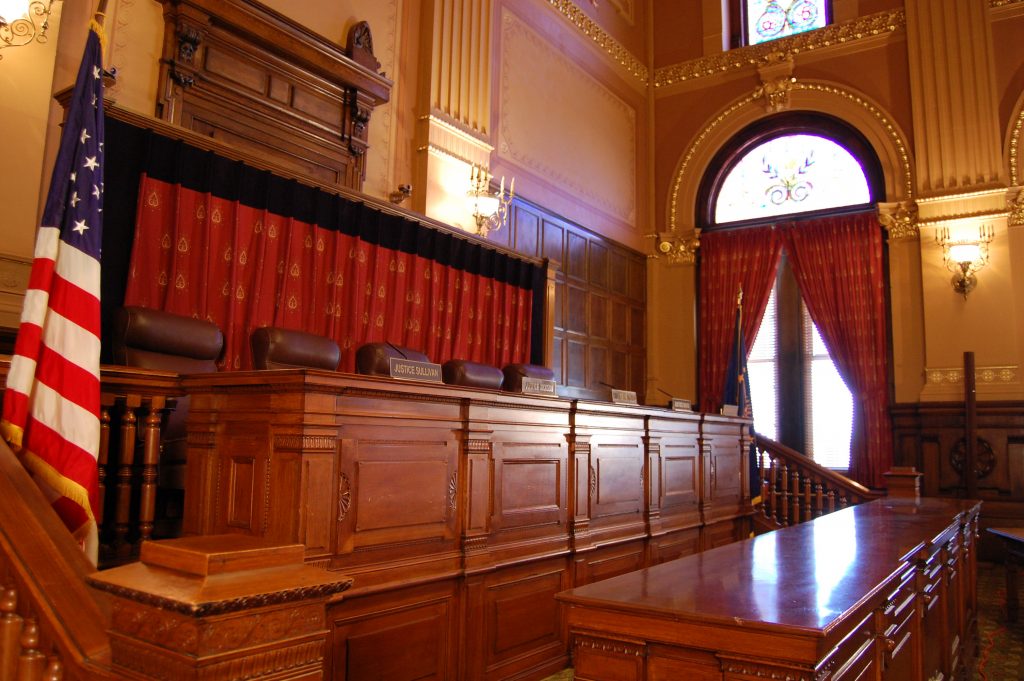 The Indiana Supreme Court heard oral arguments this week in the case of a southern Indiana man sentenced to life without parole for the brutal murder of his ex-girlfriend.
In State of Indiana v. Joseph Albert Oberhansley, 20S-LW-00620, Joseph Oberhansley's  direct appeal claimed the sentence was inappropriate.
Oberhansley was convicted of murder and burglary in the death of his ex-girlfriend, Tammy Jo Blanton.
Shortly after Blanton ended her relationship with Oberhansley, her body was found at her home in September 2014 badly mutilated with sharp force injuries and multiple blunt force injuries. Oberhansley had eaten parts of Blanton's body.
He was found incompetent to stand trial in the case twice, but once his mental competency was restored, he was convicted.
Based on a jury recommendation, Clark Circuit Judge Vicki Carmichael sentenced him to life in prison without parole.
Victoria Casanova, Oberhansley's attorney, acknowledged during oral arguments before the Supreme Court that the crime her client committed was "horrific and brutal."
"I'm not going to stand before you and pretend that what happened to Ms. Blanton was anything other than horrific and brutal," Casanova said. "The jury made the first of two statutory findings but not the second. As such, the trial court had no authority to sentence Mr. Oberhansley to life without parole."
Casanova suggested the the case be remanded for a 77-year sentence instead, which is the maximum sentence for his convictions.
"I think it's a lawful sentence, unlike the LWOP sentence he received," Casanova said.
If the sentence is changed to 77 years, then Oberhansley would be in his 90s when released.
Chief Justice Loretta Rush noted that the jury was properly instructed.
Justice Geoffrey Slaughter asked why the court should find an implicit finding.
Casanova agreed that the jury was properly instructed, but she said  the error falls to the trial court.
"The Legislature has said that this finding is required, and it appears nowhere in the record," she said.
Casanova argued the LWOP sentence did not qualify because it failed to meet a standard of the aggravating circumstances outweighing the mitigating circumstances.
Rush asked if, due to all the evidence and the amount of time the jury was informed, both findings were made.
Casanova said no, stating an assumption wasn't in the record.
Kelly Loy, arguing for the state, disagreed and asked the court to affirm the sentence.
"This error is not fundamental and is subject to harmless error review," Loy said. "Also, appellate reweighing would address any anomaly in the court's instructions."
The state also argued Oberhansley waived his right to appeal because he allowed the forms to be submitted by the jury.
Slaughter argued it's the state's job to establish there was a finding of the aggravating circumstances outweighing the mitigating ones.
The full arguments are available online.
Please enable JavaScript to view this content.