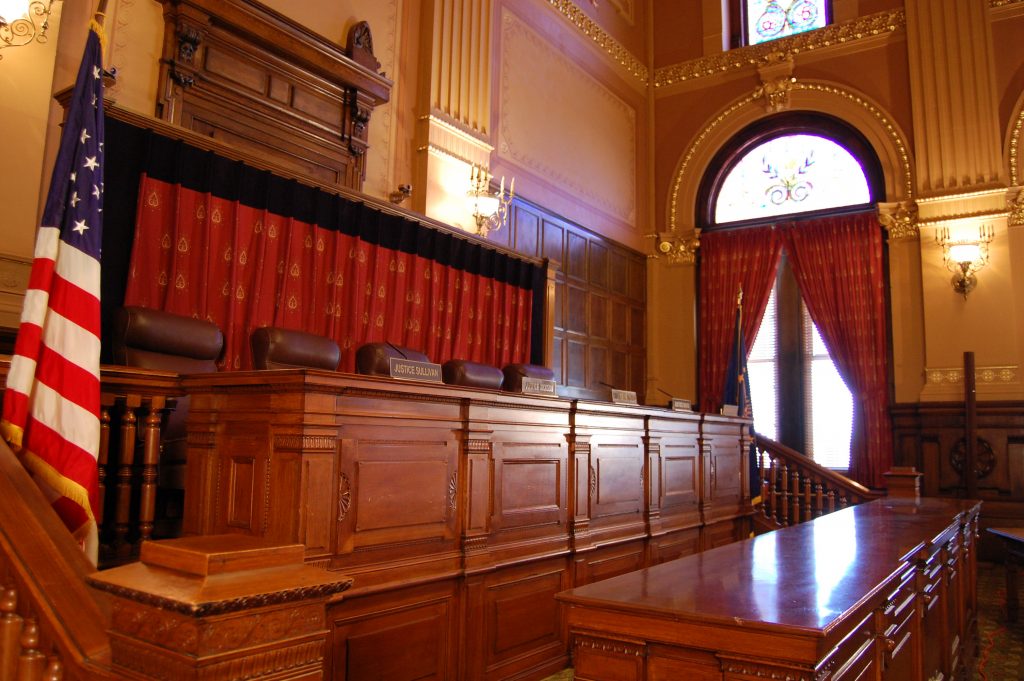 The Indiana Supreme Court is prepared to hear three oral arguments next week, all cases the Court of Appeals of Indiana had reversed.
Oral arguments for A.W. v. State of Indiana, 22A-JV-150, which was reversed in part by the Court of Appeals of Indiana almost a year ago, will be heard May 4 at 9 a.m.
A.W. is a teen that was arrested for possession of a modified pistol after being stopped by Speedway police officers when they saw a car driving 60 mph in a 35-mph zone.
The Marion Superior Court had entered true findings of dangerous possession of a machine gun against a minor.
The appellate court had affirmed there was sufficient evidence to support the finding that A.W. knew that an attachment to the gun converted it to a machine gun. It also found that the convictions for dangerous possession and possession of a machine gun violated the double jeopardy clause of the state constitution.
At 10 a.m. the court will hear arguments on Jason Morehouse and Sarah Morehouse v. Dux North LLC, 22A-PL-664, which was reversed and remanded by the Court of Appeals of Indiana in September 2022.
Jason and Sarah Morehouse bought two contiguous parcels of land in Hamilton County near Morse Reservoir adjacent to Dux North's landlocked parcel.
The dispute is whether Dux North has an implied easement in the Morehouses' private road that connects to a public road. The Hamilton Superior Court had found an implied easement by prior use to exist but did not decide whether an implied easement of necessity existed.
The appellate court found that an implied easement of necessity is unavailable, but that further factual development is needed to decide where an implied easement by prior use is proper.
The last oral argument the high court will hear, at 11 a.m., is State of Indiana v. $2,435 in United States Currency and Alucious Kizer, 22A-CR-578.
The state filed a complaint seeking the forfeiture of $2,435 in currency that Fort Wayne Police seized from Alucious Kizer when he was arrest on suspicion of dealing controlled substances.
Kizer had requested the case be tried before a jury which was granted by the Allen Circuit Court.
However, the appellate court had ruled that Article 1, Section 20 of the state constitution did not require a jury trial for civil forfeitures.
Oral arguments are held in the Supreme Courtroom on the third floor of the Indiana Statehouse. They are also available to watch on livestream.
The high court will hear three more oral arguments later in May.
Please enable JavaScript to view this content.