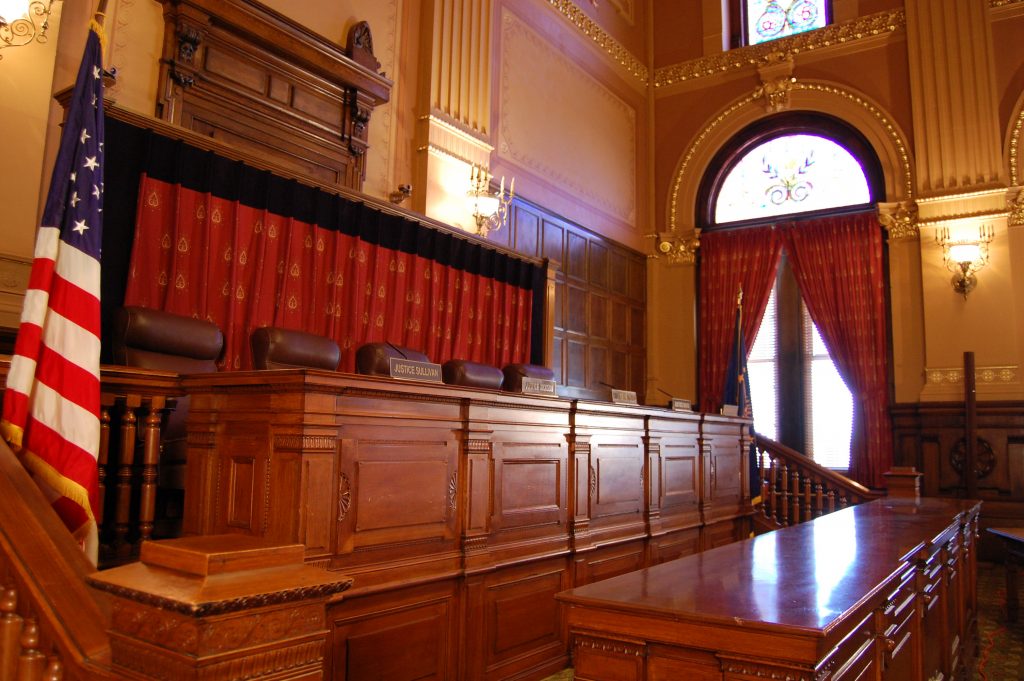 Indiana Chief Justice Loretta Rush has penned a dissent to the high court's denial of transfer to a case involving a woman who was convicted of resisting law enforcement, writing separately that the case would be a good opportunity for the justices to provide clarity on what it means to "forcibly" resist law enforcement.
In the case of Lacey M. Evans v. State of Indiana, 22A-CR-174, Lacey Evans was convicted of resisting law enforcement as a Class A misdemeanor and sentenced to 365 days, with 355 days suspended and 10 days credited as already executed.
According to court documents, a man who was in a romantic relationship with Evans had a key to her home. An Indianapolis police officer was dispatched to the home in May 2021, and the man requested that Evans be arrested for battery.
When the officer knocked on the door, Evans opened it but then "slammed it shut."
Evans appealed her conviction, but a split Court of Appeals of Indiana affirmed in a memorandum decision last year, finding the state presented sufficient evidence.
Evans then appealed to the Supreme Court, which denied transfer last week.
Justice Geoffrey Slaughter joined Rush's dissenting opinion, in which she wrote that the bar for forcible conduct "is not this low" and that the court should clarify that.
"Moreover, this case presents an opportunity to decide when, if ever, an occupant can validly consent to law enforcement's warrantless entry of a residence when another occupant unequivocally objects," Rush wrote. "This important question of law, not reached by the majority, is one of recurring significance — particularly when officers respond to domestic disputes — and we should decide it."
Rush wrote that the Court of Appeals' holding that slamming a door constitutes forcible conduct "strays significantly" from precedent. A person's conduct becomes forcible when accompanied by an "exertion of strength, power, or violence," she wrote, citing Walker v. State, 998 N.E.2d 724 (Ind. 2013). Rush also noted the same principles apply when someone doesn't make contact with an officer, though they function "slightly differently."
A threatening movement or gesture directed at an officer can qualify as forcible conduct, Rush wrote, but it's "far less clear how to determine whether a particular threat rises to the level of forcible conduct."
"Simply put, viewed objectively, nothing in this record suggests any strength, power, or violence in Evans's act of slamming her slightly open apartment door or otherwise proves beyond a reasonable doubt that she acted forcibly prior to law enforcement entering her home," Rush wrote. "The majority's contrary conclusion represents a significant departure from accepted law. For that reason alone, transfer is warranted."
Rush wrote transfer is also warranted to address the state's argument in support of Evans' conviction, because officers weren't lawfully inside her apartment when she resisted arrest.
In concluding Evans forcibly resisted law enforcement, the Court of Appeals didn't address whether law enforcement had valid consent to enter Evans' apartment. While the state argued Evans' ex-boyfriend consented to their entry after he unlocked the door with his key and forced it open by breaking a chain lock, Evans maintained the officers' entry and subsequent arrest violated her rights under both the Fourth Amendment and Article 1, Section 11 of the Indiana Constitution.
"These competing arguments present an important question of law that this Court should decide," Rush wrote.
Please enable JavaScript to view this content.