Indiana Supreme Court Justice Steven David will participate in one last court proceeding in his former judicial home of Boone County when the high court travels to Lebanon High School on June 30 to hear oral arguments.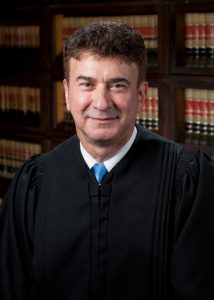 The Supreme Court is holding its session in Boone County in celebration of David's final oral arguments. David, who previously served as a Boone County trial court judge, will be retiring this fall.
The oral argument will be for James McCoy v. State of Indiana, 21A-CR-2000, a criminal case about advisement of rights.
The argument will start at 10:30 a.m. in the auditorium of Lebanon High School, 510 Tiger Way, Lebanon.
The 50-minute session is open to the public. Seating will be on a first-come, first-served basis, but registration is requested.
Individuals attending the arguments will be required to enter through door 5 from the main school parking lot and will have to go through security.
The Supreme Court holds about 60 oral arguments each year in its historic courtroom at the Indiana Statehouse in Indianapolis. Occasionally, arguments are scheduled outside the capital to allow students and the public in other areas of the state to see the justices in session.
The arguments will also be livestreamed and archived on the court's website.
Please enable JavaScript to view this content.