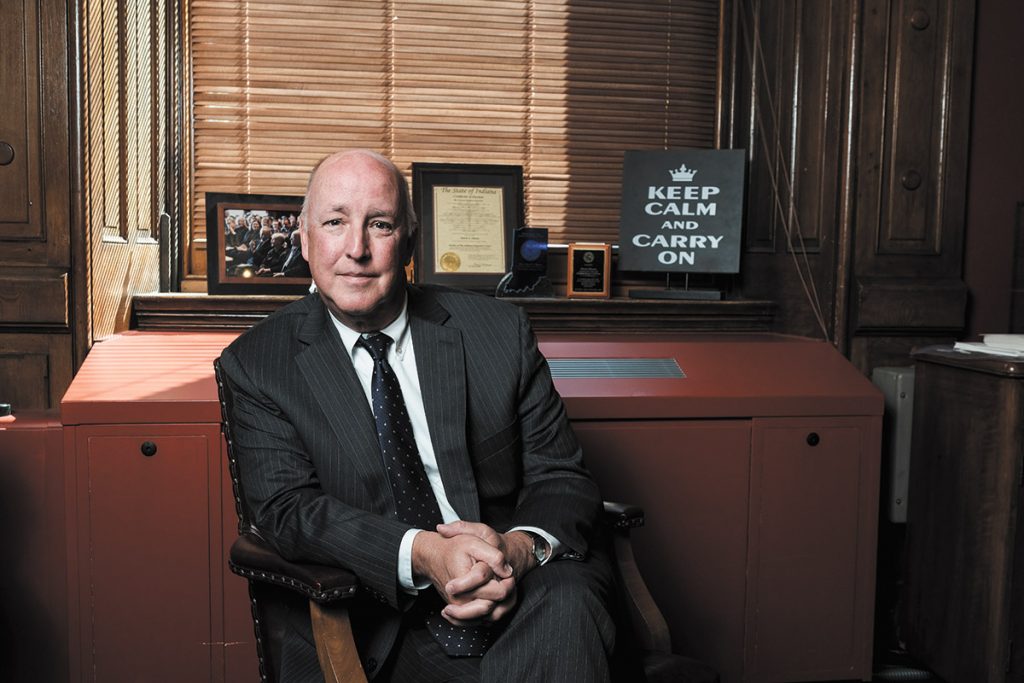 Indiana Supreme Court Justice Mark Massa's career has often come full circle.
There's the former prosecutor who the justice recently ran into — the same prosecutor who a younger Massa, then a journalist, watched in action in the 1980s, inspiring his future legal career.
There are the annual gatherings of Indiana's judges — many of whom Massa had a hand in appointing as general counsel to former Gov. Mitch Daniels.
And then there is Massa's very office — the same office in which he clerked for former Chief Justice Randall Shepard. In fact, back when he was deputy press secretary for former Gov. Robert Orr, Massa wrote the press release announcing Shepard's appointment to the high court bench.
"So from 1991 to '93, this is where I came to work, never dreaming that 20 years later, he would retire and I would succeed him," Massa said while sitting in his Statehouse chambers. "And 7½ years into it, it's still hard for me to believe."
The night-law-school graduate didn't follow a traditional path into the law, but he says a series of "incredibly lucky breaks" propelled him forward in the profession. He's held numerous titles — sports reporter, speech writer and federal prosecutor, to name a few — but he never intentionally pursued the title "justice."
"Any of these jobs — any of these appellate judgeships, federal judgeships — if you're lucky, they just happen to you," Massa said. "You don't set out at the beginning of your career thinking, 'That's where I want to be.'"
Massa recently sat down with Indiana Lawyer for a wide-ranging interview.
When you were appointed in 2012, was that your first time applying to be a justice?
Yes. I'd had a lot of experience, though, with that (Judicial Nominating) Commission. When I clerked for Chief Justice Shepard, Gov. (Evan) Bayh filled multiple vacancies on the Court of Appeals … . The chief allowed me to sit in on that conference room, watch all those interviews. And then years later, probably the most important duty I was involved in in the governor's office was filling judicial vacancies. …
What was it like transitioning to the bench having never been a judge?
The first week kind of felt like being a substitute teacher at your old high school. … I was very lucky in that the two years' experience I had as a clerk made things very familiar. I was appointed to the court on Friday, March 22, and I started on Monday, April 2, and in the week in between, they sent me a Banker's Box full of transfer petitions. I opened the box … and I thought, "Boy, this all looks very familiar." … It was amazing, a week later, I got to go to conference and vote on those cases. That's the one thing as a clerk you don't see. …
The other thing that just made the transition very smooth was I had worked in this very suite of offices. … During my time as counsel to Gov. Daniels, one of my liaison duties was with the judiciary, so I was up here frequently. And Chief Justice Shepard and I were also good friends, so I would be stopping in here. …
Are there any cases you've decided that stand out to you?
I think all the cases that we take are important, so I really wouldn't want to identify one over another. Deciding which cases to take, in my view, is the hardest part of the job. It's kind of the art of it. … As a court of last resort, our primary mission is to protect the rule of law. So you have to look at a case and ask not just, "Was there error?" but, "Is this the kind of case that's going to potentially affect a lot of other people in this state? Is it an unsettled question of law?" But sometimes, justice demands that you intervene and grant transfer in a case even if it doesn't necessarily fit those criteria in Appellate Rule 57. …
What's the dynamic like among the five justices?
It's very positive. It's a terrific group. And the people who came before us really set a tone of civility and collegiality and professionalism, left us an expectation that you can disagree without being disagreeable. …
Do you think the court is different now than when you started given the turnover?
… Again, I think because of the expectations that we inherit and the way each of us strive to fulfill those, I don't see a big difference in the workings of the court since I joined it. … I look at that 12-year run with no turnover on the court as really a golden era for the Indiana Supreme Court. … I think all five of us are aware of that, and we strive to do our best every day. …
What's been your administrative role as a justice?
The first big assignment that I assumed was after Justice (Frank) Sullivan's retirement. He had taken the point on the court's technology initiative for many years. Chief Justice (Brent) Dickson asked me to take over that portfolio, largely because the immediate need at that moment was legislative, and I had a great deal of experience in the building and we needed to secure funding for the continued implementation of a statewide electronic case management system. … We were successful in that first legislative session, but then I found myself at times almost having to be a chief technology officer for the third branch of government, and I was ill-equipped for it. Thankfully Justice (Steven) David volunteered to swap duties with me.
At that point I then moved over to be liaison with the Board of Law Examiners. I had a great deal of, and still do, interest in professional licensing and bar exam issues, having my daughter become a member of the bar in another state and living through that experience, so I really enjoyed my assignment with the Board of Law Examiners and still kind of keep my hand in that.
I also chaired the Merit Selection Committee in St. Joseph County. … I had South Bend ties – my first newspaper job was with the South Bend Tribune as an intern. … Justice (Christopher) Goff has that now, because when the Legislature went to merit selection for Marion County a year and a half ago, I became the chairman of that committee. …
How do you think merit-based processes works?
I think they work very well. … I'm really proud of the judges that it has produced. The governor made three great choices last year (in Marion County), and the three judges up in St. Joe County that were selected in the past five years, six years, have all been outstanding.
Given your work with the BLE, what do you think about Indiana's efforts to review the bar exam?
I think we're very fortunate to have former Chief Justice Shepard and Chief Judge (Nancy) Vaidik chairing this (bar review) commission and doing a deep dive into what, if any, changes ought to be made. And I'm eagerly awaiting their recommendations.
What's been the court's biggest challenge during your time on the bench?
I think the biggest challenge administratively that the court faced was restructuring under the leadership of Chief Justice (Loretta) Rush. And I think that that has gone very well. … Chief Justice Shepard really created, even administratively, the modern Indiana Supreme Court. … But like any great organization, you want to strive for constant improvement, and there were efficiencies to be found. …
The other thing is in terms of court technology. Justice David took over that portfolio with the great assistance of Judge (Paul) Mathias … and that long, long journey is almost complete. …
Would you say that's also the court's biggest success?
I would say so. It's hard for me — I don't think you can point to particular cases as successes … other than pointing to our daily mission of protecting the rule of law writ large in Indiana.
What's your favorite part of your job?
I think the responsibility is my favorite part. I think in life, you're always wise to not get too caught up in your work and letting it define who you are, but if you're fortunate enough to have a job that adds meaning and purpose to your life, you're a lucky man, indeed. To be one of five people responsible for guarding the rule of law for 6.5 million people is a great responsibility and is a privilege. … And the other thing, simply, is having four great colleagues to work with. …
What do you see for your future?
… You hope that you stay healthy and can do this job for as long as your health allows. And I hope someday to have grandchildren.
What about the court's future?
I think we're a solid group that produces good work and, again, if everyone stays healthy, I would think we would be intact for a pretty good period of time to come.•
Please enable JavaScript to view this content.