Editor's note: This story has been updated.
Indiana Chief Justice Loretta Rush is in quarantine after testing positive for COVID-19 over the weekend, the Indiana Supreme Court announced Monday.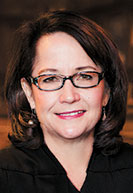 Rush, 62, is in quarantine after receiving a positive test on Sunday, the Office of Judicial Administration said. She is continuing to work remotely.
The chief justice has been self-isolating since a family member was diagnosed for the novel coronavirus, and she was tested after learning of that diagnosis, the court said. She has not been to her Indiana Statehouse office in downtown Indianapolis since Sept. 1.
"Chief Justice Rush immediately notified her colleagues, staff, and other government officials. Her public schedule will be adjusted as needed," according to the OJA. "The Indiana Supreme Court and Clerk's Office remain open, with continued adjustments in place to protect the health and well-being of employees and the community."
According to a Supreme Court spokeswoman, the chief justice is under a doctor's care but has not gone to the hospital. She does not have severe symptoms but is in the early stages of the virus, according to the spokeswoman.
Please enable JavaScript to view this content.