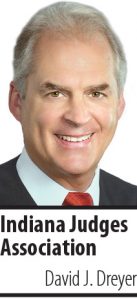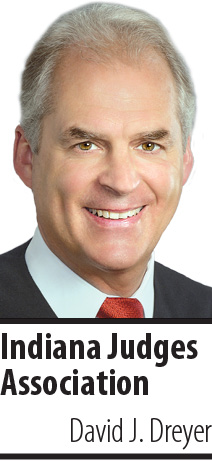 "A strong, predictable court system is good for Indiana's businesses and its workforce — that in turn is good for our economy. We developed the commercial courts program with support from the business community. While the nature of a lawsuit is adversarial, the nature of business is to get back to work." -Indiana Chief Justice Loretta Rush
What do Saint Thomas More, patron saint of lawyers, and Indiana's commercial courts have in common? They both made history by the effective streamlining of business law cases. Thomas More was Lord Chancellor of England in the 1500s, ruling over the kingdom's Court of Chancery. Indeed, the first recorded reference to a Court of Chancery is in 1280, when the king set up the Lord Chancellor's office to handle certain cases apart from common law issues. Eventually, it became a formal method to deal with cases of contracts, land and trusts — and a recognized separation evolved between "equity" and common law. The policy and purpose were to make it easier and faster for everyone.
Among the American colonies, Delaware was the vanguard for this thinking. It formed its Court of Chancery in 1792 and remains to this day the nation's foremost forum for business formation and litigation. As the country grew, legal leaders searched for ways for courts to be more efficient and responsive. About 30 years ago, various jurisdictions began looking to start pilot "commercial courts" to separate business litigation from the general caseload. By 2010, almost half of all states had commercial courts in either cities/counties or statewide — in jurisdictions of all sizes.
In 2013, the Indiana Supreme Court formed a committee of judges, led by Allen Superior Judge Craig J. Bobay and Marion Superior Judge Heather Welch, to study the possible implementation of commercial courts in Indiana. The committee produced a draft rule for the beginning of pilot commercial courts in 2014, and the Indiana Supreme Court created the first Indiana commercial courts in 2016. During the next three years of the pilot project, over 500 cases were handled by the commercial courts, which was considered a resounding success. So, in 2019, the Indiana Supreme Court established the Indiana Commercial Court and, effective in 2021, expanded from the original six judges to 10. All the judges have special training, dedicated dockets and judicial law clerks.
So what makes commercial courts so beneficial, especially in a quiet Midwestern place like Indiana? According to many lawyers and judges, it is just what Indiana needs.
Efficiency. Former Justice Frank Sullivan, retired from the Indiana Supreme Court, extols the commercial courts because of special trial rules that "are a great advantage to the people of our state because the rules get business disputes resolved quickly." Judge Bobay has found that the special education and dedicated dockets have "lifted some burden off bogged down trial courts."
Quality. The commercial court judges also produce better decisions, according to Wayne Turner of Hoover Hull Turner. "The parties get a fair shake and a good process," he says, "and the judges are naturally interested and sensitive about how to schedule complex cases down a reasonable path." Tracy Betz of Taft Stettinius & Hollister believes that commercial court judges understand the cases better and take the load off regular sitting judges, all of which results in better decisions, more quickly. "I believe the commercial courts have great value," says Betz, "and now the lawyers and clients have more confidence in them."
Problem-solving. Chief Justice Rush notes that Indiana's commercial courts complement the same efforts as our other specialized problem-solving courts. "In the same way that we provide specialized guidance for eviction matters or children in need of services or veterans," she says, "we are providing targeted resources to help courts best serve our business customers." Judge Welch agrees: "We focus on developing a system that meets the needs of those in the business world … and have gained great insight from business litigators and business experts."
Drawing business to Indiana. One of the direct benefits not always measured is the advantage for states with commercial courts. "Businesses many times consider where to locate based on the ability of the court system in that jurisdiction to resolve business disputes," says Judge Welch. "The Indiana Commercial Court enhances the accuracy, consistency and predictability of decisions in the Indiana courts." Betz concurs: "Commercial courts give business litigants a lot of comfort."
Lord Chancellor Thomas More was famous for expediting the docket of the Court of Chancery in 16th century England to the point where they called the next case, and there were none. That will never happen in Indiana, but the Indiana Commercial Court has disposed of 1,238 cases in less than five years — something about which St. Thomas would be proud.•
• Senior Judge David J. Dreyer presided as a judge of the Marion Superior Court from 1997-2020. He is a graduate of the University of Notre Dame and Notre Dame Law School and a former board member of the Indiana Judges Association. Opinions expressed are those of the author.
Please enable JavaScript to view this content.