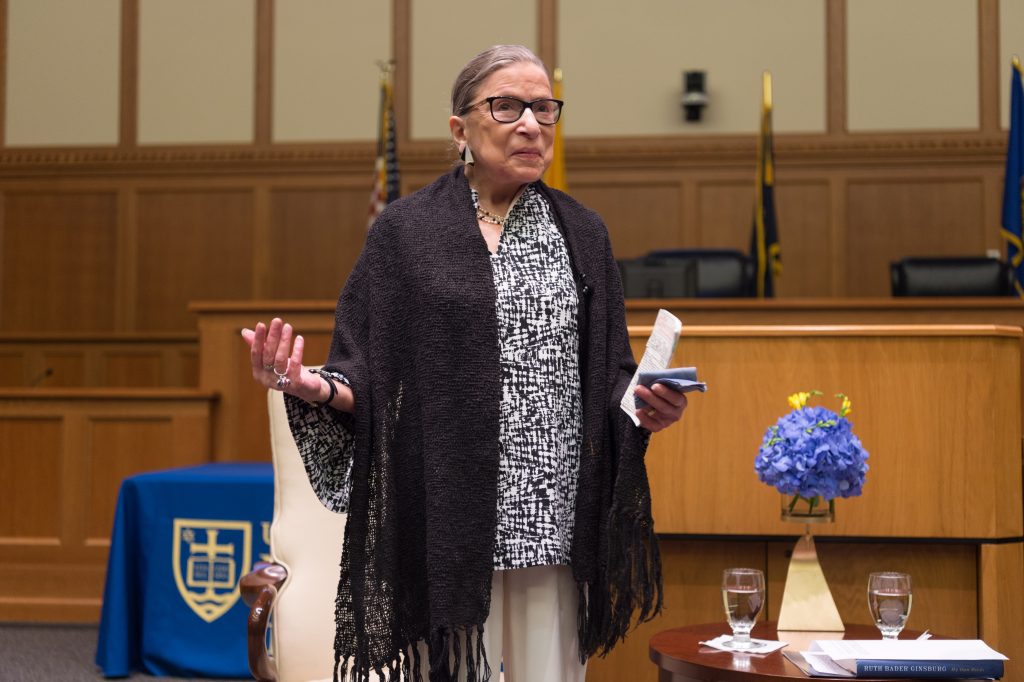 When Justice Ruth Bader Ginsburg arrived at the University of Notre Dame in September 2016, she was greeted by a large crowd of admirers. But Nell Jessup Newton, then dean of the Notre Dame Law School, remembered the judicial icon making her feel like the pair were longtime friends.
"She was one of the most amazing women I've ever met," Newton said of Ginsburg.
Ginsburg, who died Friday after a battle with pancreatic cancer, sat on the U.S. Supreme Court for 27 years, where she solidified her reputation as a fighter for equality. During that period, crossed paths with some Hoosiers and wove Indiana into her legacy.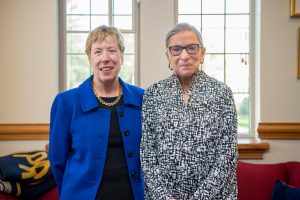 Newton and Ginsburg had met infrequently through the years. Always, the justice asked about the dean's scholarship on Indian law. Ginsburg, a former law school professor, would also inquire about how the Catholic mission of Notre Dame Law School affected the graduates and about the number of women students and faculty. The conversations included updates on mutual friends and, of course, the operas they hoped to see during the coming season.
"I will always treasure those moments," Newton said in an email. "As a citizen, I regret the loss of one of the court's finest minds and most judicious temperaments. May her memory ever be a blessing."
Shortly after Ginsburg was confirmed to the Supreme Court, the former Valparaiso Law School published a collection of her essays in its 1994 law review. The journal included Ginsburg's remarks at her confirmation hearing before the U.S. Senate Judiciary Committee as well as her 1971 and 1982 observations on how legal education treated women students and faculty.
Also, the journal cited a portion of her speech at her investiture to the Supreme Court on Aug. 10, 1993. She had called for a judiciary that consisted of men and women from a variety of racial and ethnic backgrounds.
"A system of justice will be the richer for diversity of background and experience," Ginsburg said. "It will be poorer, in terms of appreciating what is at stake and the impact of its judgments, if all its members are cast from the same mold."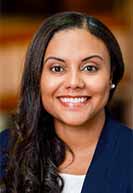 Veronica Root Martinez, the first Black woman to become a tenured full professor at Notre Dame Law School, recalled the time Ginsburg took and the careful attention she gave to answering questions from the law students during the 2016 visit to the South Bend school. The law professor saw the justice underscoring her comments about the need for the legal profession to reflect the diversity of American society.
"Some say representation doesn't matter but it does," Martinez said in a statement. "Her representation and contributions mattered to our law students and to young women and girls all over this country and world. She will be sorely missed by individuals of all walks of life and ideological backgrounds."
Indiana Chief Justice Loretta Rush, the second women to serve on the Hoosier state's highest court and the first to serve chief justice, said to those who emulated Ginsburg, her passing was like losing a personal mentor.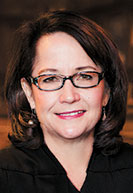 "Justice Ginsburg's work provided both men and women an opportunity to better their lives," Rush said in a statement. "She was a hero to many of us in our legal careers, and a cultural icon outside the legal profession. And her civility and genuine friendship with those who had differing opinions show her as an example of a leader to model."
Jon Laramore, executive director of Indiana Legal Services, sparred with Ginsburg at oral arguments on Jan. 14, 2015, believing the justice was pushing him to broaden his interpretation of state and federal statute.
Then an attorney in private practice at the firm that is now Faegre Drinker Biddle & Reath LLP, Laramore was providing pro bono representation to Moones Mellouli. A lawful permanent resident, Mellouli had pleaded guilty to a misdemeanor offense under Kansas law of possession of drug paraphernalia. The paraphernalia was actually a sock that contained four unidentified orange tablets.
Mellouli's troubles multiplied when an immigration judge ordered him deported under federal law, which allows for the removal of "an alien" convicted of violating any law or regulation of a state or the United States related to a controlled substance. In Mellouli v. Holder,  13-1034, 2015 WL 2464047, the justices grappled with the statutory construction and whether a state misdemeanor conviction for possession of drug paraphernalia could be the basis for deportation under the federal statute.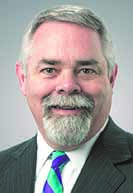 Laramore remembered Ginsburg queried him about the state and federal statutes. He thought she was trying to get him to say the state law of conviction had to be identical to a federal statute to justify removal. However, Laramore was reluctant to go that far.
Ginsburg posited "… this sock would not count as drug paraphernalia if we were — if we were dealing with a Federal prosecution."
Laramore responded, "You are absolutely right that it would not. Possession of paraphernalia is not a federal offense. One cannot be prosecuted federally for possessing drug paraphernalia."
Ginsburg again asked, "… is the sock considered drug paraphernalia under federal law?"
Laramore replied, "It would not be because the federal statute says … its usual purpose has to be to facilitate drug sales or drug use or one of those things that paraphernalia does. And the Kansas definition is far broader than that."
Looking back at the transcript of the argument and Ginsburg's opinion for the majority in the 7-2 decision in Mellouli's favor, Laramore realized Ginsburg, he said, "turned out to know more than I did." He said her clear opinion applied the statute as Mellouli had asked, meaning he could not be deported because there was no showing in the court records of his prosecution and conviction that a federal controlled substance was involved. Ginsburg rested the decision on the immigration authorities' own longstanding method of applying the statute.
"Wise in the ways of her court, Justice Ginsberg may have asked me a difficult question to get me to clarify for others on the bench that we were not seeking the broader interpretation she posited, but rather just the interpretation immigration authorities had been applying for many years up until the current administration," Laramore explained in an email. "And she may have known that response was all a couple of her colleagues, whose votes we did not think we could get, needed to hear to vote our way."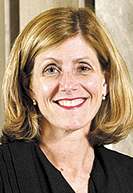 Within the federal courts, the Southern District of Indiana reflects Ginsburg's trailblazing effort in the arena of gender equality. Both chief judges for the district and the bankruptcy court are women — Jane Magnus-Stinson and Robyn Moberly. Flags at the federal courthouses throughout the Southern District of Indiana have been lowered to half-staff to honor Ginsburg.
"The entire Southern District of Indiana is saddened by the news of Justice Ginsburg's passing," Magnus-Stinson said in a statement. "Her groundbreaking work as a lawyer, judge and justice has and will continue to serve as an example and inspiration for generations to come."
Please enable JavaScript to view this content.