Indiana Senate Republicans have again endorsed a proposal that would empower the state attorney general to seek appointment of special prosecutors to take over criminal cases that local authorities have decided against pursuing.
The Senate voted 37-11 on Tuesday in favor of a bill that its sponsor said was aimed at attacking what he called "social justice prosecution" when elected county prosecutors stop pursuing charges against certain categories of crimes.
Opponents of the proposal argue that it undercuts the discretion of prosecutors as to how they use their limited staffs and budgets.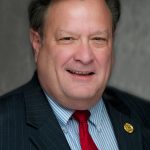 Bill sponsor Republican Sen. Mike Young of Indianapolis formally introduced the legislation two years ago after Marion County's Democratic prosecutor announced that his office wouldn't pursue criminal charges against adults solely for possessing about 1 ounce or less of marijuana. However, Young maintains the legislation was in the works before Prosecutor Ryan Mears took office.
The bill now goes to the Republican-dominated House for consideration, but the House didn't take any action on the proposal after it won Senate approval last year.
Please enable JavaScript to view this content.