In June, Florida became the most recent to join a growing list of states moving to cast aside long-held resistance and beginning to open the door to — if not completely welcome —nonlawyers co-owning legal practices.
State supreme courts have been appointing special committees to examine various aspects of the legal profession, according to data collected by the American Bar Association Center for Innovation. Often the agenda includes looking at the ramifications of allowing those without law licenses to have an equity interest in a law firm or some other kind of law practice.
Arizona went a step further in August 2020 and became the first state to eliminate Professional Conduct Rule 5.4. Attorney Whitney Cunningham of Aspey Watkins & Diesel PLLC and member of the Arizona task force that recommended the rule change described the many business models that lawyers might be able to create.
"In other words, let your imagination run wild," he said. "There's not much limitation on what could happen in Arizona."
But Indiana State Bar Association President Michael Tolbert said he is not convinced Hoosier lawyers are willing to invite nonlawyers into the owners' circle. He acknowledged that attorneys whose practices need capital might find the idea of nonlawyer ownership attractive, but he said he doubts the concerns over professional independence have waned from the strong opposition that arose when a proposal to allow nonlawyer ownership was presented to the association's House of Delegates in 2016.
"I think some people feel this would be a strong overreaction to just rolling up your sleeves and trying to solve the business problems that all businesses go through," Tolbert said. "Our businesses are very unique because we have certain ethical rules and obligations that we owe to our clients. This proposal would possibly compromise that, and I know a lot of lawyers are not willing to do that."
However, the marketplace and, specifically, the need to make legal services accessible and affordable appear to be dictating the movement to examine and change fee-sharing and ownership rules.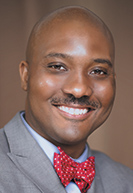 In written comments supporting the amendment to Arizona's rules, the Institute for the Advancement of the American Legal System at the University of Denver highlighted the "systemic inefficiency" of law firms and the stifling of innovation within the legal profession. Also, the institute, citing ABA statistics, claimed the rules are hiking fees, which is contributing to the current situation where more than 80% of the civil legal needs of lower- and middle-income individuals are going unmet in some jurisdictions.
The institute said eliminating Rule 5.4 would foster innovation and benefit the customer base. To bolster its assertions, IAALS drew from the observations of Indiana University Maurer School of Law professor and co-founder of the Institute for the Future of Law Practice William Henderson.
"Eliminating Rule 5.4 and allowing outside investment and/or multi-professional business models would foster innovation in a sector deeply in need of innovative thinking and benefit a consumer base that is deeply in need of legal services," the institute said. "… As Professor Henderson writes, 'We have entered a period where we are either going to redesign our legal institutions or they will fail.'"
New entities sprouting
Arizona's new rule structure took effect Jan. 1. The reaction has been muted, according to Cunningham, with many attorneys taking a "sideways glance" at the change but no groundswell of opposition.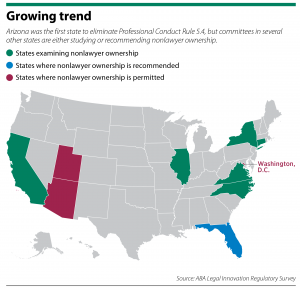 Cunningham said the debate over nonlawyer ownership has been going on since at least 15 years ago, when he was president of the State Bar of Arizona. Proposals for change were always defeated until then-Arizona Chief Justice Scott Bales took an interest in the issue.
The argument that opening the legal market will hurt the practice of law and harm consumers is not one that sways Cunningham. Pointing to a finding that online service providers have already been stepping into the market, he said the rules were causing the legal profession to compete with tech-based companies with one hand tied behind its back.
Cunningham said he believes that under the amended rules, Arizona lawyers will follow the regulations, conduct themselves as required and compete just fine.
"The idea that lawyers have to protect their turf to have a successful career, I don't think that was ever true," he said.
By late June, three nonlawyer entities had been approved for co-ownership in Arizona and another 10 had applications pending, according to Cunningham.
About the same time Arizona was changing its rules, Utah was creating a "regulatory sandbox" to enable nonlawyer ownership. In March, Law on Call was licensed in Utah and became the first entirely nonlawyer-owned law firm in the U.S. Meanwhile, the list of approved entities seeking permission to operate in the sandbox has grown to nearly 30 and includes law firms and software companies.
Tolbert said he has confidence in lawyers to meet the challenges posed by the market. He said attorneys can create and innovate ways to deliver legal services that help the general public without having to join forces with nonlawyers.
Most importantly, he said, lawyers would not face the potential ethical dilemma that could arise if providing a return on investment to the nonlawyer partner conflicts with doing what is best for the client.
"I think when you open ownership to nonlawyers, there's no way in the world you could argue that our professional independence won't be compromised in some way, because you have somebody that owns part of the business but is not governed by the same rules that lawyers are," Tolbert said.
Lawyer independence
Similar concerns have been raised in the Buckeye State. The Ohio State Bar Association has convened a Law Practice Modernization Task Force to evaluate models for practicing law. Although nonlawyer ownership is not part of the discussion, the association has put out a call to its members to give their thoughts on the topic.
In a March 2021 article in the Ohio Lawyer magazine, Thompson Hine attorney Karen Rubin noted the potential risks of having owners who are outside the legal profession. She questioned if lawyers would be able to act in the best interests of their clients if the law firm's investors had different priorities. Also, she wondered if confidentiality, "the cornerstone of the lawyer-client relationship," might be eroded or if client communications with nonlawyer owners would not be considered privileged.
Arizona's new regulations include the requirement that firms with nonlawyer owners have an Arizona-licensed attorney acting as the compliance officer. Cunningham said "the professional rules of independence, confidentiality and loyalty" still apply, so the compliance officer's job is to ensure those rules are being followed.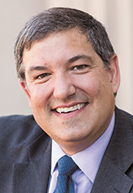 Zachariah DeMeola, director of legal education and the legal profession at IAALS, maintained there is little evidence to support the premonition of ethical problems. He noted, like Arizona, that new rules have been put in place to regulate the alternative business structures, audits will be conducted, and the penalties for noncompliance can be as severe as shutting down an operation.
Also, DeMeola pointed to Washington, D.C., which he said has had no crisis of independent judgment even though the legal community there has been operating under a modified Rule 5.4 for years. In addition, he said neither the United Kingdom nor Australia, which relaxed their ownership regulations in 2007 and 2001, respectively, have recorded any increase in attorney discipline complaints.
"I think we know enough to know the status quo isn't working," DeMeola said. "In fact, the status quo is getting worse and the solution we've proposed has not led to any crisis in those other places."•
Please enable JavaScript to view this content.