Editor's note: This story has been updated.
Indiana Supreme Court Justice Steven David, currently the longest-serving justice on the Hoosier high court, has announced that he will step down from the bench in the fall of 2022.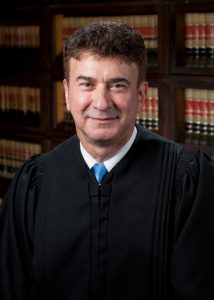 The Supreme Court announced David's retirement Wednesday.
"Service to others has been my greatest honor," David said in a statement. "I am humbled to have served. My journey has been nothing less than a dream come true."
David was appointed to the Indiana Supreme Court as its 106th justice in 2010. His career has been marked by public service both in the military and as a civilian.
The justice began at Murray State University, graduating cum laude as a distinguished military graduate on an ROTC scholarship. He went on to earn his law degree from the Indiana University Robert H. McKinney School of Law in Indianapolis.
After graduating from law school in 1982, David served in the U.S. Army Judge Advocate General's Corps on active duty until 1986, then on reserve duty until 2010. He was mobilized post-9/11 to Iraq and Guantanamo Bay, serving as trial counsel, defense counsel, military judge, training officer, staff judge advocate and commander.
In 2007, then-Secretary of Defense Robert Gates selected David to serve as chief defense counsel for the Office of Military Commissions. He retired in 2010 with the rank of colonel.
As a civilian, David practiced law in Columbus, focusing on personal injury, family law and civil litigation. He later served as in-house counsel for Mayflower Transit Inc. before being elected to the Boone Circuit Court in 1994. As a trial judge, David presided over civil, criminal, family and juvenile matters until his appointment to the Supreme Court.
Former Gov. Mitch Daniels selected David to succeed former Justice Theodore Boehm.  He was retained by voters in 2012, though he faced opposition following his majority opinion in a 2011 case, Barnes v. State, which held that residents don't have a common law right to resist police entering a person's home.
Indiana Chief Justice Loretta Rush said David will be "greatly missed" on the bench.
"Justice David's deep commitment to our Hoosier justice system and his tireless work have been aimed at upholding the rule of law and improving the judicial branch statewide," she said in a statement.
Indiana Gov. Eric Holcomb also lauded David's public service career.
"Justice David's commitment to service combined with his passion for the rule of law have made an extraordinary impact not just on Hoosiers but our nation as a whole," the governor said in a statement. "Serving with distinction as a military judge, trial court judge and justice of the Indiana Supreme Court, his contributions go far beyond the bench. Giving of himself unfailingly to help others, Justice David embodies what it means to be a humble servant-leader and the legacy he is leaving is truly remarkable."
After his retirement, David has said he intends to serve as a senior judge. He will also continue to chair the Commission on Equity and Access and the Indiana Conference for Legal Education Opportunity.
"We have the greatest Supreme Court in the nation and the best judicial system anywhere, and we are all constantly working together to make it better!" David said. "I salute Chief Justice Rush and my colleagues on the Supreme Court. They are truly amazing law partners."
Born in Allen County and raised in Bartholomew County, David spent most of his professional life in Boone County. He now resides with his wife in Brown County, where his ancestors settled in the 1800s. He and his wife, Catheryne Pully, live near where David grew up and just a few miles from the David Cemetery.
Pully is an attorney and employee of the Indiana State Bar Association. She holds the rank of commander in the U.S. Navy Reserves Judge Advocate General's Corps and was recently recalled to active duty to serve as general counsel for the two-star admiral responsible for the management, training and administration of the U.S. Navy Reserves.
David's son, Colin, is a graphic artist living in Indiana. His daughter, Danielle, is a nuclear pharmacist who lives with her husband and three children in Missouri.
The Indiana Judicial Nominating Commission will be tasked with interviewing applicants to succeed David on the high court. Applications for the position will be made available on the court's website at a later date.
For more on this story, see the Nov. 10 edition of Indiana Lawyer.
Please enable JavaScript to view this content.