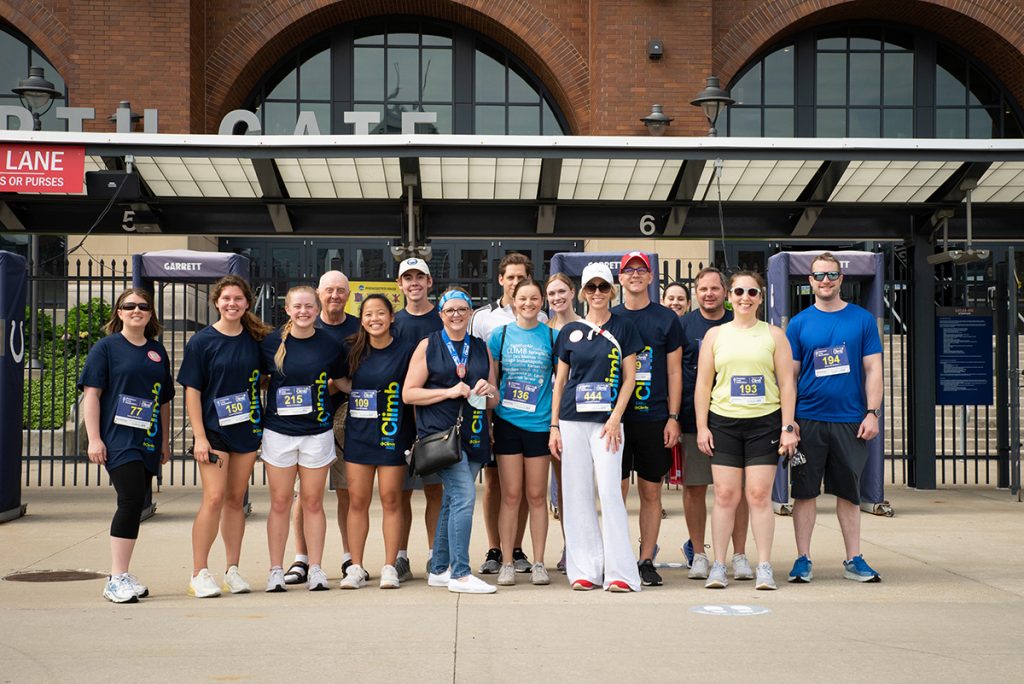 Gathered with friends and colleagues during a lively American Lung Association gala, Kirsten Tragesser turned to her husband and asked, "Do you think I should tell them?"
Her husband Joel responded with a supportive "yes." So, as tears filled her eyes, Kirsten shared with the group a piece of her heart — the death of her almost 3-year-old daughter Maddie to lung disease.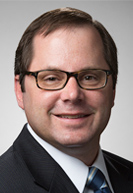 "I looked across the table and Kirsten was crying," recalled Daniel Long, a partner at Quarles & Brady LLP. Joel Tragesser, the managing partner of Quarles' Indianapolis office, was seated by Kirsten's side at that table as she shared about her daughter's life and fight to live.
While Kirsten shared about Maddie's death, something new was born: a passion among the Quarles community to keep her memory alive. The flame that was lit that day in 2014 continues to blaze today.
'Quarles Climbers for Maddie'
Maddie Graham died in 2002, shortly before her third birthday, after battling pulmonary hypertension. Her mother described her as having been a wonder and a joyful child, full of strength with a beautiful soul.
"During her courageous battle and journey, Maddie touched more people than most of us probably ever will," Kirsten, who married Joel in 2012, said.
Kirsten now honors her daughter's memory by participating in the ALA's Fight For Air Climb each year with her husband and his fellow Quarles attorneys.
In 2014, the law firm participated in its first climb in Maddie's honor after launching its Indianapolis office and has been a sponsor of the event every year since. Joel pitched the idea of naming the team "Quarles Climbers for Maddie," with Long agreeing it was the right decision.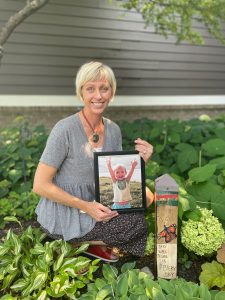 "I said, 'This is a very personal connection you have, and you are important to this firm and office,'" Long recalled. "We are still a smaller office and we see each other as family."
For Kirsten, promoting advancement in lung health and supporting the ALA is her passion in large part because of Maddie. Both she and Joel climb to help raise funds for better options, results, research, quality of life and, ultimately, a cure for people battling lung diseases.
"Providing hope and promise for those battling lung disease today and in the future is a mission of the ALA," she said. "Being a small part of that mission is such an honor to me."
It's an honor for Long, too, who with Joel began climbing at the event while they still worked at Frost Brown Todd, before Long even met Kirsten. Long, an active volunteer and current ALA board member, started a challenge in 2012 to encourage other local law firms to support the Fight For Air Climbs. He said it's one of his favorite things to do.
"When Joel and I opened this office, we made it a priority to make this (philanthropic event) a focus point," Long said. "Practicing law isn't always glamorous, and this is something we do that helps us feel like we are making a difference."
Stepping up
Scattered across the nation, the ALA's Fight For Air Climbs raise funds for those living with lung disease, with participants climbing skyscrapers to the top. The goal is to get the lungs working by climbing stairs.
Typically, Joel said, it's a challenging climb up 48 flights to the top of the Indianapolis Salesforce Tower. He's climbed alongside his son, fellow lawyers and even his then-92-year-old grandmother.
Due to the coronavirus pandemic, the 2020 and 2021 events took place at Lucas Oil Stadium. Others who wanted to climb from a distance or couldn't make the event in person could also climb virtually from wherever they were.
While elite climbers compete for the best climb time, other participants take their own pace in making it to the finish. Along the way, encouraging notes are posted in the stairwells from loved ones and supporters.
"The first part of the climb is, 'Don't think about how much this will hurt,' the middle is, 'Just keep going,' and the end is, 'Just get there,'" Long said. "No matter how I feel, it's nothing compared to what others face."
At the finish line, climbers are met with music, cheering and a medal to celebrate.
"You hear the noise and enthusiasm, and that pulls you along to the finish," Long said. "You can realize that, 'I've made this accomplishment, but also this accomplishment of doing something good in the world.'"
Healthy competition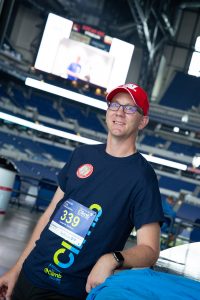 As a smaller law firm with roughly 25 employees at its inception, Joel said the Quarles & Brady team recruited family members, friends and clients to participate in its first climb in Maddie's honor.
That year they raised $11,507. Now, seven years later, the law firm has cleared $100,000 in total fundraising for the event and has provided $30,000 in sponsorship support.
"Part of the reason why I'm an attorney is because my family always helped people," Joel said, pausing to compose himself as emotion filled his voice. "I like that my job is helping people either avoid or deal with issues. Having colleagues that are willing to do this, and then having my second marriage and a family sort of new to me, it was just a way that I have gotten to know them, and they can't believe what's all happened in memory of Maddie."
Quarles & Brady has led the charge among area law firms in supporting the event, but Joel said he wants others to beat them. In fact, he encourages it.
"I tell them, 'I want you to raise more money than us.' I don't want this to be the Quarles & Brady competition," he said. "Part of me wants success in all the firms so there is more money raised for the ALA and for the ultimate goal. The downside is that we have almost made it noncompetitive and difficult for other teams to win because our teams are so big."
In June, area law firms that also participated in the 2021 climb included Bose McKinney & Evans and Wilson Kehoe Winingham. Past law firm participants have included Barnes & Thornburg and Frost Brown Todd, to name a few.
The majority of Quarles & Brady's success in fundraising is attributable to Joel and his efforts on Maddie's behalf, Long said, calling him a "force of nature" that can accomplish whatever he sets his mind to.
"(Joel and Kirsten) have both been so completely committed to this, and I'm so lucky to have colleagues and partners that are such strong advocates," he said.•
Please enable JavaScript to view this content.