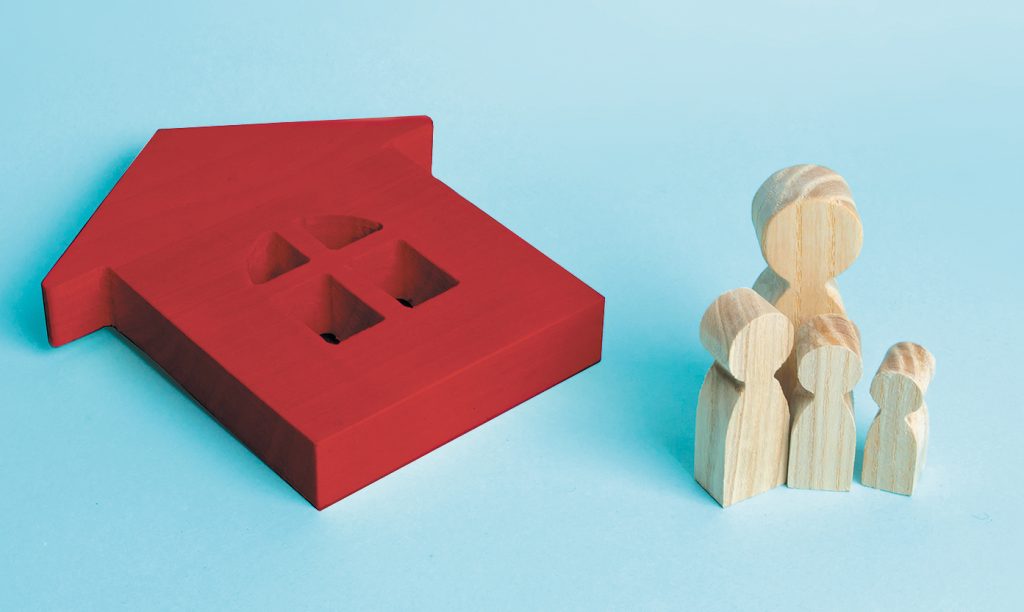 A 2-year-old company on the east side of Indianapolis has its sights set on tackling central Indiana's affordable-housing problem through modular construction.
Volumod, short for volumetric modular housing, is using its warehouse space at the P30 coworking building, 3039 N. Post Road, to build both single-family houses and multifamily apartment buildings off-site in sections called modules that are transported to a construction site and mounted to a stationary foundation.
The goal, company executives say, is to reduce costs and increase output in a manner that allows developers to make homes that are more affordable and readily available.
"The value proposition with modular is the fact that we're building in about half the time of a typical site builder," said Volumod President Ryan Scott. "And, if you're building twice as fast, you can also do twice as much in a year. If you're a developer who is really looking to attack this affordable housing situation — and we've been behind the curve for years — the volume is where you're going to see big advantages in getting the units you need to finish your projects faster."
The company began building modules about six months ago and has completed about 64 units to date. A house usually requires one or two modules; an apartment generally fits in one. Volumod's current output is about one module per day, meaning a 36-unit apartment project can be completed in less than two months.
The company is on track to ramp up production and hiring over the next year, with a goal of completing five modules per day.
"We're only 20% of the capacity of which we are capable," Scott said. "So we're just getting started."
Volumod was founded in 2021 by Ethan Fernhaber, president of Indianapolis-based property management firm Renewing Management Inc., and a silent partner, in part to address affordable housing needs across Indianapolis at a time when demand for those units is at an all-time high.
According to SAVI, a database from The Polis Center at IUPUI, central Indiana had 31,051 subsidized rental units in 2021, including permanent supportive housing — typically for those recovering from homelessness — and workforce housing, which targets individuals and families making as much as 120% of the area's median income.
But that figure falls well short of the need, experts have told Indianapolis Business Journal. In fact, about 81,500 households in Marion County alone are considered "cost-burdened," which the Indiana Housing and Community Development Authority defines as spending more than 30% of income on housing. The IHCDA supports affordable housing projects and other initiatives aimed at helping individuals and families in need of a home.
Fernhaber's Renewing Management firm operates more than two dozen affordable-focused apartment communities in 16 Indiana towns and cities, from Elkhart and Michigan City and Mishawaka on the Michigan border to Newburgh and Evansville on the Ohio River. Fernhaber hopes to use Volumod to leverage an increase in productivity for not only his own developments but also other Indiana builders, Scott said.
"We've talked with probably most of the developers in town to one degree or another," he said. "While what we're building now is for our owner's development, and (it) was always the plan to have him kick things off, we're working with others in central Indiana."
Filling a need
Some are keeping their fingers crossed for groups like Volumod to help ease the housing crisis.
Hannah Ott, executive vice chair of the multifamily division in the Indianapolis office of Chicago-based Cushman & Wakefield, said she's worked with Fernhaber on several acquisitions over the past 15 years and is confident Volumod has the potential to be a big player in the market.
"I have a lot of confidence in them because of what Ethan has done already on the Renewing Management side," she said. "They're going to build this with the right people and the right mindset, and if they do that, they'll be very successful. There's a need for this in the market, and they're prime to be the ones to fill that gap."
In 2022, construction got underway on just over 6,900 apartments, according to Cushman & Wakefield data. Of those, 526 units are being developed with a focus on affordability. The metric is expected to improve this year, as almost 800 of the just over 5,000 units planned will be subsidized.
Before 2022, it had been at least five years since more than 500 affordable units were developed in a single year.
Volumod relies on what Scott described as a "Henry Ford approach" to manufacturing, referring to the automotive tycoon's perfection of the moving assembly line in the early 1900s. Volumod homes move through development stages on the builder's warehouse floor, with areas focused on installing flooring, fixtures, roofing, electrical and plumbing, and various other components.
During IBJ's visit to the warehouse, at least 10 modules were being worked on at a given time, plus one that was on its way out the door for storage, ahead of delivery.
The way Scott sees it, the approach does more than just cut 30% to 50% off the three months to a year it takes traditional builders to construct a single-family house — and much longer for apartments. It also allows Volumod to continue improving its product.
"If you can build repetition into something, you're going to become much more efficient and your quality is going to go up," he said. "We're in here trying to build out whole subdivisions with single-family houses, or whole developments full of apartments, so we're building in that repetition and getting even better with every module we complete."
The company also works with developers to fine-tune designs that work for modular units — designs for single-family ranch-style homes, multilevel homes, apartments, and duplexes and triplexes. Each unit must be able to stand on its own and later connect with other units at the construction site.
One of the company's other selling points is that it locks in prices upfront with partner developers, using a 50% deposit to acquire the required materials for a project. The rest is paid upon completion.
"There's not going to be cost escalations," Scott said. "If lumber suddenly went up, we're not going to charge them more, because we already bought the lumber, and we already know what we paid for it."
A greater ideal
Volumod executives said the company's potential isn't just in building homes. They also hope the firm plays an important role in the far-east side's growth, through both community service and hiring practices.
The firm has a reentry program that hires individuals recovering from addiction, as well as ex-offenders convicted of nonviolent crimes.
John Gammon, director of safety and reentry for Volumod, said the program offers a full suite of services, including financial literacy, housing assistance and transportation aid. Many of those services are also available to other employees.
Gammon, who served 18 years for drug possession charges, said the reentry program is intended to give a second chance not only to those leaving the prison system but also to anyone who might need one.
The company's starting minimum wage is $16, with advancement opportunities for all employees, he said. It also has a program focused on helping all employees purchase a home.
"A person doesn't care how much you know (about something) until they know how much you care about them," he said. "We want to give them hope and love them back to health — let them know we're here for them and that it's more than just a job."
Kevin Caldwell, an employee in the company's mechanical, electrical and plumbing division, served 32 years in prison. He said the job at Volumod saved his life while also giving him new purpose, with a fresh skill set and new goals to pursue.
Caldwell was employed in Plainfield as a temporary warehouse worker when he learned Volumod was hiring.
"I was on the verge of suicide, and it still hurts to this day. I was thinking of ending my life, because I couldn't find a job anywhere," Caldwell said. Volumod was upfront about its expectations of him, but it also didn't write him off because of his past, he said, unlike his experience with other companies that said they hire ex-offenders.
"When I got out of prison, I couldn't find employment anywhere," Caldwell said. "I have a bachelor's degree and a plethora of skills in other departments, but nobody cared. Now I'm out here, trying to just make a difference and living a good life, working with great people."•
Please enable JavaScript to view this content.