Before they completed the last step in their journeys to becoming Indiana attorneys, the state's newest admittees to the bar thanked those who provided them love, encouragement and support.
The admission ceremony held May 18 for the applicants who successfully completed the February 2021 bar exam was virtual, just as both ceremonies were last year because of the COVID-19 crisis. All the new admittees introduced themselves to the state and federal judiciary. But instead of just reciting their names, they followed the suggestion of Indiana Chief Justice Loretta Rush and also expressed their gratitude.
As they appeared on the screen and thanked parents, siblings, spouses, spouses-to-be, friends, professors and a few pets, the new lawyers provided a glimpse into their personal lives. Several mentioned their children, some credited specific family members with planting the idea of pursuing a career in the law, and a few who were already licensed in another state thanked their lawyer colleagues for having confidence that they could pass another bar exam.
Jennifer Patrick, a Whitley County deputy prosecutor who was apparently speaking from her office, became emotional as she talked about the hard work required to become a lawyer and thanked her family, friends and classmates.
"You all have encouraged, me, supported me and pushed me to reach the finish line. I can't thank you enough," Patrick said.
Similarly, Sundeep Singh thanked his mom, dad, sister and grandparents, saying "everything I am today and everything I will be tomorrow is due to all the sacrifices they made for me."
Hanna Kim, a first-generation American and first in her family to become a lawyer, thanked her family both in the United States and South Korea for their "consistent love, support and drive."
Karla Lopez-Owens said she was thankful for the ceremony and that it was being livestreamed so her mom and other relatives in Mexico could watch.
Emily Schebler was appreciative of the mentors she had in the legal community who instilled in her the belief that she could practice law.
"I also would like to thank my current employer," Schebler said, "for having the faith to hire me before I even got my bar results back."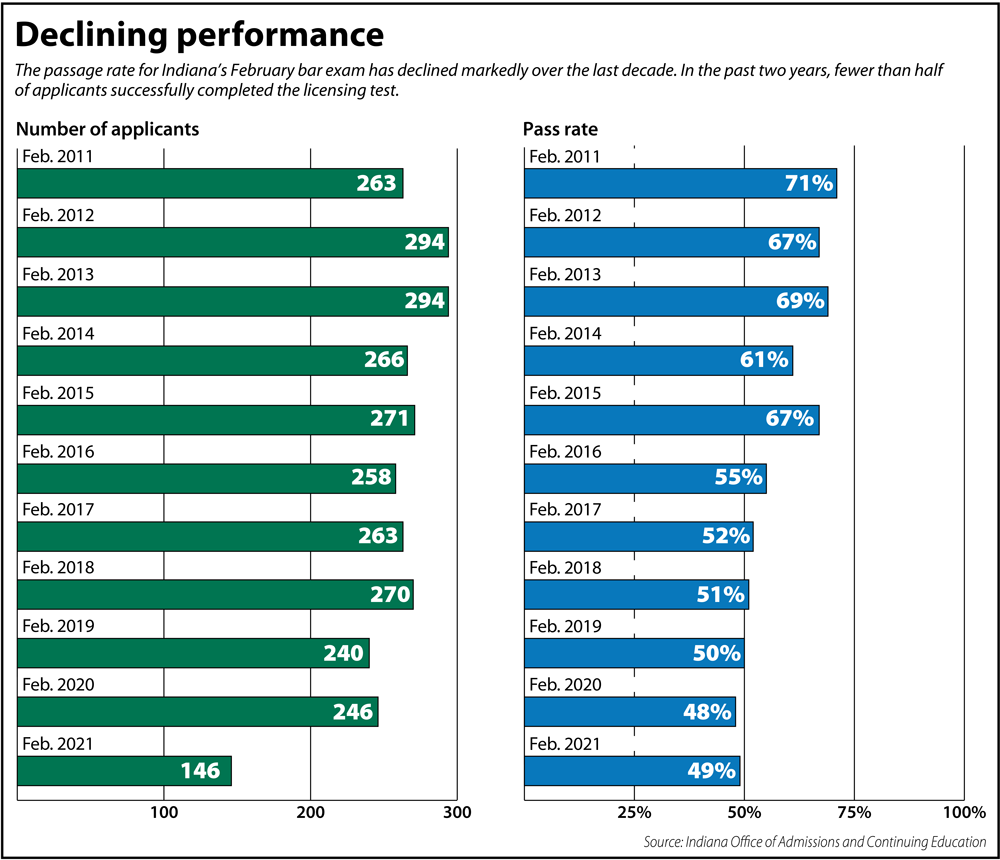 Indiana Justice Mark Massa said he enjoyed hearing from the new admittees. Noting that he did not expect to end up on the bench when he started working as an attorney, Massa told them anything is possible and that they have no idea what opportunities will come during their legal careers.
"Approach that uncertainty with gratitude and enthusiasm," he said. "I might add, after just now experiencing this unprecedented privilege of being able to hear from each of the admittees, it's certainly clear that you are all both grateful and enthusiastic."
Seventy-six people completed the requirements to be admitted in the May ceremony. After the new admittees spoke, Rush and Massa were joined by their colleagues on the Indiana Supreme Court in imparting advice and encouragement to the freshly minted attorneys.
Indiana Court of Appeals Chief Judge Cale Bradford, Northern Indiana District Court Magistrate Judge John Martin and Indiana Attorney General Todd Rokita also made remarks.
When the time came for the new admittees to take their oaths, the image on the screen split into dozens of little squares so that everyone could be seen as they raised their right hands. Shelby County Magistrate Jennifer Kinsley had the honor of administering the Indiana oath since her son, Tyler Kinsley, was among those being admitted.
The pandemic prevented the new admittees from celebrating together. They had to stay either in their homes or offices while the judges and justices remained either in their courtrooms or chambers. Justice Geoffrey Slaughter and a few others acknowledged the hardships, difficulties and wariness brought by the coronavirus.
New admittee Dana Smith began her statement of gratitude by thanking all the people who worked behind the scenes to create a special admission ceremony despite the obstacles caused by COVID-19.
"It's been a tough year for many," Smith said, "and without your efforts we would not have had this opportunity today."
The coronavirus forced the new admittees to abruptly shift to online classes and remote work. All the additional stress and anxiety came on top of the difficulty of studying the law and preparing for the bar exam.
However, Michelle Martin, a new admittee, said she embraced the burdens.
"I want to thank God for the journey," Martin said, "for the adversities, the trials, the tribulations and also for his unconditional love and support and just putting the strength inside me to be able to finish this journey."
Southern Indiana District Court Senior Judge Sarah Evans Barker told the new admittees that while they should celebrate their admission day, they should know the demands will continue.
She then offered them the simple advice that retired U.S. Supreme Court Justice Sandra Day O'Connor gave to her law clerks: Do the work.
"The kinds of issues we have to sort through and figure out are often hugely complex, frequently ambiguous, always challenging," Barker said. "Need I remind you, lawyers are responsible for tending all the interests of mankind that fall within the constitutional guarantees of life, liberty and property. It's a big responsibility and it's hard work."
Mark Abell, the first admittee to introduce himself, recalled that 73 years ago his grandfather had become a lawyer in Indiana. "I am more than grateful to become a part of this bar," he said.
In her concluding remarks, Rush said, "As new lawyers, you've been given the foundation upon which you can pursue not just a job or a career but a path to a more just society. You all can and will change the world, and we can't wait to see what you can do."•
Please enable JavaScript to view this content.