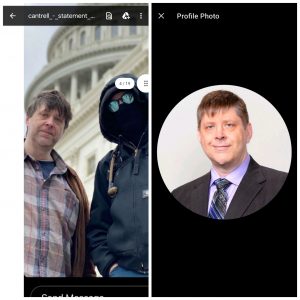 An Indianapolis attorney is one of three men who were arrested yesterday for allegedly taking part in the Jan. 6, 2021, riot at the U.S. Capitol. The attorney is accused of climbing down a wall and entering the Capitol building during the riot.
Quentin G. Cantrell was arrested in Indiana on Thursday after a criminal complaint was filed alleging four federal offenses related to the Jan. 6 riot that sought to disrupt the certification of President Joe Biden's electoral victory. Cantrell is listed as being with the Indianapolis firm Woodard Emhardt Henry Reeves & Wagner, according to the Indiana Roll of Attorneys.
Also arrested were Jared Paul Cantrell and Eric Andrew Cantrell. The three men, identified in court documents as the "Cantrell Cousins," are charged with entering and remaining in a restricted building or grounds; disorderly and disruptive conduct in a restricted building or grounds; disorderly conduct in a Capitol building; and parading, demonstrating or picketing in a Capitol building.
According to a statement of facts filed by FBI Task Force Officer Gary A. Warfield, video from the riot allegedly shows Quentin Cantrell on the West Terrace of the U.S. Capitol, where he "appears to attempt to climb down the wall as Eric Andrew Cantrell reaches down to help him."
Closed-circuit TV footage from inside the Capitol allegedly shows the cousins entering the building through the Upper West Terrace entrance at about 2:37 p.m. on Jan. 6. Eric and Quentin left the building about two minutes later, according to court documents.
The 20-page statement of facts, unsealed Thursday, says a witness identified the cousins from the video footage and from social media posts Jared created on Jan. 6, 2021. Additionally, cellphone records placed Quentin in the geographic area of the Capitol building at around 2:39 p.m. that day, according to the court document.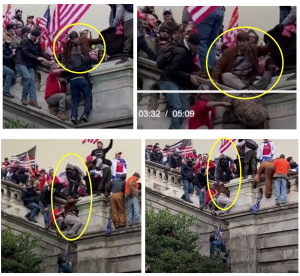 Online court records did not list an attorney for any of the Cantrells on Friday morning. They have been ordered to appear before Magistrate Judge Robin M. Meriweather of the U.S. District Court for the District of Columbia at 1 p.m. March 15 via video.
Court documents do not identify Quentin Cantrell as a lawyer. But Indiana Lawyer has positively identified the man in the indictment as the Indianapolis lawyer based on photos available online and provided in the statement of facts.
According to the Indiana Roll of Attorneys, Quentin was admitted to the Indiana bar in December 2001. He has no disciplinary history going back to July 1, 2011, the date from which attorney discipline records are available online.
LinkedIn indicates he was a partner at Woodard Emhardt until January 2015, when he became of counsel. He was listed on the firm's website as of counsel on Thursday evening but was no longer on the website on Friday morning.
A representative for the firm did not respond to an Indiana Lawyer request to confirm that Cantrell still works there or for comment on his arrest.
Please enable JavaScript to view this content.