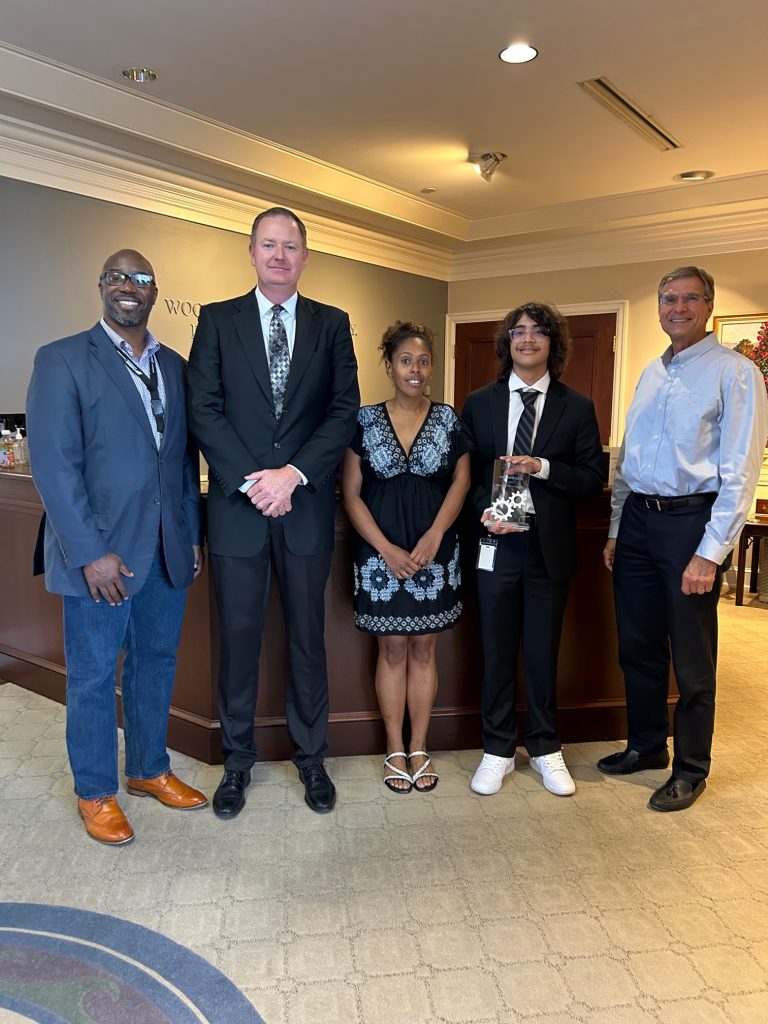 Woodard Emhardt Henry Reeves & Wagner LLP has awarded a $5,000 STEM scholarship to high school senior from Purdue Polytechnic High School.
Alex Rodriguez was announced Thursday as the recipient of the USPATENT.COM STEM Scholarship. Rodriguez been working at the firm, learning about intellectual property law.
"Working with Woodard has truly been life-changing," Rodriguez said. "Being in an environment where everyone wants you to succeed and believes in you is truly special, not to mention the people I have met at Woodard who will continue to help me throughout my future. Receiving the scholarship was a surreal experience that I am so grateful for."
Rodriguez received the scholarship and a glass trophy Thursday during a dessert reception hosted by the Indianapolis-based firm.
This year marks the third year that Woodard Emhardt has hosted a Purdue Polytechnic intern. Partner Bill McKenna said the goal of the partnership is designed to introduce students to patent law before they begin their careers.
McKenna said many students aren't aware of patent law and don't have the qualifications early enough in their careers to consider a career in that field.
The firm has specialized patent lawyers who have technical or engineering degrees, in addition to their law degrees.
"We were happy to have Alex with us here for several weeks to learn about the ins and outs of our firm, just all the way down from the basic operational level up to the to the attorney and highest levels involved with our clients," McKenna said.
Rodriguez was the first to recipient of the scholarship who also worked with the firm.
He plans to attend Marian University to study biomedical engineering. If he remains a STEM — science, technology, engineering and math — major and maintains a GPA of at least 2.9, he will be awarded another $5,000.
Also as part of its efforts to promote STEM education, Woodard Emhardt is the technology partner for NXG Youth Motorsports, a program that helps minorities learn about life skills and STEM through motorsports.
"(Our) mission is to view motorsports as a tool to teach life skills, STEM education and exposure to automotive careers," NXG founder Rod Reid said. "Our goal is working with underrepresented communities and really sort of bridging the gap between the disparity and the sort of the exclusion that has been typically in motorsports and the Black and brown communities."
NXG offers weekend classes that teach about tire pressure and financial literacy. Many program participants later return as crew members or teachers.
Reid noted motorsports is something children may be interested in but don't get the chance to try because it's not as accessible as other sports.
Through its partnership with Woodard Emhardt, NXG now has 20 tablets to use in their classes for calculations or tests. The firm has also provided a TV to display materials during classes.
"A lot of the technology that we need in our academy, they have provided equipment and the money for equipment," Reid said.
Please enable JavaScript to view this content.