By Michelle Allen, Indiana Department of Homeland Security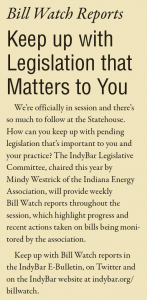 This year's Bingham Greenebaum Doll Legislative Conference (BGD LegCon) in December was rife with Indiana's renowned legislative staples. Among them were Governor Eric Holcomb, Speaker of the House Brian Bosma, House Speaker-Elect Todd Huston and Indianapolis Mayor Joe Hogsett. Nearly all the sessions were set up as speaking panels with a moderator, but none rose to the level that true mediation was needed. This is perhaps a demonstration of a theme heard throughout the day, one of a bipartisan approach to solving problems.
Individuals with differing views spoke those views, not without hearing counter-arguments, but freely and to listening ears. Nearly every panel mentioned how good government is possible only by working with the other side of the aisle. During a plenary session on legislative leadership, Speaker Bosma (R) and Rep. Phil GiaQuinta (D) joked about their relationship that seemed to say many legislative initiatives are accomplished, many more initiatives also die, but at the very least everyone is heard, respected and considered.
The Governor and Mayor Hogsett kept their 2020 legislative agendas held close against them. Other speakers indicated the topic of teachers would arise during the 2020 session. There was much discussion surrounding teacher pay, curriculum and the internship requirement previously passed. In particular, Indiana's rainy day fund and the use of it brought bright distinctions between fiscally conscious Speaker-Elect Huston and Sen. Greg Taylor (D), who wants to direct around $330 million toward teacher salaries. Sen. Taylor's views were echoed later during the day by Sen. Tim Lanane (D), who recognized the sustainability of that pay increase hasn't been determined, but that due to the importance of the need, the legislature would find a way as they've done on topics before.
Senator Rod Bray (R) spoke of, and party members on both sides agreed that, healthcare transparency would also be a big topic for the 2020 short session. Everyone agreed that patients need full access to the cost of healthcare and associated procedures before accepting that care in order to avoid surprise billing. Another topic you'll hear of is whether to raise the age of vaping from 18 to 21. Little dissent was heard regarding healthcare transparency or raising the legal vaping age, and both these items felt like they had enough support and need to be addressed, discussed and decided upon during the 2020 session.
Overall, BGD LegCon demonstrated continued success in gathering bright, legislatively driven individuals into one place. The state of Indiana is a sizeable state, but as with anywhere in Indiana, once you get a bunch of Hoosiers in a room the world takes on a small-town feel with everyone jostling for the same things at heart — greatness for the State of Indiana and the people who live here. I'm looking forward to another short, efficient and successful 2020 legislative session.•
Please enable JavaScript to view this content.