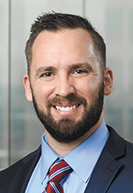 By Scott Oliver, Lewis Kappes PC
During a time when we are more connected to our devices than ever, we must remember the importance of gathering in person. Over the past several years, many of us have discovered the power of online professional networking.
It's fast. It's easy — and hey, it works!
The pandemic has also shown us that remote work is not only possible, but sometimes even preferred. However, despite the appeal, there is still something different about gathering face-to-face. As someone who is frequently online, I am not immune to falling down the rabbit hole of spending too much time on a virtual platform. I'm looking at you, LinkedIn … . But there are moments when I am forced to realize how lucky I am to be in a profession with such vast opportunities to connect with friends, colleagues and fellow lawyers … online and in person.
The Indianapolis Bar Association and Foundation recently hosted its Annual Recognition Awards Breakfast at Meridian Hills Country Club. If you're not familiar, it is one of the most popular events of the year where the bar comes together to honor various attorneys, members of the judiciary and other legal professionals.
Throughout this event, attorneys were recognized for 50 years of practice, service to the profession and various other outstanding accomplishments. The full listing of recipients will be publicized before the release of this article, but there was one award that stood out: The Luminary Award for Lifetime Achievement.
The recipient of this prestigious award was John F. Kautzman, an attorney who needs no introduction. Throughout his speech, John treated the crowd to history, humor and sage advice.
In his closing, he reiterated words from his former induction speech: "You must be present to win."
John related this statement to remote work, but the words apply to a variety of aspects in life. This doesn't mean simply turning on your Zoom camera, coming off of mute during a call or being another face in a room.
It means being both physically and mentally present in the moment.
John continued by encouraging the crowd to "resist the easy route" and "mailing in the effort." He stated that "you might check various tasks off the list, but the only way to advance the brand is by gathering with your fellow lawyers."
While there are benefits to working remotely and networking with thousands with a few keystrokes and a click, it's also important to have face-to-face interactions. Former President Benjamin Harrison had it right when he met with his colleagues to form the Indianapolis Bar Association back in 1878 — form a group of lawyers dedicated to exchanging ideas and maintaining the honor and dignity of the profession.
Today, perhaps he would have sent a tweet; I can't say with certainty. But I do believe that Benjamin Harrison would agree with John's belief that we must gather together to exchange ideas and help advance our profession. By doing this, John believes that we are not only illuminating our careers, but also the future of our noble calling.•
Scott Oliver is a partner at Lewis Kappes practicing lending & finance, real estate, and corporate law
Please enable JavaScript to view this content.