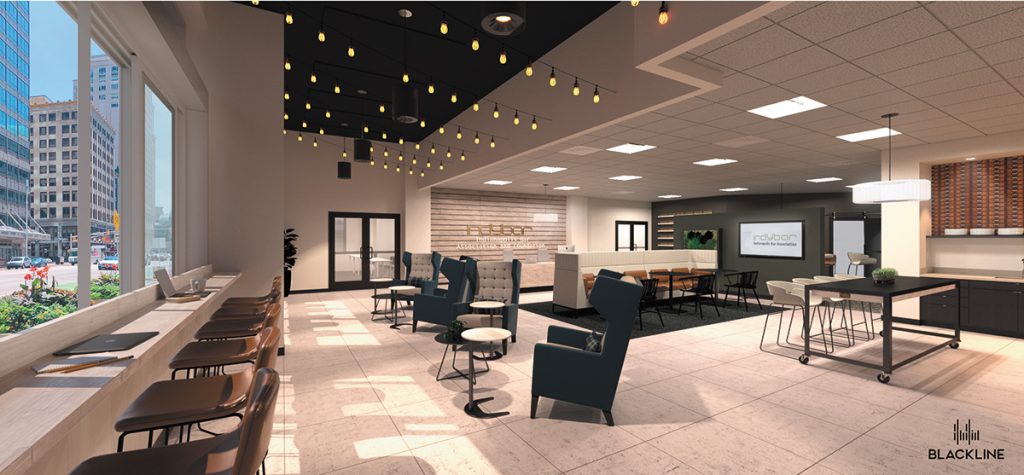 After two years of research, planning, searching and negotiation, it's finally here: the new home of the Indianapolis Bar Association and Foundation. Located at 140 N. Illinois St., extensive renovations to the two-story structure are set to begin in late fall 2019, with the building open for IndyBar and IBF business in early winter 2020.
The Process
Design research firm DORIS, in partnership with architecture firm Blackline, worked with the IndyBar in fall 2017 to research and determine the best direction for future office space and how it should be designed to meet the needs of both staff and members. Through this work, more than 500 members shared their thoughts on the current space and wishes for the new space. Several challenges were identified, as well as a wish list that would assist leadership in identifying the future home for the association and foundation.
Challenges Identified During the Doris Study
Challenge: Current space lacks adequate areas for collaboration and privacy and is sterile and uninspiring.
Solution: New space is bright and vibrant with a variety of meeting spaces, including collaborative work areas, private workspace/small meeting rooms and inviting areas for our members to interact.
Challenge: Meeting and support spaces lack technology.
Solution: New space will boast upgraded infrastructure capacity to allow for improved wireless access, provide charging space for members and plug-ins for laptops, and accommodate video-conferencing and other state-of-the-art technology for meetings, education and member interaction.
Challenge: Current member spaces are not used and do not fit requirements for what members want.
Solution: New space features an entire first floor dedicated purely to member use. The space includes fresh-air access, a variety of seating options, collaborative and private work space, food and beverage access in a member kitchen, and more.
Challenge: Current space is hard to access. Parking is inadequate and expensive.
Solution: New space is more conveniently located to a wider variety of parking options. It is centrally located and easy to access for members and their clients through its first-floor location. Its ease of access will encourage members to use the space as a co-working/alternate office location, and it is more inviting for both short and long visits.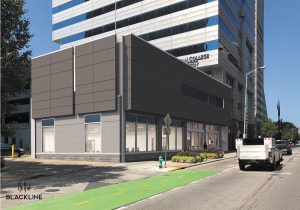 Tomorrow's Vision Achieved: The IndyBar's Wish List
• An open and welcoming space with convenient access and parking.
• A bright and inviting reception area.
• Versatile meeting spaces, including collaborative work areas, private client meeting rooms and inviting areas for our members to interact.
• Updated infrastructure that provides greater access to technology to service client needs and charging stations for our members.
• Kitchen space with access to food and beverages where members can relax, eat and drink.
• Barrier-free access for clients, staff and visitors with disabilities.
To see renderings, floorplans and more information on the IndyBar's new space, go to indybar.org/newhome. •
Please enable JavaScript to view this content.